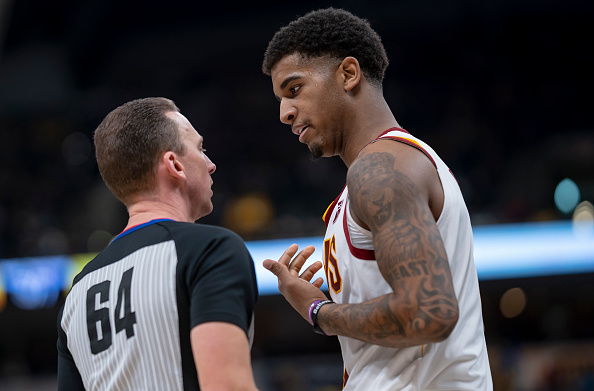 Heading into the NBA All-Star break, I made a point to note not all hope was lost with the Cleveland Cavaliers. Sure, the season was the first of a grueling rebuild. However, with a few young players standing out, it seemed as though the team was finding some potential pieces for the future.
For a minute, Marquese Chriss appeared to be one of said pieces. Picked up at the trade deadline, Chriss entered the break shining during his short time in a Cavs uniform.
Things haven't gone as smoothly for him since then. While Chriss at one point appeared to be a potential building block for Cleveland, recent struggles could be putting his chance to stick with the team in jeopardy.
Chriss' game logs for the Cavs before and after the All-Star break are practically bipolar. During his first four contests in Cleveland, he averaged 14.3 PPG, shot 50% or higher all but one time, and made his presence known in extremely loud fashion.
Marquese Chriss came off the bench & put up 23 PTS (3-6 3PT) 7 REB & 1 Nasty dunk on The Fro!

He's averaging 14.3 PTS & 6.3 REB with the @Cavs. pic.twitter.com/dG8pHQ9vqa

— Ballislife.com (@Ballislife) February 14, 2019
For a Cavs team desperately seeking young players to build around, it was exactly what you needed to see. He seemed like a tack-on in a trade featuring a 2019 first-round draft pick, but when you realized he's just 21-years-old, it wasn't a leap to think the Cavs were doing more than just adding another expiring contract.
While his performance before the All-Star break had some (myself included) dreaming big for Chriss, everything since has been a nightmare.
I repeat: Marquese Chriss airballed a dunk. pic.twitter.com/KtiIRMoonE

— Jackson Frank (@jackfrank_jjf) March 2, 2019
In the five games since the All-Star break, Chriss has made seven shots. Total. After notching double-digit points in three of his first four games in Cleveland, he's yet to do so since.
Tonight's effort against the Detroit Pistons was definitely one of his bleaker games with the Cavs. Chriss notched nine points on 2-of-8 shooting. He added five turnovers to his stat-line, while his -25 plus/minus rating should tell you everything you need to know about how things went defensively.
In some sense, it's a bit jarring to see such a sudden drop-off for Chriss. Just a couple weeks ago, it wasn't lofty to assume the Cavs would try to hang onto him beyond this season. Now you have to wonder if Cleveland is already closing the door on said opportunity.
Unfortunately, this has pretty much been the drill for Chriss in his short NBA career. Drafted in the first round back in 2016, he's continually struggled to show any consistency on the court. One night, he'll prove worthy of his first-round status. Others, he forces you to question why he was taken so high.
It's safe to say his short time with the Cavs can be summarized the same way. At least, so far.
Luckily for Chriss, he's sure to keep getting his opportunities. It's a benefit which comes from playing for a team scuffling at the bottom of league standings. While a contending club might start phasing a struggling player out of the rotation, Chriss will surely keep getting looks for a Cavs team focusing more on the draft lottery than any postseason dreams.
This, of course, is what made Cleveland seem like a perfect destination for him. Joining a team searching high and low for young talent to lean on during a difficult rebuild, Chriss appeared to find just the right place to finally prove his worth.
While this seemed to be the case early on, things have taken a rough turn. Unless Chriss is able to get out of this funk, his time in Cleveland could come to an end almost as quickly as it started.