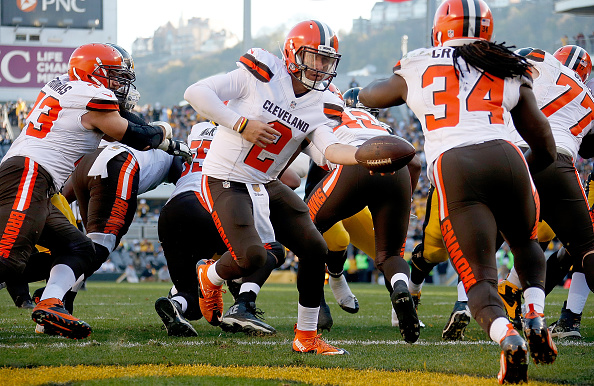 New Browns starting quarterback Johnny Manziel has just been given the keys to the car. Mind you a car that hasn't been running all that well as of late, as the brown and orange haven't won a game since October 11th when they beat the Ravens in a memorable overtime win in Baltimore.
There's nothing the Browns can do about that now, and all the team can do is look ahead to the final six games of the season, sitting at 2-8.
The new quarterback though is excited about his opportunity, one that a lot of fans felt he should have had sooner.
"It is a great opportunity for me," Manziel said today in Berea.
"I was caught off guard. I was watching film this morning and (Head) Coach (Mike) Pett(ine) came in and grabbed me. I am very excited. I think it is a great opportunity for me.
"I am looking forward to coming out and trying to continue to add a little bit of a spark. More than anything we need to get some wins. That is what I told Coach Pett when I was in there with him. No matter what happens, whatever you think, if this may be for next year or whatever the case is, we are going to win some of these games down the road."
So how will the second-year quarterback, who has been though a lot over the last nine months including a stint in rehab, will handle respond in his second chance as being the starter?
"I just need to continue to show progress. Coach Pettine said that was a big step for me last week and to continue to play at a high level and anybody in this position I don't want to be able to take us any games down the road," Manziel said.
"That is the big thing. Make sure our position is filling up our grade sheet with pluses and doing the right thing and getting these guys rallied around. I think that is the biggest thing over the course of the season."
It's an interesting decision when it comes to timing. It seemed that after the loss to the Steelers Sunday that fans would have to sit and wait while the Browns pondered their next move at the QB spot.
Instead, the decision was made quickly to go to Manziel, and it gives the chance for him to prove himself on and off the field, as he'll have a number of days off with the current Browns bye week.
The new Browns starter stated that he doesn't exactly know what he's going to do with days to spare before he and the team get back to work for an ESPN prime time game on November 30th vs the 2-7 Ravens at First Energy Stadium.
"I don't know what my plans are going to be yet," Manziel said.
"I talked to Coach Pett and he wanted to reiterate and say, 'Hey this is the time where everyone in the locker room is going to get a chance to go shut it down for a couple days.' I definitely will be back earlier than some people.
"I will be back at some point over the week and if I do decide to leave get a chance to go see some family or just get a chance to really shut it down. That is what this week is for. Then come back in on Sunday and Monday and be ready to go."
The quarterback has the chance to prove himself more than ever, and the buzz word of the day around Berea is 'porgress.'
"I thought he took, it was well documented we talked about it after the game, took a big step forward in a lot of the small details of quarterback play," Browns coach Mike Pettine said.
"It's as simple as that for us, just to continue to get better. He did some good things but there's some things that can be improved upon. Each week presents a new challenge and he has to be able to react to how a defense is playing him and be able to play within a game plan, the structure of it and stay tight to that. Bottom line, just progress."
If Manziel can show that progress, there may be something yet positive remaining in the 2015 season after all.