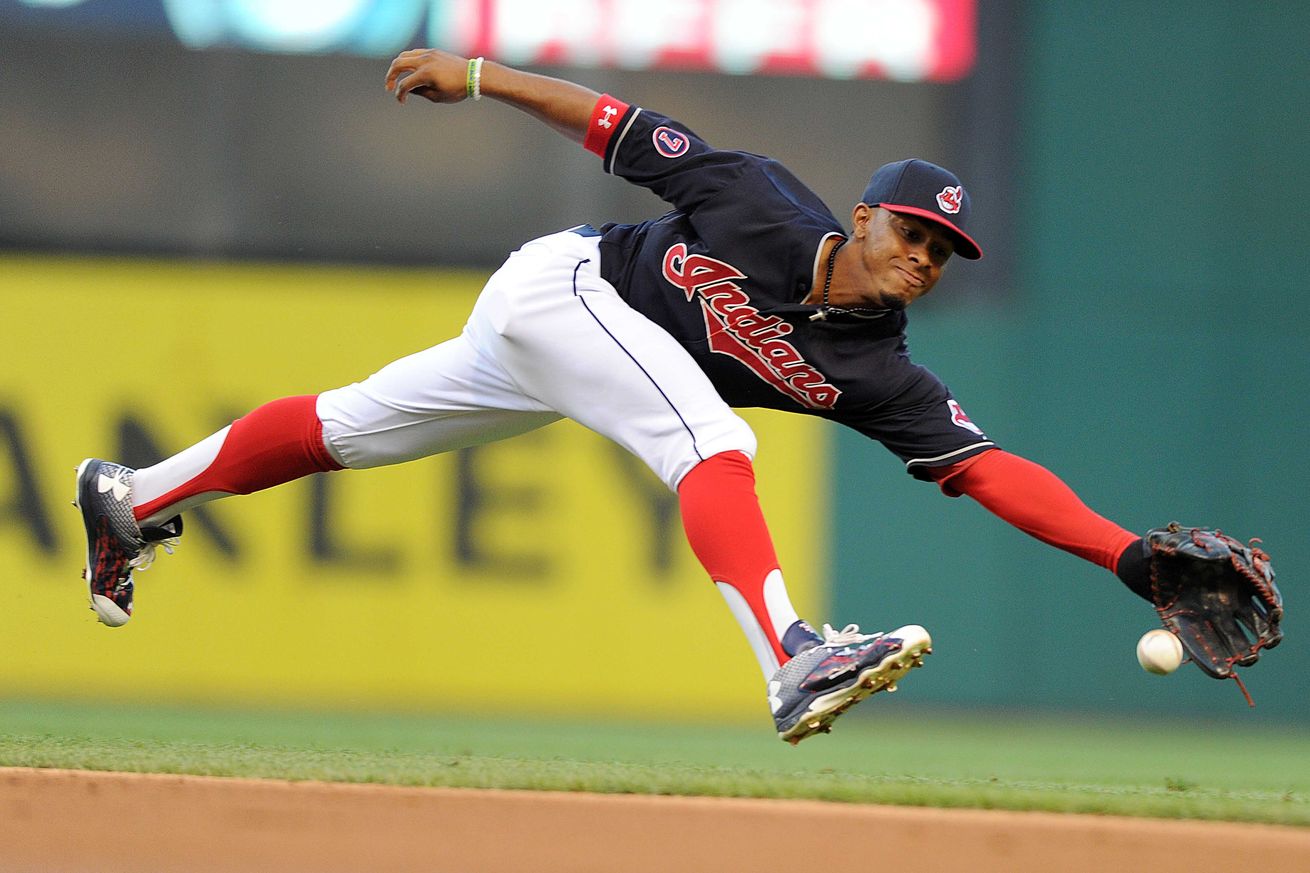 In light of the Cleveland Indians' 11-game win-streak, the Tribe has put the rest of the league on notice that they are a real World Series contender.
According to Baseball Prospectus, the Indians are projected to have the highest probability of making the Playoffs of any American League team and have the highest chance of winning the World Series of any team in MLB.
The Indians have the second-best record in the American League and hold a six-game lead over the Kansas City Royals for first place in the Central Division.
Everyone raves about the Tribe's pitching staff, rightfully so, and Danny Salazar is a legitimate Cy Young-Candidate.
But the Tribe shortstop Francisco Lindor, who at the moment is not even guaranteed an All-Star spot because of fan voting, is starting to put together a resume that puts him right up there with American League MVP candidates.
Lindor is batting .312 with 13 home runs and 39 RBI. He is top five in stolen bases (13), and top 10 in the American League in Wins Above Replacement (3.55).
Lindor is almost a guarantee to win the Gold Glove award at shortstop and you'll be hard pressed to find a better all-around player who can swing the bat, run the bases, and field as well as the 22-year-old.
Let's take a look at some of the top MVP candidates aside from Lindor and compare from there.
A.L. West Candidates
Robinson Cano's biggest problem is that his team is in third place. The Seattle Mariners are 39-38, despite an amazing season from Cano.
The power-hitting second baseman is batting .303 with 19 home runs (fifth in the AL) and 54 RBI (fourth in the AL).
His WAR is 3.6, just above Lindor's. He's not a great defensive second baseman and does not steal bases, but his power and ability to drive in runs certainly eclipse Lindor.
Lindor is more of a five-tool player and is on a first-place team, so we give the edge to the Tribe's shortstop.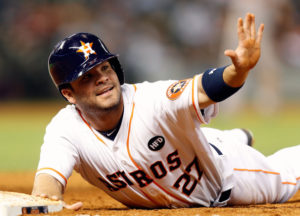 Jose Altuve of the Houston Astros leads the league in batting (.350) and is second in stolen bases (20). His 13 home runs and 45 RBI make him much more than a typical lead-off hitter.
The Astros have overcome a rough start to the season and now find themselves in position to at least push for a Wild Card spot, and Altuve is largely responsible for that resurgence.
Altuve is third in the American League in WAR at 4.4.
However, the Astros are 41-37 on the season, just a hair above .500. The Tribe on the other hand is 46-30. That has to be taken into account when determining who wins MVP.
The only team in the American League with a better record than the Tribe is the Texas Rangers (51-27).
Outfielder Ian Desmond, who struggled to find a home in the off-season, has found new life in Texas.
The right-handed hitter is batting .326 with 14 home runs and 51 RBI. His WAR is 3.0, just under Lindor's.
He is one of the biggest reasons why Texas has the best record in the American League. Desmond has stolen 13 bases, tied with Lindor for fourth in the AL, but the only slight downside to his game is his defense.
Desmond is a converted outfielder, playing in the outfield for the first season of his seven-year career.
He played shortstop prior to signing with the Rangers, but was not known for his defense there either.
So far, Desmond has made five errors in 77 games in the outfield.
That leads all outfielders in the American League, tied with J.D. Martinez of the Tigers.
By comparison, Lindor has made four errors, which is third-lowest among shortstops who played 70 or more games.
Although Desmond has an edge in offensive production and plays for the team with the best record in the AL, when taking the defense into account it's tough to say one is markedly more valuable than the other.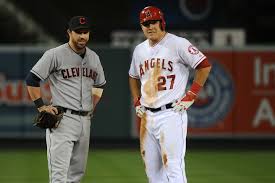 The last player from the A.L. West we will mention is the living legend, Mike Trout. If one were to bet that Trout wins the MVP before the start of every season for the next ten years, there's a good chance they'd come out ahead.
Trout leads all of baseball in WAR at 4.67.
He's batting .317 with 17 home runs and 53 RBI.
He's a great center fielder and is the textbook definition of a five-tool player.
If we are simply going by who is the most talented all-around player in the American League, the award would go to Trout.
But whether it's fair or not, he happens to be on a bad team.
The Los Angeles Angels of Anaheim can hide what city they play in, but they can't hide their ugly 32-46 record, which puts them in last place in the A.L. West and gives them the second-worst record in the American League.
Even if the Angels were hovering around .500, there would be a solid argument for Trout to win MVP, but at this point, he's a victim of his surroundings.
A.L. Central
Since the Indians are in first place in the division, it's not going to be a long list of Central Division MVP candidates, but we start with Eric Hosmer of the Kansas City Royals.
Hosmer is batting .311 with 12 home runs and 48 RBI. His numbers are comparable to Lindor's, but he drives in more runs. His WAR is surprisingly low at 1.4, but he has been getting pitched around much of the season because of the lack of depth in the Royals lineup, due in part to all the injuries throughout Kansas City's lineup.
One area that Lindor does not have a significant edge over Hosmer is defense. Hosmer is to first base what Lindor is to shortstop. The best in the game with a glove.
It won't be a surprise if Lindor and Hosmer both end up winning Gold Gloves.
When it comes to who has the edge between these two, its all about the W's. Lindor's team is six games ahead of Hosmer's. Lindor's WAR is two points higher than Hosmer.
That's the difference between the seasons that these two great players are having.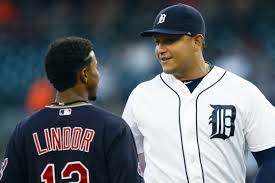 The only other player in the AL Central that can hold a candle to Lindor in terms of value this season is Miguel Cabrera.
Even at the age of 33, he's still one of the most-feared hitters in the game. Cabrera is batting .295 with 17 home runs and 48 RBI. He also has 16 doubles.
However, he's not known for his defense, his WAR is at 1.9, and the Tigers are 7.5 games behind the Tribe.
If anyone in the A.L. Central is most deserving of the MVP Award at this point, it has to be Lindor.
A.L. East
The A.L. East is where we can find quite a few MVP candidates.
The Baltimore Orioles have two.
The Boston Red Sox have three.
We'll even throw in a Blue Jay or two from Toronto.
For the Orioles, we'll start with Mark Trumbo. Baltimore's trade for Trumbo in the off-season may have been the best definition of highway robbery coming into 2016. The right-handed outfielder is batting .281, but leads the American League in home runs with 22 and is third in RBI with 56.
His WAR is at 1.3, but he also plays with a few All-Star position players around him. Baltimore is 46-30, tied for the second-best record in the AL with the Indians.
Trumbo is worthy of being mentioned in the MVP conversation, but his defense is not great, as he has committed three errors in 39 games when he plays the outfield. By comparison, Desmond, who we mentioned earlier, has five errors in 77 games. Trumbo is not a five-tool player, but he certainly can crush the ball and drive in runs.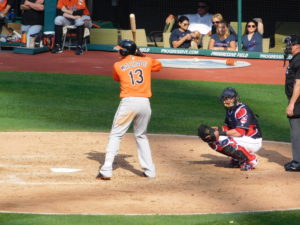 His teammate on the other hand, has everything you could want in a complete baseball player. Manny Machado has been one of the hottest players in the game since the start of the season and the only thing that has slowed him down was a four-game suspension for an altercation with Royals' pitcher Yordano Ventura.
Four games is minuscule in the grand scheme of a 162-game season and he has played in all 72 games aside from that.
Machado is hitting .330 with 18 home runs and 48 RBI. He's also one of the best defensive infielders in the league. He has split time between third base and shortstop this season and it would not be hard to argue that he's the best defensive third baseman in the game.
He's not far behind Lindor in terms of fielding shortstops and at times he makes plays that even amaze the best of shortstops.
Machado does not have any stolen bases, it's not a part of his game, but it's hard to hold that against a guy who is a dominant player in every other aspect of the game.
His WAR is 3.9, slightly above Lindor's.
76 games into the season, Machado has a slight edge on Lindor in the MVP race.
Moving over to Boston, the first candidate we'll bring up is shortstop Xander Bogaerts.
Bogaerts is hitting .343, second-highest in the American League. He has nine home runs and 50 RBI. He plays great defense at short, but is not quite on par with Lindor.
He has ten stolen bases, just a few behind Lindor. His WAR is 3.34, just a nose behind Lindor. The Red Sox are 42-35, which is 4.5 games worse than the Tribe.
The edge that Bogaerts has in batting average and driving in runs is somewhat cancelled out by the edge the Lindor has in defense and playing on a first place team.
Bogaerts may very well end up starting the All-Star Game at shortstop, but although it's a close race, there's enough evidence to say Lindor has been more valuable up to this point.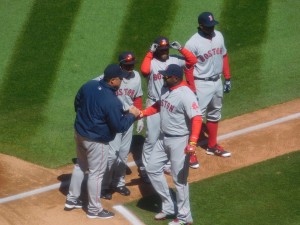 Another Red Sock in the MVP race is the ageless wonder, David Ortiz.
As crazy as it sounds, the 40-year-old DH is having one of the best seasons of his career and one of the best of any player in the game in 2016.
Big Papi is batting .337 (third-best in the AL) with 18 home runs and 63 RBI (second in the AL). He leads the league in doubles with 31.
His 3.36 WAR is just behind Lindor's.
Of course he's a DH. He's not a five-tool player. But he's been as valuable as most players in terms of what he brings to the lineup.
The fact that *all* he does is hit, hinders him in the MVP race, but if you're going to be a designated hitter, Papi is the way to the do it.
The third member of the Boston Red Sox in the MVP discussion is outfielder Mookie Betts. He plays tremendous defense in right field.
He's batting .287 with 16 home runs and 51 RBI. He has stolen 12 bases, just behind Lindor.
Although his average is about 15 points lower than Lindor, his power and ability to drive in runs gives him an edge there. His defense is not a weakness. His WAR is at 3.0, just behind Lindor's.
It's a close call between these two, but given Lindor's batting average and the fact that he's leading a team to first place in the Central, we give a slight edge to Lindor.
The only other team with an MVP candidate in the AL is the Toronto Blue Jays.
The reigning MVP, Josh Donaldson, is putting together a great year, but not as great as his teammate Edwin Encarnacion.
The right-handed hitting first baseman is batting .259 (the only blemish on his offensive resume,) but is second in the AL in home runs (21) and leads the league in RBI with 69.
Encarncacion, Trumbo, and Ortiz have been without a doubt the three best power hitters in the AL. However, the low average and the fact that the Blue Jays are 42-37, third place in the AL East, doesn't bode well for Encarnacion's chances.
Couple that with Lindor's defense, baserunning, and the fact that Lindor is almost 3 points higher in WAR (Encarnacion is at 1.7) and it's clear that Lindor is the more valuable all-around player.
So with all these players in mind, after 76 games, here are my rankings in the AL MVP Race along with a few names to consider for honorable mention.
Honrable Mention
Josh Donaldson
Nelson Cruz
Carlos Correa
Evan Longoria
Khris Davis
Chris Davis
13. Miguel Cabrera
12. Eric Hosmer
11. Edwin Encarnacion
10. Mookie Betts
9. David Ortiz
8. Mark Trumbo
7. Robinson Cano
6. Mike Trout
5. Xander Bogaerts
4. Ian Desmond
3. Jose Altuve
2. Francisco Lindor
1. Manny Machado
Keep in mind, it's still only June 29th. These rankings can and will change. But if Lindor and the Indians stay hot, don't be surprised to see his name in the final voting.
Even if Lindor does not get the recognition he deserves at the All-Star Game or ultimately in the MVP vote, one of his best attributes is his team-first mentality. Whenever he is asked about accolades, win-streaks, etc., his answer has been "We play for October."
At the rate he and the Tribe are going, they will certainly get there if it keeps up.

NEO Sports Insiders Newsletter
Sign up to receive our NEOSI newsletter, and keep up to date with all the latest Cleveland sports news.