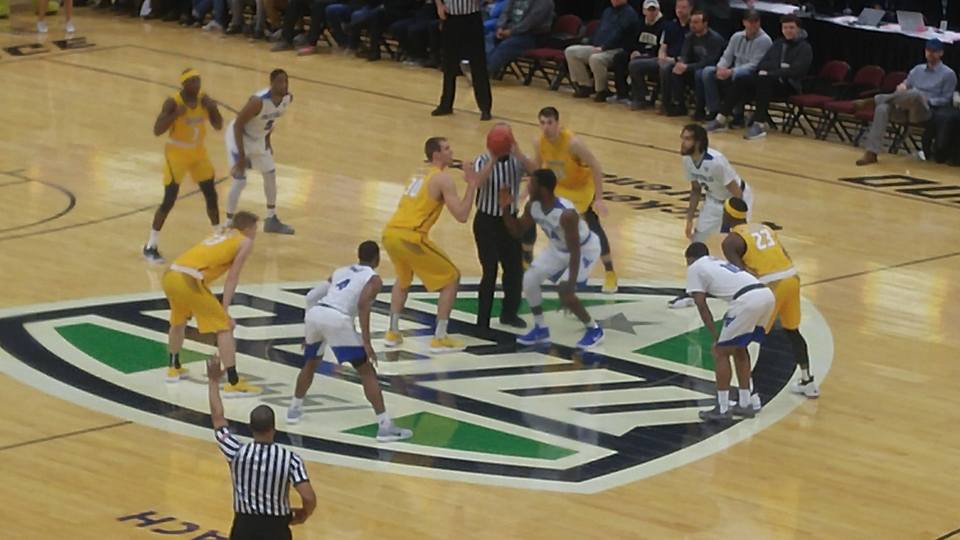 CLEVELAND–  Behind a huge night from Wes Clark, the top-seeded Buffalo Bulls defeated the Toledo Rockets 76-66 to advance to the "Big Dance" and earn an automatic bid to the NCAA Tournament.  Clark finished with 26 points on a wicked 10-of-15 shooting while also adding five rebounds and four steals. They needed the big night from Clark, as Jeremy Harris cooled off tonight, scoring 10 points.
The game was tied at 62 apiece with a little over four minutes remaining when the Bulls took control of the outcome. Buffalo went on a 9-0 run to take a commanding 72-63 lead and pretty much put things away with 1:40 to go in the game.  Four straight points by Clark got the run going, then a huge three ball by Nick Perkins followed by a Perkins layup consisted of the scoring during the hot stretch.
Toledo hung around until that point but couldn't get over the hump. A stingy Bulls defense held the previous red hot Marreon Jackson to only 13 points.  Jaelan Sanford did his best to keep the Rockets in it with 19.
The game appeared to take a giant swing at the 16:36 mark of the second half.  With Buffalo up 42-34 and in firm control, Perkins was called for a technical after arguing on a contested shot.  The costly argument led to four straight made foul shots by Toledo.  The Rockets kept chipping at it from there before eventually tying it at 62.
The first half was not the high-scoring affair many thought it would be, as both teams appeared tight and missed several open shots.  The game was tied at just 21, with 5:27 in the half when Buffalo finally broke through the scoring seal.  The Bulls went on a 9-2 run to grab a 30-23 lead with two minutes left.
The first half ended with Buffalo up 34-29 despite a poor shooting performance from tournament high-scorer Jeremy Harris, who finished with just five points on 2-of-6 shooting in the first half.  Helping the Bulls, however, was their ability to spread the ball around, as nine players scored in the first 20 minutes.
Toledo took a different approach, only using three bench players in the half with two of them playing under four minutes each.  The deep Buffalo bench helped them build their halftime lead.
Game notes:
Buffalo's women's team lost their championship game earlier today against Central Michigan 96-91.
This game featured the men's tournaments two top-seeded teams.
Star senior guard for Toledo Tre'Shaun Fletcher missed the game after suffering a gruesome injury just 27 seconds into last night's semifinal victory over Eastern Michigan.
**Click through a photo gallery below from the game