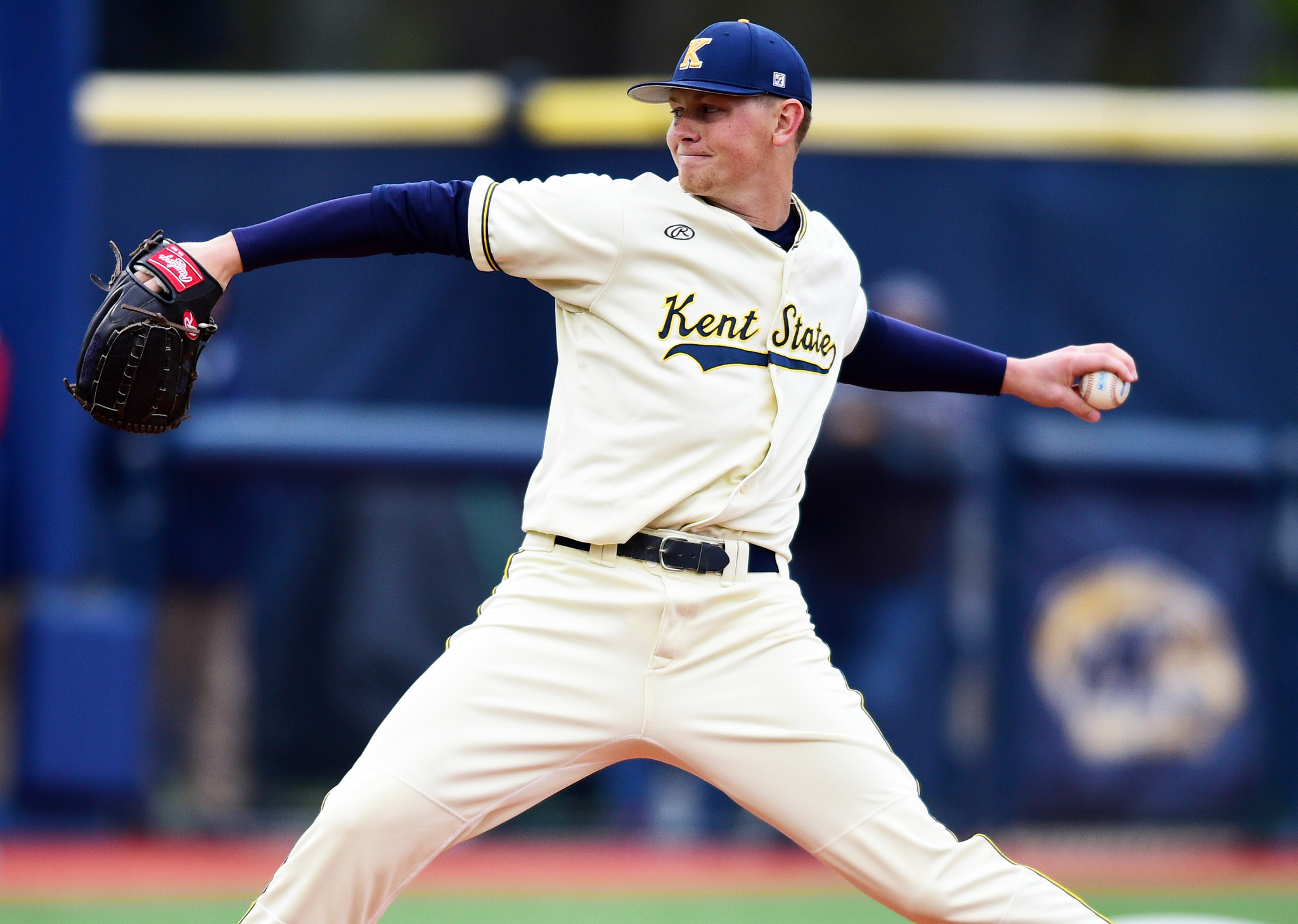 AVON – The 2016 Mid-American Conference Baseball Tournament, which will kick off Wednesday morning at 9:30 at the Pipe Yard in Avon, will pit the top six MAC teams against each other in a double-elimination format with a trip to the College World Series on the line.
It also will be a good chance for fans to get a sneak preview of some of the most highly-touted amateur talent in the nation on the eve of the 2016 MLB Amateur Draft.
Every team in the 2016 field has multiple players with professional futures, headlined by Kent State starting lefty Eric Lauer.
Lauer, the reigning MAC Pitcher of the Year, had an exceptional regular season on the mound for the Golden Flashes. As Kent's Friday starter, Lauer has faced the opposing teams' ace every time he pitched…and has come out on the winning end.
Lauer, a Midview High School graduate, posted a 9-2 record this season and led the MAC in earned run average (0.76), opponents' batting average (.140), strikeouts (116 in 95 innings) and fewest hits allowed (45).
With a mid-90's fastball, a power slider that sits in the low 90's, a sharp-breaking curve and improving change-up, Lauer has the MLB scouts drooling.
Last summer Lauer led the Cape Cod League in strikeouts. He was originally drafted by Toronto in the 17th round of the 2013 draft, but decided to go to Kent State for one simple reason…pitching coach Mike Birkbeck.
"I chose Kent State mainly because of Mike Birkbeck," Lauer said. "I heard so many great things about him and how he develops pitchers so well. I figured it'd be the best way for me to develop as a pitcher in order to get selected at a high draft spot, or even just to get me to the Major Leagues."
He is projected to be selected early in the first round of June's draft.
Lauer is not the only Golden Flash who expects to get selected in the June 9-11 draft. Corner infielder Zarley Zalewski is on teams' radar after a strong season at Kent. The 6-3 205-pound switch-hitting senior was fifth in the conference in batting (.362), third in runs scored (54) and third in doubles (18).
Although a big corner infielder, Zalewski also finished second in the MAC in on base percentage at .462. He was drafted in the 40th round by the Pirates in 2011, but opted to head to Kent instead.
Ashland transfer Luke Burch, a red-shirt junior rightfielder, is going to be drafted one day…although it may be in 2017. He had a monster regular season for the Flashes, finishing second in the MAC in batting (.370) and tied for second in stolen bases (21). Burch and teammate Dylan Rosa, a sophomore infielder who led Kent in RBI (59, second in the MAC) and doubles (17) will be up there in most 2017 mock drafts.
While Lauer got most of the attention, sophomore Eli Kraus put together one of the better seasons in school history as the Golden Flashes' No. 2 starter. He has a 9-1 record with a 2.37 ERA and will slide into the Friday starter slot next season.
Second-seeded Ball State is another team loaded with professional prospects, headed by probably MAC offensive player of the year Caleb Stayton.
Stayton, a 6-3 225-pound junior first baseman, led the conference in hitting (.383), RIB (71), on-base percentage (.485) and walks (41). He will battle teammate, junior outfielder Alex Call, for player of the year honors. Call was fourth in hitting (.366), first in slugging (.685), runs (67), hits (86), doubles (24), triples (6) and was third in home runs (13).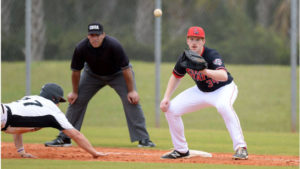 The Cardinals' juggernaut offense topped the MAC in runs (377, 20 more than second-place Kent State), slugging (.454), hits (559), doubles (123), triples (21), RBI (334) and walks (286).
Kent State's offense led the conference in hitting (.296 to the Cardinals' .292 team average) and Miami in home runs (59 to Ball State's 49).
On the mound is where the Golden Flashes have a huge advantage over Ball State. Kent's earned run average was a run-and-a-half better than the Cardinals' (2.82 to 4.32). They had 435 strikeouts to Ball States' 374 (fifth in the conference) and allowed over 100 fewer runs (200 to 306).
Kent and Ball State are on a collision course to meet in Sunday's championship, but they both have to take care of business first. The Golden Flashes (41-12, 20-4 MAC) will face No. 8 seed Eastern Michigan (20-34, 10-14) in the first round while the Cardinals (32-24, 15-9) will take on No. 7 Western Michigan (18-31, 11-13). Other first round games will see No. 3 Miami (25-28, 13-11) face No. 6 Central Michigan (21-35, 12-12) and No. 4 seed Northern Illinois (24-30, 14-10) will take on No. 5 Toledo (18-36-1, 13-11).

NEO Sports Insiders Newsletter
Sign up to receive our NEOSI newsletter, and keep up to date with all the latest Cleveland sports news.