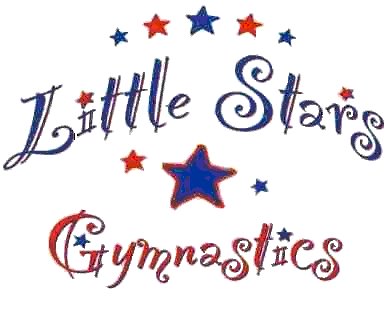 NEOSI is proud to welcome in Little Stars Gymnastics as our newest sponsor of Berea-Midpark coverage of football, hockey and basketball in the 2017-2018 seasons.  To learn more about Little Stars Gymnastics, simply read below as we took directly from the founder herself Sophia Porter.
——————————————————————————————————————————————————
Learn more about Little Stars Gymnastics
by Founder and CEO Sophia Porter
Little Stars Gymnastics began in 2005 at the Middleburg Heights Community Center.  It is a recreational program that introduces gymnastics to children.  The program starts at 18 months and runs through 10 years old.  Not many places start children this young.
The 18 month old class is a mommy/daddy and me class. Starting at a young age teaches them how to properly do a forward roll and other skills they are trying to explore, it also teaches them body coordination, body awareness and body control.  Along with these skills they learn to be social and have fun.  As they get older we teach the students advanced gymnastics skills, flexibility and the importance of body control.
We accomplish these goals in a fun, non competitive environment.  The equipment is all age specific and geared for each class. No experience is needed!  That is our job to teach your child at any age the skills they need to know. The classes we offer are mommy/daddy and me from 18 months till 3.5 years old.  This class is not structured and an adult needs to be present in this class.
The next age group is 3.5 to 4 years old and they are the Shining Suns. This is a structured class and parents do not come into the class.  They will learn to take turns, follow directions and move around in a circuit from station to station learning: cartwheels, forward/backward rolls, mule kicks, walking across the beam and other different skills. The 5 to 6 years old are the Mighty Moons.
We introduce bridges in this class and they progress with skills they already know.  The 7-10 year olds are the Meteorites. In this class they are learning backbends, back walkovers and if ready learning back handsprings and handstands.
We carry a variety of mats, beams, a single bars, so its not too intimidating for the children. As the progression advances we carry various other mats!  Everyone's favorite is the air trac, the air trac is a 20 foot inflatable. They will learn different kinds of jumps, body strengthening skills, roundoffs, back handspring, back tucks as they get older.  The progression is amazing to watch  them when they start off as young and continue throughout the program.
I choose to teach recreational as compared to competitive gymnastics because I want them to enjoy the sport without the pressure of competition.  When and if they show interest in competitive gymnastics I refer them onto club gymnastics.  I started gymnastics at a very young age and always loved the sport.  I competed my junior and high school years.  At 16 years old I started the Southland YWCA gymnastics program.  I had worked for a few private clubs and finally decided to start my own program.  One of my dreams was to open up my own gym one day!
I love the smiles when a child accomplishes a skill they have been practicing for a while!!!  That right there is worth a million dollars to me!

NEO Sports Insiders Newsletter
Sign up to receive our NEOSI newsletter, and keep up to date with all the latest Cleveland sports news.