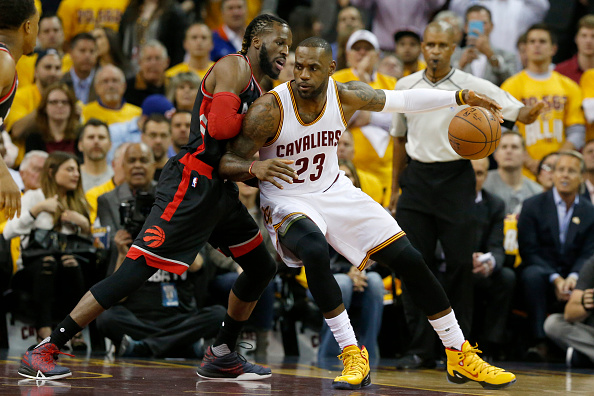 The Cavaliers have turned on the magical switch that all teams heading into the postseason look for, and tonight at the Q at 8:30pm on ESPN will look for a two-game advantage on the Toronto Raptors in the best-of-seven Eastern Conference Finals.
Cleveland is on a historical streak, as they have opened the postseason with nine straight wins, and with a win tonight they would tie the San Antonio Spurs for the most wins ever to start a postseason with 10, done back in 2012.
Oddly enough, that Spurs team lost in the NBA Finals to…you guessed it, LeBron James and his former team, the Miami Heat.
James today said that he's not worried about win streaks, or what the experts are saying about how the Cavs now look like a team that should be able to steamroll through the rest of the Conference Finals.
Some are saying it's the Cavs time, and they have the look of a champion no matter who they play in the Finals should they gain three more wins.
"That absolutely means nothing to me what everyone else is saying," James said today at shootaround.
"I have to get my guys ready and prepared for game two, we understand how important it is if (the Raptors) can come in and get a win they would feel great going back home."
The Cavs dominated game one of the series on Tuesday, shooting 55 percent while holding the Raptors to 42 percent in a 115-84 win to start the series with a statement.
If the successive wins is getting to James and this Cavs team, they for sure are not showing any signs of it thus far.
"We don't want to lose that's what we are here to do we want to win every game when we step on the floor," James said. "We've been challenged this postseason, multiple times by Detroit, and also by Atlanta. We just persevered and were able to come back from it and win those games.
"We don't want to lose, that's not our mindset that should never be our mindset."
The way this team is playing it's hard to argue that they are not the best looking team right now of the four remaining in the NBA's playoff pool.
A 31-point win though on Tuesday will quickly be forgotten if the team lays an egg and doesn't take care of business in game two this evening.
Despite all of that, James says the team has continued to work hard, and they know they are far from being a perfect team despite how they've rolled past the Eastern Conference foes in the playoff to this point.
"We made some adjustments, and we'll be ready for tonight."

NEO Sports Insiders Newsletter
Sign up to receive our NEOSI newsletter, and keep up to date with all the latest Cleveland sports news.