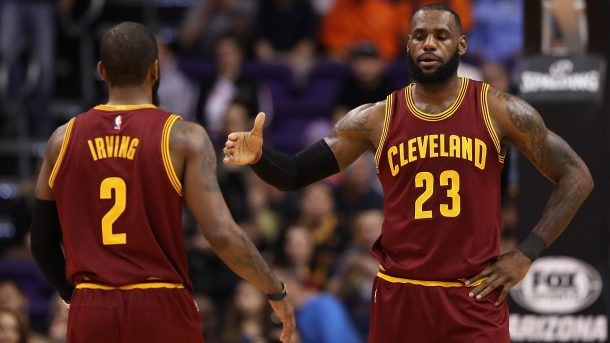 It was last Saturday night at Harrison Barnes wedding, that a video was released and instantly went viral of Steph Curry openly mocking LeBron James workout routine.
That in itself wasn't that bad, and actually quite refreshing to see the rivalry between the two teams ( Cleveland and Golden State)  may actually be real for once.  Harkening back to the days of Bird's Celtics vs Magic's Lakers.
What stood out most about the video was James soon to be EX teammate, Kyrie Irving yucking it up with Curry.  A huge no no.
So, it didn't take long for LBJ to respsond, in his typical passive aggressive form.
Here it is below, courtesy of his twitter and SI as well.
"They wanna see me fall"

LeBron laughing at his critics ? pic.twitter.com/bh4ZgGYx88

— Sports Illustrated (@SInow) August 4, 2017
Here are the lyrics James shouts out in the video in case you couldn't make them out the first time.
Money, power, respect

I know these n—s upset

They ain't see me fall yet

Wins and loss

You want to see me fall
What comes next? A battle rap?  This is getting beyond childish and stupid and the exact reason NBA legends do not take these guys seriously anymore.  The nonsense needs to stop.  Play basketball and keep your mouth shut.  Kyrie Irving is 1-2 in the NBA Finals, LeBron James is 3-5 in the NBA Finals and Jordan was 6-0.  Tim Duncan was 5-1.  Kobe Bryant was 5-2 Case closed!

NEO Sports Insiders Newsletter
Sign up to receive our NEOSI newsletter, and keep up to date with all the latest Cleveland sports news.