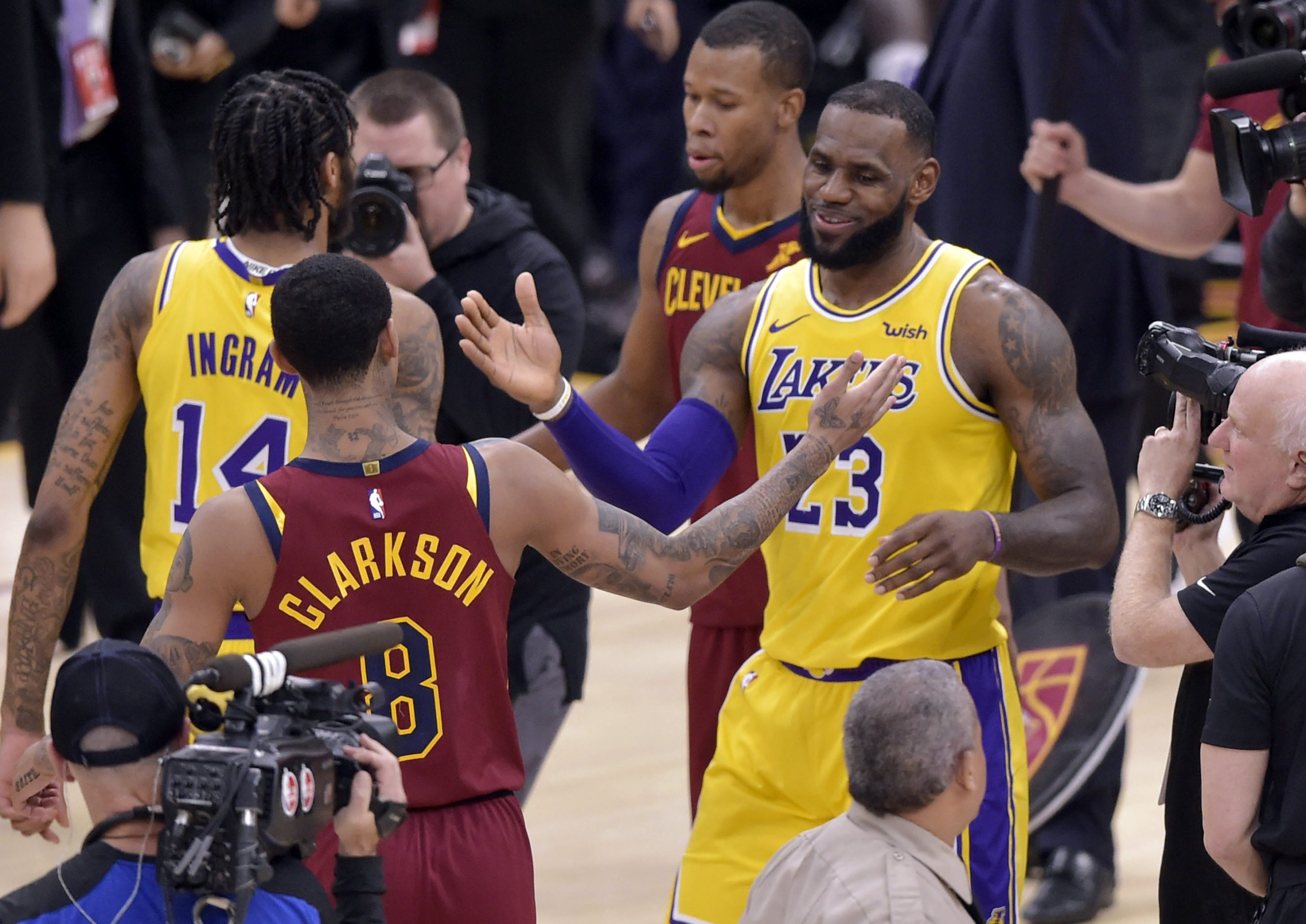 When the Cleveland Cavaliers and Los Angeles Lakers last faced off, LeBron James faced his former franchise for the first time since leaving Cleveland for Los Angeles last summer. Unlike his first free agency departure, which saw James announce that he was "taking his talents to South Beach" in a move that broke the hearts and spirits of the Cavs fan base, James' decision to play for the Lakers last offseason was met with less vitriol, a gift for James having made good on his promise to deliver a trophy to a championship-starved city in Cleveland and having done so in historic fashion.
Now, however, with the Cavs struggling mightily with a roster ravaged by injuries and becoming the only team this season to have recorded double-digit wins halfway through the regular season, the fan base has grown more restless. This hasn't brought any additional criticism for James, who Northeast Ohio looks at like a favorite uncle, but it has made his decision to leave Cleveland harder to swallow.
Nonetheless, as the Cavs head to Los Angeles to take on the Lakers at Staples Center, LeBron gets a chance to see what his current team looks like against his former team.
In the team's first meeting, which Cleveland barely lost in a nailbiter as James' heroics saved Los Angeles from defeat, because James in the lineup there was less of a head-to-head feeling between the roster that James chose and the roster that James chose to leave.
Quite a few valuable players will be missing from both sides, with the Cavs playing without five-time All-Star Kevin Love, the dynamic Larry Nance Jr., defensive stud David Nwaba and what could be their best shot-blocker in John Henson. Furthermore, players like veteran guards George Hill and Kyle Korver have since been traded for guards Matthew Dellavedova and Alec Burks.
The Lakers are making due without James, of course, but are also missing another team leader and playmaker in Rajon Rondo.
However, as injury-plagued as Cleveland is, the matchups between Cavs rookie Collin Sexton and Lakers second-year point guard Lonzo Ball will stay in tact. Depending on how aggressive swingman Rodney Hood plays tonight, the matchups between Hood and Cavs second-year forward Cedi Osman and Lakers tandem of forwards in Brandon Ingram (who also has issues with his aggressiveness) and Kyle Kuzma (who is much more explosive as a scorer than Osman) could be worth watching for comparison's sake as well.
To defeat Los Angeles, Cleveland has to play physical defense and even look at mixing in some zone defense, with the Lakers ranking 26th in the NBA in three-point percentage (33.8 percent) and two of their top three-point threats this season out of the lineup. Furthermore, the Cavs shouldn't be afraid to be physical on defense even if it results in having to foul a player to keep them from getting easy points as Los Angeles only knocks down  68.6 percent of their free-throw attempts, the worst mark in the league.
Cleveland's emphasis on taking three-pointers and minimizing midrange attempts certainly comes into play against a lanky Lakers defense that will contest plenty of attempts inside the arc so this is a game in which the Cavs will get a lot of practice, or lessons, on making the right play. With Los Angeles surrendering 11.4 offensive rebounds per game (27th in the NBA) and being a middling team in crashing the offensive boards themselves (10.0 offensive rebounds per game, 17th in the NBA), second-chance points and keeping the Lakers to one possession should also be key for Cleveland in Sunday's matchup.
With a bench that averages 44.3 points per game (ranked fourth in the NBA per Hoops Stats), the Cavs may have their biggest advantage when Jordan Clarkson and Matthew Dellavedova are in the game. Los Angeles' bench unit, led by Kentavious Caldwell-Pope's average of 10.1 points per game, averages 34.8 points per game (ranked 19th in the NBA).
Cleveland is on a 12-game losing streak and in a downward spiral and a win against the Lakers would be a tremendous boost for the locker room morale, at least for a moment.
---
Game information: Tip-off is scheduled for 9:30 PM (EST) at the Staples Center in Los Angeles, California. It will be aired nationally by Fox Sports Ohio and NBATV.
---
Probable starters (CLE):
Collin Sexton
Alec Burks
Rodney Hood
Cedi Osman
Tristan Thompson
Probable starters (LAL):
Lonzo Ball
Josh Hart
Brandon Ingram
Kyle Kuzma
JaVale McGee

NEO Sports Insiders Newsletter
Sign up to receive our NEOSI newsletter, and keep up to date with all the latest Cleveland sports news.