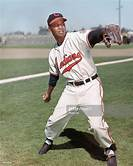 As a child of Cleveland in the 1970's baseball was always on in the house. During Italian get togethers, Friday nights, Sunday afternoon… it didn't matter. The game was always on. As a child, I would ask my dad, grandfather, uncles, and great uncles who the best Cleveland Indian was. Then, the argument would ensue. Al Rosen, Rocky Colovito, Rapid Bob Feller or a guy named Larry Doby. When I first heard Doby's name, I was intrigued. I had never heard of him. So off to the library I went!
Lawrence Eugene Doby was born on December 13, 1923, in South Carolina to parents David and Etta. Doby's father played semi-pro baseball after his stint in World War I. His father worked with horses, but he and Etta divorced when Larry was young.  Shortly after the divorce, David drowned in a lake in upstate New York. Larry's mother moved back to New Jersey, but Larry stayed with his grandmother in South Carolina.
After his eighth-grade year, Larry moved back to New Jersey to be with his mother. Larry wasn't just a good baseball player, but he also played basketball, football, and track. In high school he excelled in all these sports. During the summer months, he would play semi pro ball in both basketball and baseball. He played with the Harlem Renaissance (bball) and then for the Newark Eagles of the Negro National League (NNL), owned by Abe and Effa Manley, who were told to sign him by an umpire who watched Larry play second base. All this he did during his high school years.
The summer before he began college was his first in the NNL, where he played against Satchel Paige and Josh Gibson. But his stint there was short as he enrolled in the Navy for WWII. According to Alfred Martin, who authored a great book on the Negro leagues, Larry heard about Jackie's signing to the minor leagues and was now convinced that he had a chance to make it in baseball.
After his discharge in the armed forces, he went back to New Jersey, married his sweetheart, Helyn Curvy, and continued to play for the Newark Eagles (for $300!), where they won the NNL championship behind Doby's play. According to Justice Hill in Living to Tell About It, he mentioned that many in the Negro Leagues thought Doby or his teammate and friend, Monte Ervin, not Jackie, would be the first to break the color barrier.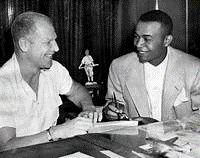 Bill Veeck was a maverick owner in baseball. He owned the then Triple A Milwaukee Brewers in the early 1940's. He tried to purchase the Philadelphia Phillies and planned to stack the team with Negro League Players. MLB got wind of this, took over the team and sold it to a Philadelphia businessman. He tried in the early 1940's to get MLB to admit black players but was rebuffed. In 1946, Veeck bought the Indians and quickly moved to sign Larry Doby.  The story of Veeck asking reporters who would be the best player to sign is legendary. He went to the Cleveland reporters covering the Indians. He went to the NNL writers and got the same response. Mark Bechtel in an article for si.com mentioned that Bill Veeck told a reporter of the Pittsburgh Courier, "One afternoon when the team trots out on the field, a Negro player will be out there with it."
Veeck's plan was for Doby to continue with the Eagles and then one day Doby would be in the lineup for the Indians with no prior announcement! Buying Doby though meant Veeck had to deal with Effa Manley. (The following come from the book The Cooperstown Syposium on Baseball and American Culture) Effa thought Doby would be a New York Yankee, but they showed no interest. So Veeck offered $15,000 on July 3rd, 1947, and Doby became a Cleveland Indian. Effa even stated that if Larry were white, Veeck would be giving her over $100,000!
Terry Pluto's great book Our Tribe: A Baseball Memoir is a great source of information on the day Doby stepped on the field in Chicago. Lou Boudreau, the player manager for the Indians, couldn't find a place for the infielder. Lou was the shortstop and Joe Gordon, the second sacker. He supposedly didn't know that Larry Doby and a Cleveland executive took a train from New Jersey to Chicago the night of July 4th. The morning of July 5th came and there was Doby in the locker room. According to stories, Lou introduced him to each member of the team. All shook his hand except for three or four of the players. In warmups Larry was out by himself until Joe Gordon asked him to play catch. That started a long-time friendship between the two second basemen.
In the seventh inning of the July 5th game, Larry came in as a pinch hitter and struck out. After the game, plains-clothed policemen escorted Doby to DuSable Hotel in the South side of Chicago, not the hotel the team stayed in. Word spread about Doby in Chicago and the Indians were set to play the White Sox in a double header on Sunday. It was estimated that thirty percent of the crowd that day was black. Churches let out early or people walked in their Sunday best for the game on the holiday weekend! Doby pinch hit the first game but was the starter at first base for game number two. No one on the club gave him a first basemen's mitt. The glove he used for that game supposedly came from the White Sox bench. His first game he was 1 for 4 with an RBI in a 5-1 Indians win.
From then on, Larry and Jackie would call each other with stories and encouragement. Seems they leaned on each other as they both made history and changed the game forever. Doby went on to be a seven-time All-Star for the Tribe. In 1948, Larry helped the Indians to the first World Series since 1920 as a center fielder. And he became an answer to an often-overlooked trivia question:  Who was the first black baseball player to hit a home run in a World Series?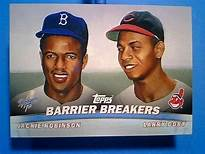 In 1954, the Willie Mays "catch heard round the world" year, Larry was runner up in the MVP vote, carrying the Indians along with a dominant pitching staff to the most wins ever by a team at that time and the World Series. He later became another trivia answer:  Who was the first black player to lead EITHER league in homeruns?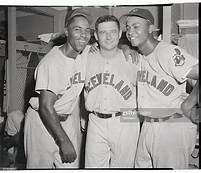 Injuries limited his playing time in Cleveland and was traded to the White Sox. His playing time was spent jumping from team to team. (Note:  He was one traded for Tito Francona, Terry Francona's dad!)  He finished his career with a .283 batting average, 273 home runs, 1099 RBI's and a few second-place finishes as MVP. He played over 1000 games for the Tribe.
After retiring he became an executive in baseball and basketball and spent time as hitting coach and even manager for the White Sox, but only after Frank Robinson, who became the first black manager in MLB with the Cleveland Indians.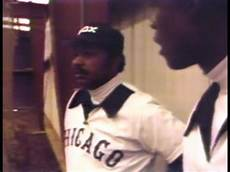 Larry Doby can take pride in being second…First to Jackie Robinson. Then to Frank Robinson. Jackie to play…Frank to manage. His was a life just outside the spotlight, but still on the main stage! But Rapid Bob Feller said this of Larry Doby: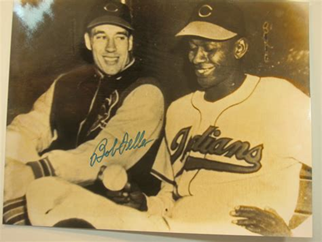 He was a great American, served the country in World War II, and he was a great ballplayer. He was kind of like Buzz Aldrin, the second man on the moon, because he was the second African-American in the majors behind Jackie Robinson. He was just as good of a ballplayer, an exciting player, and an exceptionally good teammate.
—Hall of Famer Bob Feller, teammate with Doby 1947–55
Al Rosen, the long-time Indians third baseman and former baseball General Manager, brought an interesting point out a few years back regarding who might have had a more challenging time transitioning to the major leagues:
"Jackie was a college educated man who had been an officer in the service and who played at the Triple-A level. Jackie was brought in by Branch Rickey specifically to be the first black player in major league baseball. Larry Doby came up as a second baseman who didn't have time to get his full college education and was forced to play a different position in his first major league season. I think, because of those circumstances, he had a more tough time than Jackie Robinson. I don't think he has gotten the credit he deserves." (Russell Schneider, Tales from the Tribe Dugout (2002))
Today we remember 75 years ago as Jackie Robinson became the first African American to play in the Majors! But let's also keep the spotlight on another man who went through everything Jackie did, too. Mr. #14, Larry Doby! Come join the Guardians as they plan to celebrate the 75th anniversary for Larry's breaking the AL barrier with Larry Doby Night on July 2nd against the New York Yankees!
8-time All-Star (1946/NNL & 1949-1955/AL)
AL On-Base Percentage Leader (1950)
AL Slugging Percentage Leader (1952)
AL OPS Leader (1950)
AL Runs Scored Leader (1952)
NNL Total Bases Leader (1946)
2-time AL Home Runs Leader (1952 & 1954)
AL RBIs Leader (1954)
20-Home Run Seasons: 8 (1949-1956)
30-Home Run Seasons: 2 (1952 & 1954)
100 RBI Seasons: 5 (1950, 1952-1954 & 1956)
100 Runs Scored Seasons: 3 (1949, 1950 & 1952)
Won one Negro World Series with the Newark Eagles in 1946
Won one World Series with the Cleveland Indians in 1948
Baseball Hall of Fame: Class of 1998

NEO Sports Insiders Newsletter
Sign up to receive our NEOSI newsletter, and keep up to date with all the latest Cleveland sports news.