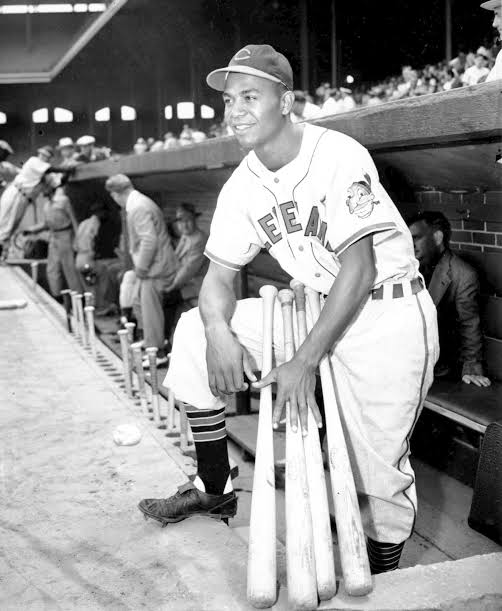 It's the time of year Larry Doby is a topic of conversation. On April 15 Major League Baseball honors Jackie Robinson and rightfully so. Robinson took the field in 1947 becoming the first African American to play in the Major Leagues. In doing so he broke a 60-year color barrier in baseball. Robinson's story is that of struggle and perseverance. He paved the way for many that came after him. Major League Baseball has permanently retired No. 42, Jackie's number, as well as dedicating a day to honor him.
Larry Doby enters the league
Every year while honoring Robinson Larry Doby's name is discussed. It's a reminder that Doby is deserving of recognition from Major League Baseball. In no way is this to take away from Jackie Robinson. As Doby was the first Black player in the American League he can be recognized as such. The solution is for Major League Baseball to also retire his No. 14 and designate July 5th in his honor. As Robinson was the first to integrate baseball he was in the National League. With Doby being in the American League it the solution that makes sense and is necessary.
On July 5th, 1947, three months after Robinson made his debut Doby became the second Black player in major league history and the first in the American League. He joined the Cleveland Indians on their road trip at Comiskey Park in Chicago. Bill Veeck, the owner, and team president of the Indians was a champion of civil rights. He had tried for years to integrate baseball.
Struggles of integration
Veeck was there to do what he could to make Doby's transition to the majors as seamless as he could. During these times there was much that was out of Veeck's hands when it came to attempting to make life for Doby easier. This didn't stop the Indians' owner from trying.
When Doby joined the Indians four players refused to shake his hand. Two players took it a step further and turned their back on Doby when he introduced himself. Shortly after, these players who were not welcoming to Larry were off the team. Teammate, Joe Gordon, saw the treatment Doby was receiving and offered to warm up with him by playing catch. This gesture was the beginning of a lasting friendship between Larry and Joe.
Veeck hired plain clothed police officers to accompany Doby at his debut in Chicago. There didn't end up being any incidents that needed the officer's involvement that day in Comiskey Park. However, this showed how the Indians owner personally cared about Doby.
Larry was unable to stay at the same hotel as his team that evening. He ended up at a hotel on Chicago's south side that was in a predominantly Black area of the city. These lodging arrangements were a pattern that occurred much throughout Doby's career.
Shows of support
The following afternoon, in Chicago, many Black churches let out early to see Doby take the field in the doubleheader. Some estimate that the crowd was over 30 percent African American.
While Larry had the strong support of Veeck he also had the majority of support from Cleveland fans.
The Plain Dealer reported "Cleveland's man in the street is the right sort of America, as was evidenced right solidly once more by the response to the question: 'How does the signing of Larry Doby by the Indians strike you? Said the man in the street. Can he hit? That's all that counts."
Larry Doby's younger days
Larry was born in Camden, South Carolina. He faced adversity at an early age. Doby's parents were divorced and not long after his father died in a drowning accident. Larry's mother moved to New Jersey, and he stayed in Camden with his grandmother through the eighth grade. He attended Jackson School which was segregated under the state law of South Carolina. However, he received his opportunity to play organized baseball at Boylan-Haven-Mather Academy, a private school in South Carolina.
Doby's father played semi-pro baseball and was coached by Richard Dubose who also took Larry under his wing. Dubose was an integral part of the forming of the young baseball player.
At the age of 14 Larry moved to New Jersey to be with his mother. Doby didn't stop at baseball, he was a multi-sport athlete playing basketball, football and also ran track. While attending Paterson East Side High School he was a member of the state football championship team. The squad was invited to Florida to play however the promoters would not allow Doby to accompany his team as he was the only Black player. In solidarity his team voted to decline the invitation. If they would not allow Larry to play, then the team did not want to participate.
Entering the Negro League
He went on to accept a basketball scholarship from Long Island University. At the age of 17 he began playing with the Newark Eagles, a professional Negro baseball team. During World War II, Doby joined the Navy and upon completing his military service he returned to the Newark Eagles. He was a part of the 1946 team winning the Negro World Series.
When Doby joined the Cleveland Indians in 1947, he was the first player to transition from the Negro leagues. Cleveland had a second baseman and shortstop, so they found a spot for Doby in centerfield.
In 1948 the Indians won the World Series. Doby and his teammate Satchel Paige became the first African American players to win a World Series championship.
Not only did Doby break the color barrier in multiple ways he was also an excellent baseball player. The slugger was a two-time American League home run leader (1952 and 1954) along with the RBI leader in 1954. Doby was a seven-time All-Star and had recorded a total of 273 homeruns at the time of his retirement in 1962.
Doby wasn't finished with baseball after retiring. He became the second Black manager in the majors with the Chicago White Sox in 1978. Larry was appointed to American League executive offices in 1995. He was then selected to the National Baseball Hall of Fame in 1997.
Cleveland Raises Larry Doby
Despite the league not honoring Doby by setting aside a day for him or retiring his number, Cleveland makes sure his contributions are not forgotten. The Indians retired No.14 in 1994. The following year Cleveland unveiled a statue of Larry at Progressive Field.
Doby's son was in attendance and had this to say "If my father was here, he'd be overjoyed. This is for our family and for Cleveland. Dad told me he was never booed in Cleveland, and he always remembered that."
Doby passed away in 2003 at the age of 79. He was a trailblazer, an extraordinary baseball player and courageous beyond measure. The contributions he made to the game of baseball not only paved the way for others but was part of a bigger change. It's difficult to begin to understand the level of hatred Doby was met with just because of the color of skin. It invokes a feeling of outrage to hear the struggles he faced yet it brings encouragement to know the spirit of Doby and his fellow Black teammates. It's time for Major League baseball to embrace that spirit and honor Larry Doby.

NEO Sports Insiders Newsletter
Sign up to receive our NEOSI newsletter, and keep up to date with all the latest Cleveland sports news.