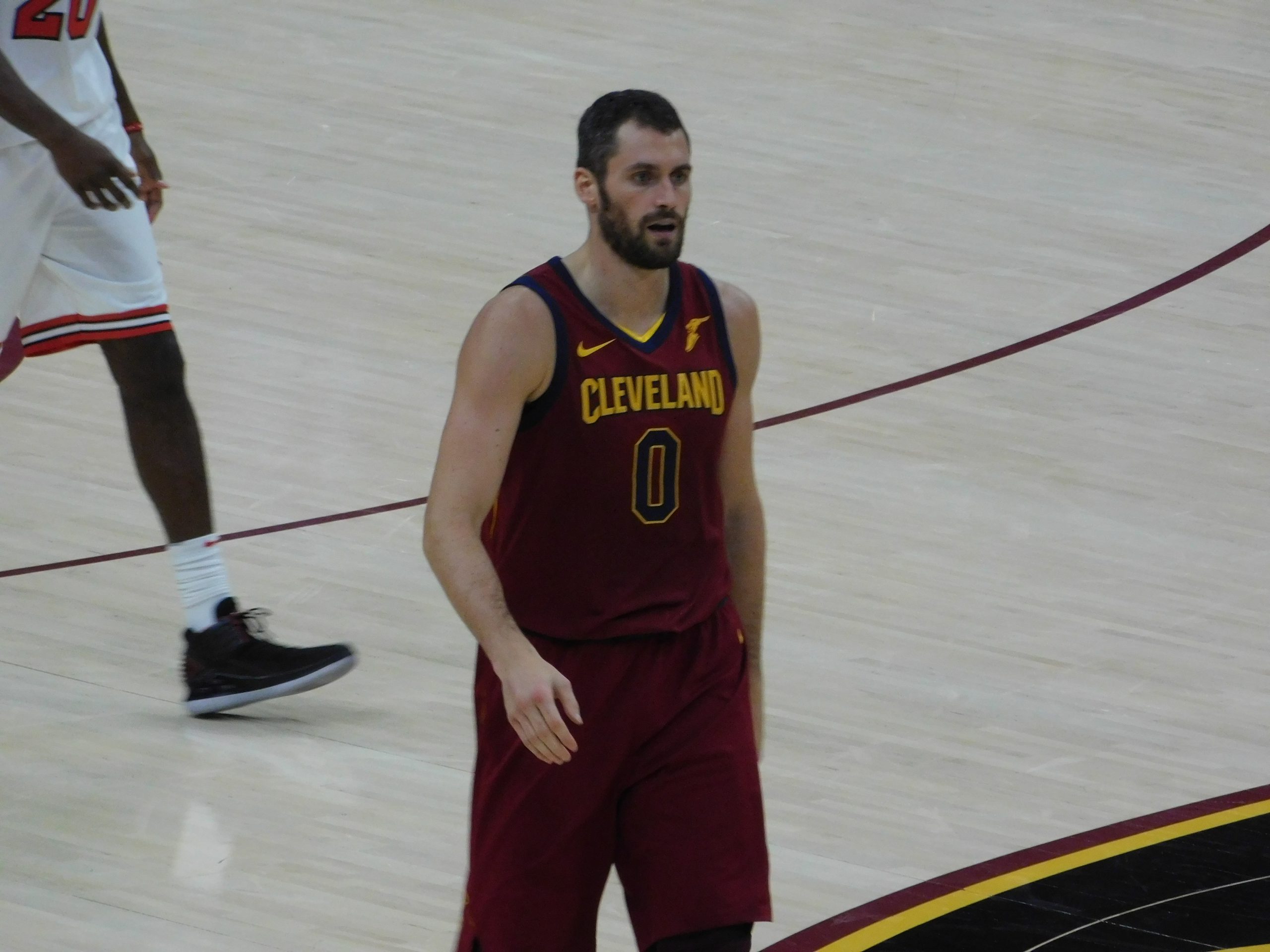 CLEVELAND–  While the Cavaliers were on the second leg of a back-to-back on Tuesday night against the Miami Heat, you wouldn't know it from Kevin Love's play.
Love recorded a season-high 38 points on 10-of-16 shooting, and was especially strong in the first half, as the Cavs were able to take a 75-49 lead over the Miami Heat at halftime en route to a 108-97 win.
In the first quarter alone, it was clear that Love was on a different level. He scored 19 of the Cavs' first 24 points, giving them a quick 24-12 lead in the first seven minutes of the game. By the time the first quarter was completed, he scored 22 points and the Cavs had a 35-24 advantage.
"I hit a couple of shots on the inside on put backs, made some moves, I was able to get to the free throw line and hit a couple of my threes," Love said.
Love is of course plenty capable of scoring outbursts of this caliber. On Nov. 23 of last year, Love set an NBA record for first quarter points with 34 against Portland. On Tuesday night, Love essentially did what LeBron James did the night before against the Philadelphia 76ers: Set the tone for the offense to allow the Cavs to build an early lead.
"Just came out being aggressive, taking his shots in rhythm," head coach Tyronn Lue said. "Same shots he's been having. I just liked that he was aggressive."
Lue on Love's performance and LeBron getting ejected pic.twitter.com/YOi6ALbMFa

— Ashley Bastock (@AshleyBastock42) November 29, 2017
There was little drop off in Love's play in the second quarter, as he continued to put in work down low and on the perimeter.  Overall, Love was especially effective at using his speed and shooting ability to exploit Miami big man Hassan Whiteside on the wing. When the Heat would switch smaller defenders onto him, he would take advantage on the boards and on the low block. By the halftime break, he had 32 points on 10-of-14 shooting from the field, was 4-of-7 from behind the arc, and 8-of-9 from the line with eight rebounds.
According to Ira Winderman of the South Florida Sun Sentinel, Love's 32 points in a single half tied for most against the Heat by a single player in franchise history.
Love's individual effort was especially huge considering he is still very much adjusting from his usual forward position to the 5 spot. After the game Love was asked if it was something he would like to continue.
"It's tough to answer that without getting myself in trouble just because there's a lot of big boys out there," Love joked. "It's funny to say I'm playing out of position because I'm used to being out there with Tristan and fighting for rebounds with him, and knowing the rotations at the 4 spot and also playing inside out from the 4 spot."
Love talks about the changes of moving to the 5 spot. When asked if it's something he would like to continue he jokes "it's tough to answer that without getting in trouble." pic.twitter.com/c8GU7cA1q0

— Ashley Bastock (@AshleyBastock42) November 29, 2017
"He's had a tough stretch," Lue said, empathizing with Love. "He had Dwight (Howard) twice, he had (Andre) Drummond, Whiteside, (Joel) Embiid. So he's had a tough stretch but he's played well, and just having him at that 5 position just causes defenses—you know anytime we play up against a shooting 5 it's tough for us also. Having Kevin stretch the floor but also rebounding the basketball is big for us."
Along with Love's stellar individual effort, the Cavs also continued to push the ball in transition, scoring 13 first-half points in fast break. The second unit (or dinobots as Channing Frye called them after the Sixers game last night) pushed the pace to increase the Cavs' lead even further. It also didn't hurt that LeBron James had a quiet double-double in the first two stanzas with 16 points and 10 rebounds.
"We felt like tonight we were the aggressors to start the game," Love said. "I think we got into the bonus early. I think the aggressiveness from the whole team was great from the jump. It wasn't just myself but I thought guys were shooting their shots, getting to the free throw line and playing good basketball."
Love talks about his 38-point performance, says entire team was aggressive from the tip pic.twitter.com/o1CkJ0ZLXc

— Ashley Bastock (@AshleyBastock42) November 29, 2017
The Cavs overall offensive success, however, was once again buoyed by the Cavs defense. They were solid in their one-on-one matchups, which led to few missed rotations and few drives into the lane. Love's individual effort on that end of the court held Whiteside to just five points and five rebounds in the first half, and the perimeter defense made it difficult for Miami's guards to even get him the ball at all. The Heat shot just 44 percent from the field for the game (37-of-84) and it was the third straight contest the Cavs defense held an opponent to under 100 points.
But by and large, Tuesday night showed once again that the Cavs have multiple people capable of taking a game over. When you have that kind of chemistry, winning nine straight games isn't all that shocking.

NEO Sports Insiders Newsletter
Sign up to receive our NEOSI newsletter, and keep up to date with all the latest Cleveland sports news.