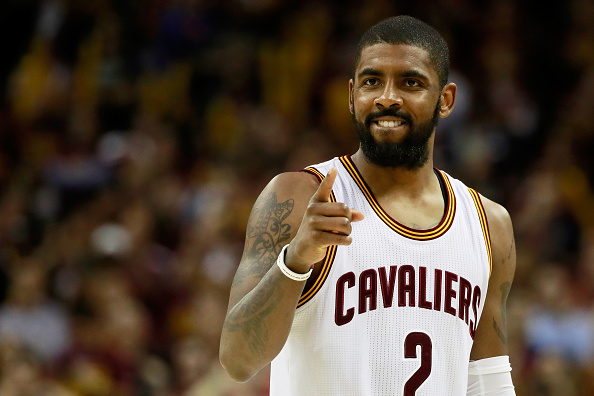 With about 6:46 to go in the second quarter, things were not looking good for the Cavaliers.
LeBron James had just recorded his fourth foul in the first half, (a first for him) and on the next possession Cleveland found themselves down by 13 points.
The Cavs ended the half only down by 10, thanks to Kyrie Irving. Without him, it would have been a lot worse, and the Cavaliers likely wouldn't have walked away with a 112-99 victory over the Celtics in Game 4 of the Eastern Conference Finals.
Irving finished the night with a new career playoff high 42 points on 15-of-22 shooting, half of which came in the third quarter.
Following the win, Irving said that he just got in a zone, and it seemed like it was out of necessity.
"You almost hit … like a runner's high, where you get so juiced up when you see a few shots going in, and then you feel the emotion kind of takeover, and then shots just start to fall in," Irving said.
"I'm saying to myself, 'They cannot tie up this series. They cannot. We cannot go to Boston 2-2, and then it becomes almost an even series.'"
Irving on his scoring run: "you almost hit like a runner's high" pic.twitter.com/bL8Fy4noi0

— Ashley Bastock (@AshleyBastock42) May 24, 2017
Irving ended the second quarter scoring 12 of the Cavs' final 14 points without James in the game. Those 12 points would just pave the way for his offensive onslaught in the third.
When the Cavs came back from the locker room after halftime, Irving seemed perfectly content to put the team on his back and tell them to come along for the ride.
Whether it was carving the Boston defense to bits with his signature shake-and-bake drives to the basket, or spreading the Celtics defense while hitting three-pointers, Irving proved once again that he can be depended upon when the Cavs, or James, face adversity.
"I've been saying he's a special kid. He's a special talent. As the stakes get higher and higher, his game gets higher and higher," James said.
"He rose to the occasion, and he put the team on his back, and we definitely needed that effort from him."
James on Irving: "As the stakes get higher and higher, his game gets higher and higher." pic.twitter.com/vFKIY15YcD

— Ashley Bastock (@AshleyBastock42) May 24, 2017
"This was a special night for him. It's tough to put into words," Kevin Love said.
In the third quarter, Irving scored 21 points on 9-of-10 shooting. Behind Irving's play, the Cavs increased their shooting percentage from 47.2 percent at the half to 57.9 percent heading into the final twelve minutes of the game, with an 87-80 lead.
The third quarter wasn't all positive, however. One scary moment (albeit brief) was Irving rolling his ankle after going up for a layup. He would later get up, and jog off the apparent injury.
"I wasn't coming out for any margin," Irving said. "I wasn't coming out."
While Irving only scored three points in the fourth quarter, James scored 15, and it was clear that the Cavs were not going to let their lead deplete.
Along with Irving's 42 points, James finished the night with 34, and Love added 17 points and 17 rebounds– making the Big Three's combined offensive output 93 out of 112 points.
With the win, the Cavs improve to 3-1 in the Eastern Conference Finals. They'll travel to Boston for Game 5 on Thursday, at 8:30 p.m.

NEO Sports Insiders Newsletter
Sign up to receive our NEOSI newsletter, and keep up to date with all the latest Cleveland sports news.