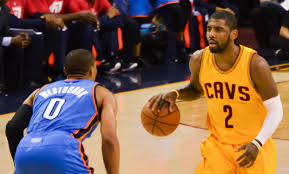 Contrary to various reports, Cavs' point guard Kyrie Irving will not play Thursday night against the Thunder. Irving has not played since he suffered a knee-injury in Game 1 of the 2015 NBA Finals in Oakland against the Golden State Warriors.
Irving denied the reports that he would return to action on Thursday, posting the following statement on his Twitter account:
"Sorry to dwindle the news, but I won't be returning tmrw. It was wrongfully reported. When I do come back you'll hear it directly from me."
The 23-year-old, three-time All-Star is in his fifth season and has averaged 21 points and nearly six assists per game, throughout his young career.
He was the Cavs' first overall selection in the 2011 NBA Draft, and won the Rookie of the Year Award in the only season that he was not named to the Eastern Conference All-Star team.
Thursday night's matchup with the Oklahoma City Thunder will feature some of basketball's elite talent, as LeBron James and Kevin Love square off with Kevin Durant and Russell Westbrook.
The Thunder (16-8) are the third-best team in the Western Conference, and hold the fourth-best record in the NBA.
The Cavs' next game after Thursday night is Sunday afternoon at home against Philadelphia.
When Irving returns, the Cavs will likely use a starting lineup consisting of Irving, J.R. Smith, James, Kevin Love, and Timofey Mozgov.
That lineup went 29-4 in 33 games during the 2014-2015 season.