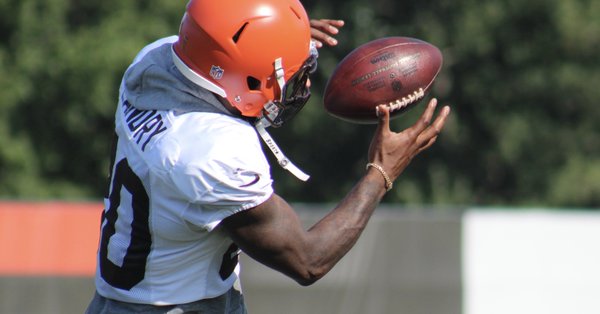 With all the attention this past week turned to the fact that Odell Beckham Jr. has caught just four passes the last two games, teammate and friend Jarvis Landry Thursday finally spoke up about it.
"I'm not calling plays or designing anything,'' said Landry Thursday via Cleveland.com.
"But at the end of the day, obviously he's a key part of our offense whether the ball's in his hands or not. The way that it's been going, we haven't really been making enough plays without him touching the ball."
Landry's comments seemed to implicate head coach Freddie Kitchens as the main reason behind why Odell hasn't been getting the ball a lot.
Kitchens has been calling the plays all season, and while some of the blame has to be on quarterback Baker Mayfield, the comments of Landry seemed to be pointing at Kitchens.
"I don't call plays, right?'' Landry said.
"So I just say just from my perspective we just have to be intentional. We have to just deliberately get him the ball. Get all of our playmakers the ball. Guys that are going to make plays for us, just get them the ball."
Friday Kitchens in his final press conference of the week was asked what he thought about Landry's comments, and if he had a problem with them.
The first-year coach seemed to do what he could to smooth the waters, not saying much either way about the situation about getting the ball to Beckham.
"I do not really have any thoughts," Kitchens said. "I think we need to intentionally get him the ball, too. I think we need to intentionally win a game."
When asked if he had an issue with the comments that Landry made, he sad that the players on the team have the right to say whatever they feel.
One has to wonder if at some point that may change or if there's a chat to be had between the coach and player on the matter.
"They are free to say whatever they want to say. I do not monitor them – monitor is not the right word," Kitchens said.
"I do not put restrictions on what they say. Our only rule is do not hurt the team. I do not think that hurt the team. I would agree with him."
For now, Kitchens is saying all the right things. If the Browns have another few weeks of not getting on track and losing games, that may not the sentiment too much longer.

NEO Sports Insiders Newsletter
Sign up to receive our NEOSI newsletter, and keep up to date with all the latest Cleveland sports news.