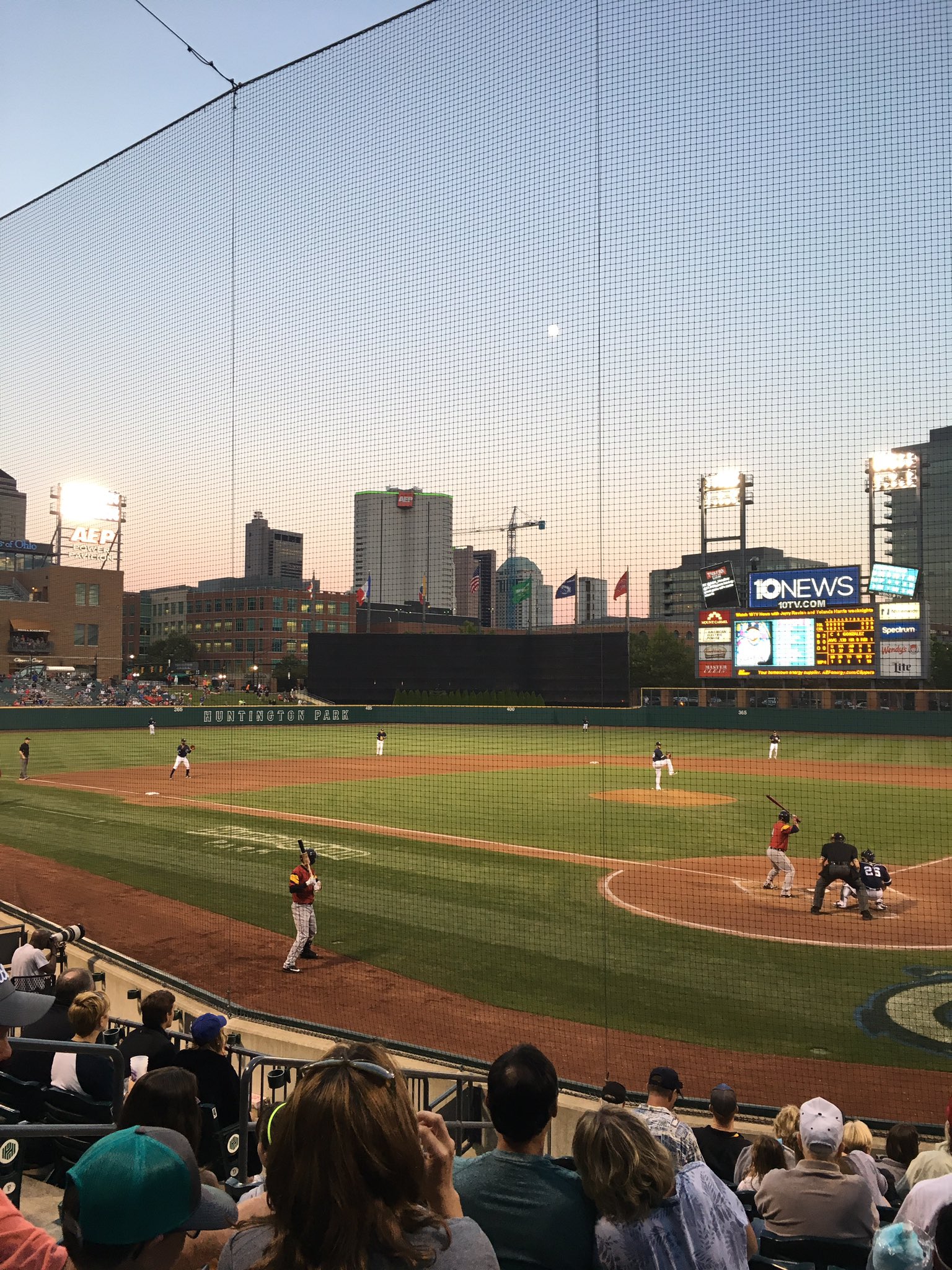 COLUMBUS, Ohio –  Your very own Columbus Clippers welcomed in the visiting Toledo Mudhens tonight for some excellent AAA action on the diamond.  As you know, the Mudhens are the farm system team of the Detroit Tigers.
It all seemed like it would be gravy tonight as the Clippers led from the first inning on, and appeared to be cruising.  Up 5-0 to start the 8th the champagne was on ice things appeared to be in order for a blowout victory.  That is when everything changed, and a 6 run 8th for the Mudhens quickly spoiled everyone's plans.
Thanks to 3 clutch doubles and then a big 2 run homerun by Tyler Collins, the Mudhens managed to nab the victory.  The rally came against starting pitcher Shawn Morimando and relief pitcher Shawn Armstrong who managed to blow the lead in stunning fashion.  The Mudhens would tack on 2 more in the ninth off of Kyle Crockett to make it 8-5.
The game started off well in favor of the home team.  Columbus starting pitcher Shawn Morimando shut the first 10 Mudhen hitters down in order.  He set the 10 men down on the strength of 4 strikeouts during that stretch.   A diving catch by Michael Martinez robbed Omar Infante of a base hit to start the game.  It was a great flash of leather by the Clippers centerfielder.
Meanwhile, the Clippers offense got off to a red-hot start thanks to an error by Jeimer Candelario on a sharp ground ball hit by leadoff hitter Daniel Robertson in the bottom of the opening inning.  Jason Kipnis, making his first AAA rehab start with the team, wasted no time in making the Mud Hens pay for the error.
Kipnis crushed the first pitch he saw from starting pitcher Josh Turley to dead away deep center field, all the way to the wall.  It would be an RBI Triple for Kipnis and give the Clippers the early 1-0 lead.
Turley, shaken up by the sloppy defense and Kipnis at bat, would then walk Yandy Diaz on four straight pitches, before recovering to strike out Tyler Naquin.  Richie Shaffer would then follow that with another walk, loading the bases for Michael Martinez.  He then did what Cleveland Indians fans sadly recall him doing much too often, as he grounded into an inning ending double play, leaving the bases fully loaded.
The Clippers had a chance to expand on the lead in the second inning as well.  This time it was Jason Kipnis grounding out to end the rally with two men on base.  A Nellie Rodriguez double followed by a Daniel Robertson walk, put two on with two out, but the Clippers could not cash in.  Leaving 5 on, total, through the first two innings.
The Clippers did manage to add in the top of the third inning.  This time on the strength of a Yandy Diaz single.  Diaz would then move to second on a passed ball before being driven home by Tyler Naquin's double, to make it 2-0 Columbus.  Naquin would then move on to third on yet another passed ball.  Shaffer would reach first via walk, to put men on the corners with no one out, and one already home for Michael Martinez.
Martinez would do it yet again, another double play ball to put two outs on the board.  This time however, Naquin was able to cross home plate making 3-0.  But that was two costly rally killing at bats for Martinez.  Despite that, it was 3-0 heading into the fourth.
Shawn Morimando remained hitless through four innings, as his strikeout total reached 5 during that stretch.  The only Mud Hen to reach base was Jacoby Jones on a walk, he would then steal second but it would go no further.
Meanwhile in the bottom half of the 4th, Nellie Rodriguez remained red hot, following up his second inning double with a 1 out, solo homerun this time.  The blast made it 4-0.  As the Clippers were tacking on runs, Shawn Morimando was cruising, going five innings without allowing a hit to start the game.
The Clippers were right back at it in the bottom of the 5th inning as they loaded them up once again with zero outs.  This time it was a Diaz walk, a Naquin double and a Richie Shaffer hit by pitch to load them up for the struggling Michael Martinez who flew out to center, and did not manage to score any of the runners. Eric Stamets managed to get the job done next up, with a sacrifice fly to make it 5-0 Clippers.
The game remained 5-0 unil the bottom of the 7th inning as the Clippers once again put together some offense.  In almost the exact same fashion as before, they loaded the bases with a Diaz single, Naquin walk and Shaffer hit by pitch.  But then, yet again, almost like a bad dream, Martinez came up and grounded into a bases loaded double play for the third time tonight.
The 3rd bases loaded double play of the game for Martinez proved to be fatal as the Mudhens managed to rally up a flurry of runs in the top half of the 8th inning.  The furious rally resulted in a 6-run explosion, capped off by a massive 2 run homerun Tyler Collins to put Toledo 6-5.  It was stunning!
First Pitch 7:14
Attendance 9705
Toledo came into the game at 49-59
Columbus came into the game at 59-51
Tomorrows starting pitching matchup will be Anthony Vasquez (5-7) vs Julian Merrywether (3-2)
Toledo 0-0-0-0-0-0-0-6-2
Columbus 1-0-2-1-1-0-0-0-0
Lineups Today
Toledo
Omar Infante 2B
Jacoby Jones CF
Jeimer Candelario 3B
Efren Navarro DH
Juan Perez RF
Dominic Ficociello 1B
Matt den Dekker LF
Miguel Gonzalez C
Brendan Ryan SS
Josh Turley P
Columbus
Daniel Robertson LF
Jason Kipnis 2B
Yandy Diaz 3B
Tyler Naquin DH
Richie Shaffer RF
Michael Martinez CF
Eric Stamets SS
Adam Moore C
Nellie Rodriguez 1B
Shawn Morimando P

NEO Sports Insiders Newsletter
Sign up to receive our NEOSI newsletter, and keep up to date with all the latest Cleveland sports news.