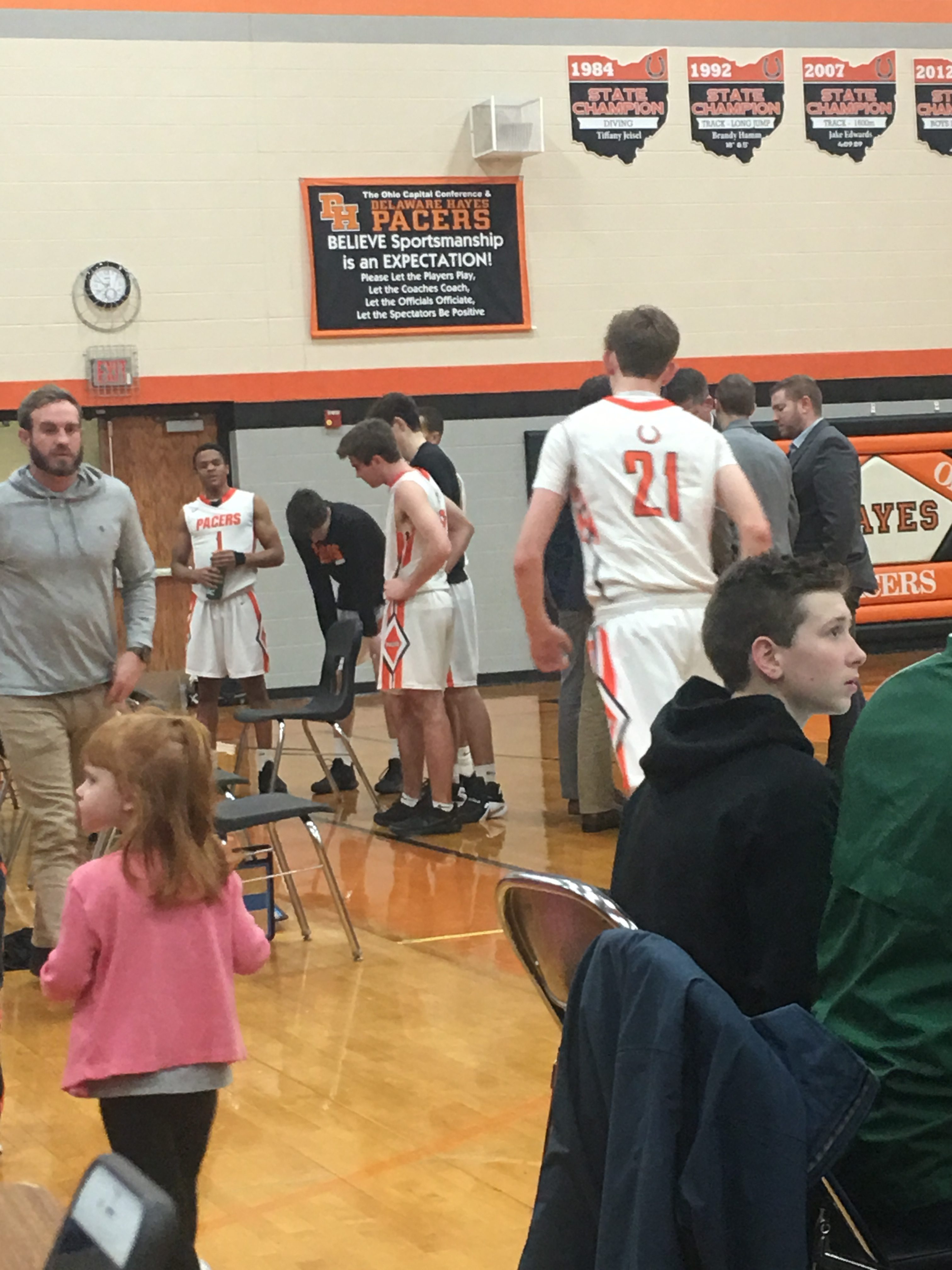 by Logan Kelleher
DELAWARE, OHIO– Terin Kinsway and Nate Griggs each had 20 points as the Delaware Hayes Pacers handled the Dublin Scioto Irish at home. For the Irish, Benjamin Lombardo had 16 points, and Noach Brechbuhler had 10.
The Pacers started off the game right with Nate Griggs making a three-point shot, then after Dapreis Owens missed a shot for the Irish, Griggs was able to score again, kicking the lead out to five. Jacob Jones then got his only points on the night with a three, right before Terin Kinsway scored off an offensive rebound from his own shot, making it 7-3.
By the end of the first quarter, Dublin Scioto had the lead, 16-14. Lombardo had seven and Brechbuhler had six for the Irish, while Griggs and Kinsway had eight and four a piece, with Kinsway also adding six rebounds.
At halftime, Scioto lead 25-20, thanks to two three-point shots made by Lombardo, and another made by Jayden Prince. For Hayes, Kinsway added five in the quarter, and Griggs made a free throw to bring their point totals to nine.
The Pacers took control of the game coming out of halftime, and Terin Kinsway scored 11 of his team's 13 points in the quarter, making four out of his five shots from the field, and all three free throw attempts. Griggs also added two, and by the end of the third Delaware Hayes lead Dublin Scioto 33-30. Lombardo was scoreless, with the quarter's scoring coming from a Victor Mwamba three and a basket from Noah Brechbuhler.
In the fourth quarter, Kinsway was scoreless, but Nate Griggs scored nine, thanks in large part to getting to the free throw line. He made five out of six from the line, and made both shots he took from the field.
The final buzzer sounded, and the Pacers were winners at home. Kinsway finished with a double-double, 20 points and 11 rebounds, while Griggs had 20 as well shooting 75% from the field and the free throw line. For the Irish, they were held to a team 37% shooting percentage for the game, and only got to the free throw line four times compared to the Pacers' 15 attempts.
Delaware Hayes improves their record to 7-9 (5-4), while Dublin Scioto drops to 8-7 (3-5). Delaware Hayes will play at Hilliard Bradley Feb. 2, while Dublin Scioto gets right back into it playing at Westerville Central, Jan. 27.