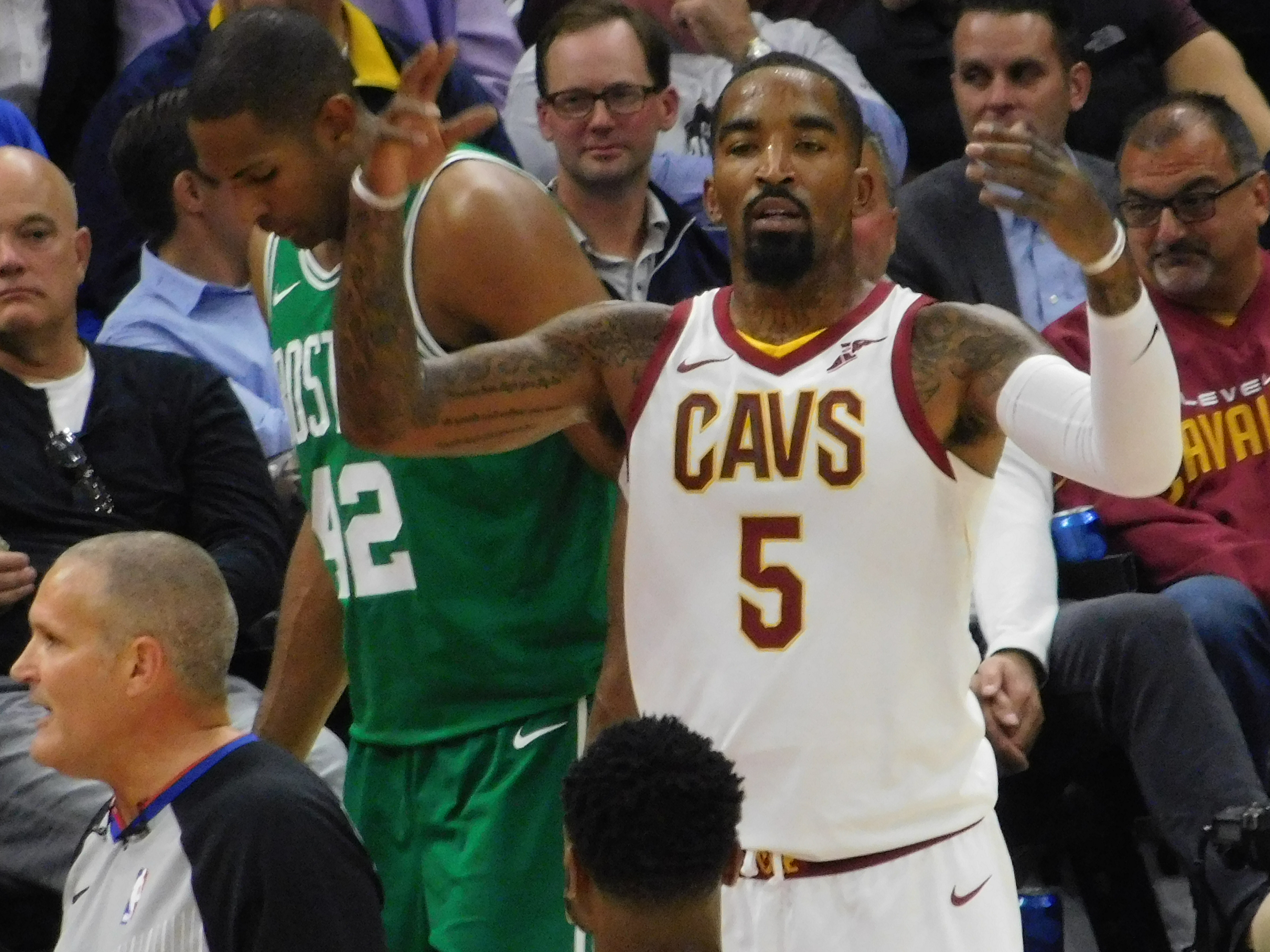 CLEVELAND– "When in doubt, shoot" was the motto J.R. Smith came into Cleveland with three seasons ago.
This year, it seemed as if that motto was put out to pasture. Coming into The Cavaliers' 115-108 win against the Indiana Pacers on Friday night, not only was Smith averaging just 7.4 points per game, (his lowest scoring mark since his second year in the league) he was only averaging 7.2 field goal attempts, the second-fewest of his career.
The calls to bench the sharpshooter have been coming for weeks from fans and talking heads alike as a result of his lackluster performance on both ends of the floor. But Friday night, Smith made it clear that he still has the potential to be the x-factor the Cavs need by seemingly adopting his old philosophy en route to a 23-point performance.
"I told myself I would just shoot it and see what happens," Smith said. "If it goes in great, if it misses my shooting percentage can't get any lower."
Smith finished the night second only in scoring to LeBron James (26 points), shooting 8-of-15 from the field and 7-of-13 from deep. The seven three pointers are the most Smith has put up in a single game since April 9, 2016. His 23 points were also a season-high, a scoring mark that he has not hit since Dec. 13, 2016.
Smith said he came in early to work on his shot with assistant coaches Phil Handy and Damon Jones. He also said that Kyle Korver has been helping him as he continues to watch film from over the past two years to try and figure out what he can do differently to turn his season around.
One big thing stood out to him, watching that film.
"(I was) just not shooting the ball fast enough and taking my time a little bit too much," he said. "I'm normally a quick trigger kind of guy and my release has been a little slower than what I like and what I'm accustomed to shooting, so I'm getting better at it."
JR said with watching the film he realized he hasn't been shooting the ball fast enough pic.twitter.com/xM8A8Mr2d7

— Ashley Bastock (@AshleyBastock42) January 27, 2018
While physically getting up those shots is important for him to have success, going in there with that killer instinct from deep is arguably even more so with a player like Smith. His teammates and coaches have continued to get after him when it comes to looking for his shot, even as he has continued to struggle.
"They're on me everyday," Smith said. "It's tough because some of the shots I say I'm not open and they tell me it doesn't matter, shoot it anyway. It's a great problem to have I'll tell you that."
While Smith got back to his roots on the offensive end, he was also instrumental on the defensive side of the ball, recording a season-high four steals in his 37 minutes. For head coach Tyronn Lue, that was arguably the most noteworthy part of Smith's night.
"Every night you're going to get effort from J.R., so that's what I'm most pleased about," Lue said. "His effort, he has to guard the toughest matchup most of the time every night and he's giving it to us anyway he can. Shooting the basketball is going to come and go like tonight, he shot the ball extremely well. It's just part of the game."
JR said defensively tonight he wanted to get back at Oladipo for "torching" him the first 3 games this season pic.twitter.com/o2HLkBVghr

— Ashley Bastock (@AshleyBastock42) January 27, 2018
One good game doesn't make a season, but Friday night was still meaningful for Smith in more ways than one, a fact that his teammates recognize.
"It's special," James said. "We know how much he's been struggling, and for him to come out and play the way he did through all four quarters, he put a complete game together and we needed that."
Whether Smith's performance on Friday is just a one-off good game in a bad year remains to be seen.
But hopefully, given the results, Smith's old motto will be ringing in his head the next time he takes the court on Sunday when the Detroit Pistons come to town.
"It gets me going in the right direction," he said. "Unfortunately you gotta have a short-term memory because we've got another game coming up but I'll dwell on this one for awhile, I needed it."
JR says that this game gets him going in the right direction and that he "needed it" pic.twitter.com/nPCAFwewYf

— Ashley Bastock (@AshleyBastock42) January 27, 2018

NEO Sports Insiders Newsletter
Sign up to receive our NEOSI newsletter, and keep up to date with all the latest Cleveland sports news.