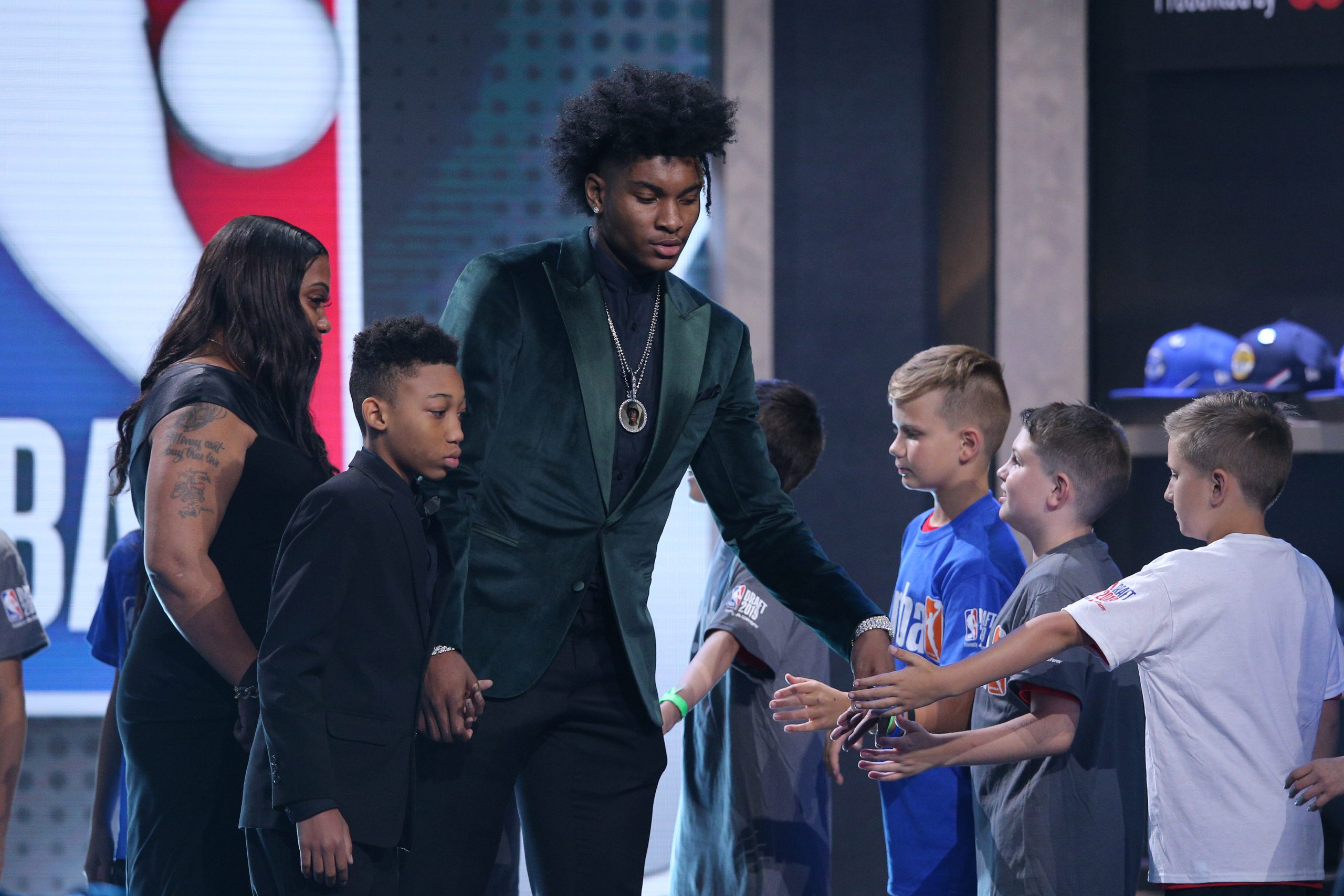 Just listening to he and Cleveland Cavaliers head coach John Beilein, Kevin Porter Jr. is going to be a part of the rotation and the team has high expectations of him. Whether or not realizes his limitless potential will be completely up to him but by all accounts, Porter Jr. is going to be a major piece of the puzzle.
"He's got so much talent. Now to get all that talent going in the right direction," Beilein says of the team's plans for the Seattle native. "He's going to learn the NBA experience both on and off the floor and how valuable it is. It's going to be great."
Porter Jr.'s story is well-documented. His father, Kevin Porter Sr., a talented athlete at his high school alma mater was brutally slain in an unfortunate situation. Painted as a loving father, the elder Porter's death would take an emotional toll on his young son, whose temper would flare a bit too often.
"It's going to be fun watching him develop over time," Beilein finishes succinctly.
As for what he envisions his role to be early on with the Cavs, Porter Jr. says he expects to come in and provide the team with energy, defend willingly — even if his assignment is the best player on the court — "and do what [he's] best at."
"Creating my shot, scoring and playmaking."
"We're kinda already like brothers. Especially me and @dariusgarland22. We've been at it since AAU … @CollinSexton02 even, we've seen him at AAU too … basketball (brings) other players together."https://t.co/hxiBq6Qlfm goes in-depth with @Kevinporterjr pic.twitter.com/jIx2CTpOXP

— Cleveland Cavaliers (@cavs) July 16, 2019
As he describes himself, he's a three-level scorer and he believes he can defend point guards to power forwards.
Characterized as "big" by Cavs assistant coach J.B. Bickerstaff despite being just 19-years-old, Porter Jr. is an excellent athlete and at 6-foot-6 and 218 pounds (with time to grow), could very well defend up to four positions in this era of basketball.
Where Porter Jr. will thrive is as a player who can create shots for himself at a high volume with his speed and ball-handling but also be an efficient off-ball threat.
"He's a problem for defenses," says Bickerstaff.
Among the team's perimeter players who project to be in the rotation, only guards Collin Sexton and Darius Garland have shown that ability. Neither Jordan Clarkson or Cedi Osman are efficient from behind-the-line and at the NBA level and there's a question of just how many shots fellow rookie Dylan Windler can create for himself.
Subsequently, while Sexton and Garland project to have the ball in their hands the most, Porter Jr. could the second option in the second unit behind Clarkson.
While that may not seem like it's a major role, Porter Jr. should be in position to take 8-10 shots per game with nearly a 20.0 percent usage rate. More, should Clarkson be unavailable (unlikely, as Clarkson has only missed five games over the past four seasons) or having a bad game. Which, of course, could be said of Sexton and Garland as well.
Speaking of the team's two lead guards, Porter Jr.'s chemistry with the duo could lead to the three playing substantial minutes together, putting three of the team's most promising playmakers on the court together at once. A trio that could become the core of the Cavs, in time.
"We're kind of already like brothers," says Porter Jr. of his relationship with his fellow rookies and Sexton. "Especially me and DG. We've been at it since AAU. So like we've know each other. Collin even."
As anyone can tell you, in team sports, chemistry is often an undervalued component of team-building but when teams are preparing for tough seasons. A locker room full of young players that will lift each other up and stick together is key during their renaissance period and when roster decisions are being made, a desire to keep the team chemistry in-tact is often a major motivation for front offices.
Porter Jr., having fell to the bottom of the first-round despite his precocious talent, is still in a great position to capitalize on his playing future.
Time will tell what can become of the young man but as confident in himself as any player you'll meet, you can bet that in his mind, he's well on his way to being a star.

NEO Sports Insiders Newsletter
Sign up to receive our NEOSI newsletter, and keep up to date with all the latest Cleveland sports news.