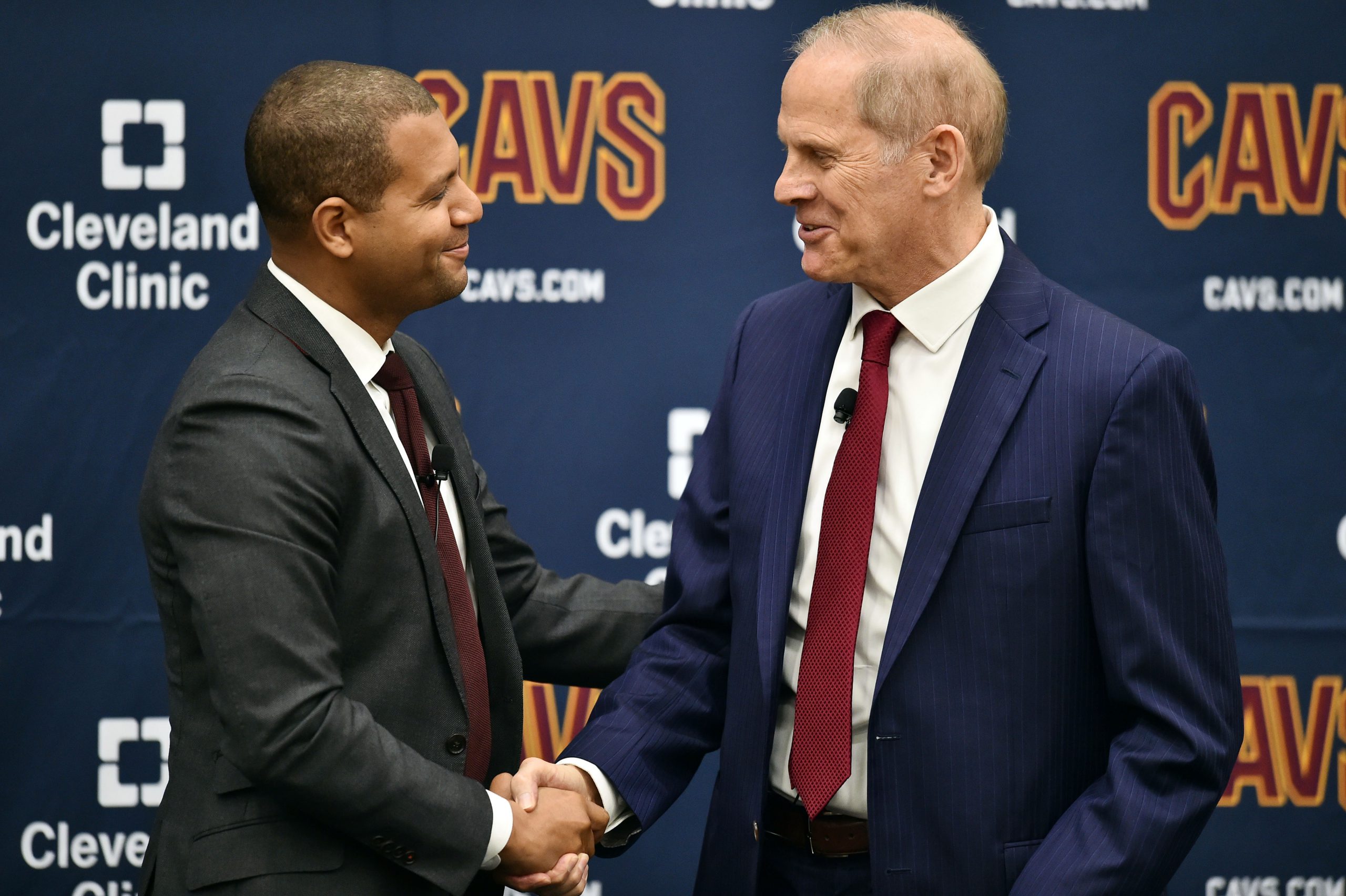 When 66-year-old John Beilein was introduced as the newest head coach of the Cleveland Cavaliers on Monday, nothing stood out more than the juxtaposition of his boundless, youthful energy and sagacious mindset. Heralded as an instructor and mentor of young men, Beilein's excitement to join the NBA ranks and lead a Cavaliers team full of blue-collar workers was palpable.
However, while quotes from Beilein like "23 (points) and three (assists) with two turnovers may be a good game for you but 18 (points) and eight (assists) with two turnovers may be a good game for the team" stood out, the most interesting comment made was when he told reporters he views the state of the Cavs' franchise as being in a renaissance rather than a rebuild.
In fact, Beilein said he would rather not use the word rebuild at all: "Rebuild's not going to be a word we use here. Let's just change. See what we can do through trial and error."
Let's just change.
It may seem like simple semantics but expecting Cleveland to rebuild the greatness they had when they had LeBron James, let alone James and Kyrie Irving, is foolhardy.
James is arguably the best player to have stepped on the hardwood while Irving is undeniably one of the most dangerous scorers to suit up in the league. Their combined forces, along with the abilities of All-Star big man Kevin Love and the intangibles provided by veterans fit in around the margins provided the Cavs with a recipe to reach the NBA Finals on a regular basis but unfortunately for Cleveland, the two main ingredients for their success have to be replaced.
As Beilein knows, though, there is no replacing James and Irving. There's no way to rebuild the championship-contending team that the Cavs once had.
It is possible, however, to provide Cleveland with the culture, system and dedication to excellence that they need in order to re-establish themselves as a perennial playoff-contender and potentially a Finals-bound franchise. A renaissance, by definition, is a rebirth or revival of vigorous artistic and intellectual activity.
In basketball terms, that means players will learn to rely on their basketball IQ, discipline, skill and feel for the game to win, rather than on superstar talent as they did in the days of James and Irving. It also means that the Cavs will be embracing both schools of thought, the traditional and analytics-driven analysis.
Asked about the offensive system he plans to employ in Cleveland, Beilein says it will be a "read and react" system that's primarily based on the flow of the game. That will require players to be film junkies and gym rats and fortunately, the Cavs are currently led by the type of player that embodies the attitude and work ethic that Cleveland needs moving forward in soon-to-be second-year point guard Collin Sexton.
Sexton, who arrived at Cleveland Clinic Courts at 6 A.M. (EST), quieted plenty of doubters last season after working hard to minimize the flaws and holes in his game. He became a three-point threat, a better facilitator and improved his decision-making as well. Studying opponents defenses and offensive schemes in order to improve his awareness on both ends was Sexton's goal after the season and given what's known about him, he's done just that.
Beilein considers Sexton an explosive player with a high basketball IQ but lacking direction and that appears to be an accurate description of the Young Bull, whose charisma and determination to succeed have bolstered his confidence but wasn't asked to play any specific role last season. Frankly, he was just asked to play his best.
Under Beilein, that all looks like it will change.
The fifth overall pick in the 2019 NBA Draft will also be an ancillary part of the renaissance. Though talented players in Love, Cedi Osman and Larry Nance Jr. join Sexton as cornerstones for the Cavs, there will be a fifth building block selected when Cleveland is on the clock.
Potential superstars like Zion Williamson (Duke University), Ja Morant (Murray State) and R.J. Barrett (Duke University) are expected to be off the board by then but prospects like Jarrett Culver (Texas Tech) and DeAndre Hunter (Virginia) could be interesting fits along the perimeter with their instinctual play.
That said, the Cavs are rumored to have a high level of interest in acquiring Barrett (
per Basketball Insiders' Steve Kyler
) and could try to move mountains in order to acquire him on Draft Day.
Barrett is currently projected to be selected by the New York Knicks with the third overall pick in the 2019 NBA Draft but the Knicks are hoping to trade that pick to the New Orleans Pelicans in a trade package for Anthony Davis. For Cleveland to end up with Barrett, New York's trade offer to New Orleans would have to be rejected.
In addition, the Knicks would have to pick a player like Culver or Hunter to to be complementary pieces with signing Irving and Kevin Durant in mind. The Lakers would have to do the same, as they hope to sign a free agent like Irving or Kawhi Leonard in the offseason.
As a result, it's difficult to see Los Angeles or New York selecting Barrett, as his role and happiness would be in question beside so many volume scorers and because such a selection would make it more difficult for Irving to sign there. They would have more mouths to feed with just one ball as Boston and last season, the Celtics served as a cautionary tale for teams hoping to mesh superstar talent with young players and future free agents seeking to prove their value.
Such a scenario could and should lead to the Cavs swapping spots with the Lakers to prevent another team from taking Barrett.
If it's Barrett who's selected, becoming a playoff-contender as early as next season will be a realistic goal for the Wine and Gold, given the swingman's fit as a go-to scorer. However, no matter who's selected, Beilein's goal will be to integrate the person as well as the player.
The importance of having hard-working players is obvious. However, Beilein will be looking for players with integrity, a characteristic key to accountability and trustworthiness. An intangible altogether more important to building men, players and teams that last than perhaps any other.
If you didn't know any better, you would think Beilein fell straight off the Gregg Popovich coaching tree.
The Cavs have the perfect mindset as they head towards the future. The renaissance period that they now enter will hopefully end in Cleveland developing a team culture synonymous with the San Antonio Spurs, Brooklyn Nets, Los Angeles Clippers or Miami Heat.
Franchises now known for fostering close-knit relationships, employing strong leadership and in the case of the Spurs and Heat, creating a system that generates consistent success.

NEO Sports Insiders Newsletter
Sign up to receive our NEOSI newsletter, and keep up to date with all the latest Cleveland sports news.