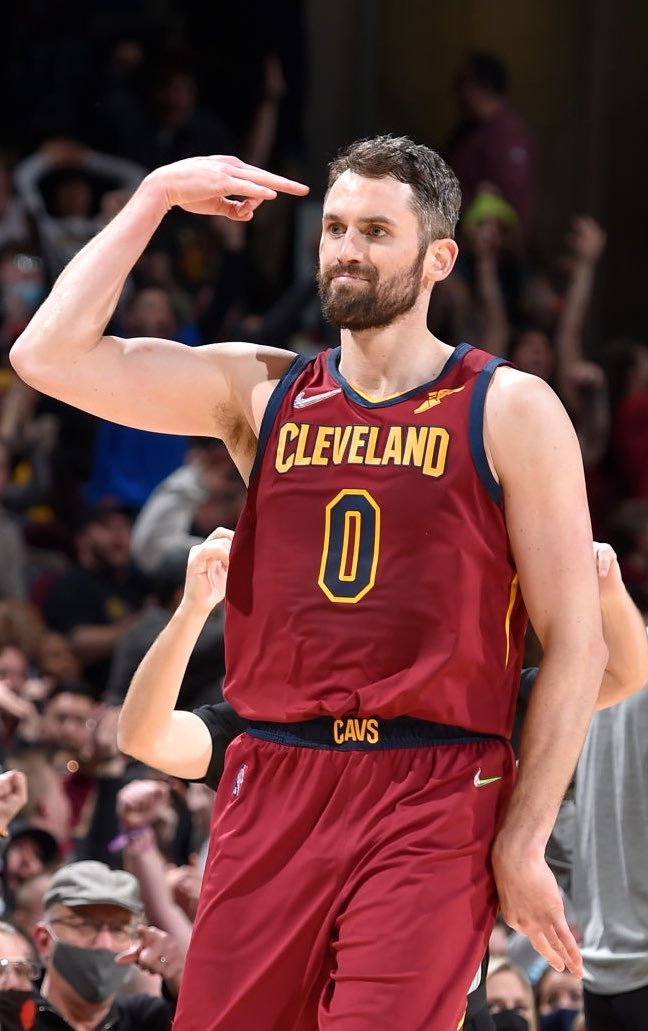 Openly pouting on the sidelines and in-game. Whipping passes around, nearly taking out Cedi Osman. Not-so-subtly saying he doesn't like playing with Collin Sexton. Poor body language, to say the least. All the while refusing a buyout, saving himself from this hellscape that was the Cleveland Cavaliers just to ensure he made his money. 
Such was the life of Kevin Love,
 not so long ago. 
It is easy to forget that, for awhile, several years even, Cavs fans were pretty much out on Kevin Love. Not just out as in "unfortunate it isn't working out", like out as in "get him far away from this team and my television screen". The kind of out that is mired in desperation from the fans. The Cavs front office didn't budge, and neither did Love. He wanted his money from the organization that gave him a lucrative extension post-LeBron to make sure they still had a star, someone to put on season tickets and media guides. The early returns were injury-laden and frustrating, with several blow-ups. Love had one of the most un-tradeable contracts in the NBA, so bad that the Cavs would likely have needed to attach a first-round pick WITH Kevin just to entice a team to take him. Things came to a head this past summer, when Love was essentially told by the Olympics team that he should go home – clearly not as healthy as he said he was. Rock bottom, as most NBA outlets said.
Oh, how things have changed. 
Now? Love is a prime candidate for the Sixth-Man of the Year award on a team competing for not just a playoff spot but the top seed in the Eastern Conference. No, not on Brooklyn, Philadelphia, or Milwaukee. Still in the wine and gold. The resurgence of Kevin Love and the renaissance that is the Cleveland Cavaliers is the best story in the NBA. The Cavs are like the little engine that could, powered in part by by the steady shooting and veteran leadership of Love. 
Love's shooting has been a godsend for a roster short on offense but not short on height. He is nailing 40% of his three-pointers, his highest clip since 2017-18 in LeBron's Cleveland farewell campaign. Trailing in transition and catching the defense sleeping, corner threes, top of the arc, it has not mattered. Before his injury Ricky Rubio, who was arguably one of the three most impactful players on the team, helped engineer the second unit with Love. Pick and pops are a Love staple, coming off a screen and peeling behind the arc. Defenses have to react and either scramble to contest, leaving a passing lane open, or dare Kevin to shoot. Love has an assist rate of 15.8%, his highest since 2013-2014 when he was donning a Timberwolves jersey. Love's passing has always been a strength, whether from the high post or a touchdown on a fast break. But with more capable players around him, the Cavs have been able to take greater advantage of his passing. Add in the threat to take and make threes and now defenses have to think a bit more. And that hesitation is all it takes.
Part of Love's success should be attributed to his reduced playing time. He is averaging 22 minutes per game, his lowest since…ever. Less time on the court means more rest, and when Love's number has been called he has been able to step up. When the team went through a COVID-19 breakout, Love remained ready. Various injuries to Evan Mobley, Jarrett Allen, and most recently Darius Garland have forced Kevin step up, and he has. He knocked down two key free throws in Charlotte to seal a win. He helped engineer a 20-point comeback against the Indiana Pacers, including a 19-0 run that had Rocket Mortgage FieldHouse louder than it has been in a while. 
The off-court stuff has also been a complete 180 for Love. He is no longer glum on the sidelines, clearly wishing he was anywhere else. Head coach J.B. Bickerstaff, who has known Kevin since he was a rookie in Minnesota, is a good influence and has been able to poke and prod Love in an impactful way. The young guys, who lovingly refer to Love as "Grandpa Kevin", have grown on him. He gets challenged and pushed by Allen and Garland, and the recognition he deserves. Most importantly, the Cavaliers are winning and, as we know, winning heals everything. 
The reason the Cavaliers are in the position they are in is a culmination of things. Garland has taken a massive leap forward. Mobley is the Rookie of the Year, though the gap between him and Cade Cunningham is closing fast. Allen is a borderline All-Star, and a definite snub for the festivities in his home arena. J.B. Bickerstaff is in the running for Coach of the Year. Just as important as all of that, at least for this season, is that Kevin Love has found his groove again, both on the court and off. His gravity opens up the offense in such a massive way, allowing others to do their thing. His defense, while a liability, is hidden better through his excellent front court running mates cleaning up at the rim and on the perimeter. It is a perfect storm, and a welcome change from just the regular storm from the past few seasons. Tyler Herro is the front-runner for the Sixth-Man of the year, and he has a compelling case. But to even have Love in the discussion just a few months after what was deemed rock bottom is a massive, massive win for everyone. 
Kevin Love, happy and contributing to winning basketball. Who would've thunk?

NEO Sports Insiders Newsletter
Sign up to receive our NEOSI newsletter, and keep up to date with all the latest Cleveland sports news.