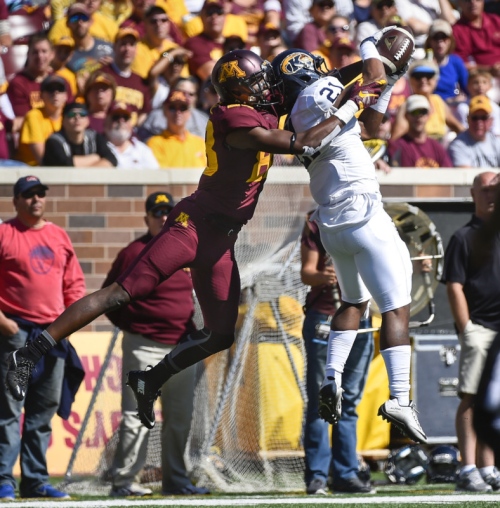 By Mike Perry
MINEAPOLIS – Kent State football coach Paul Haynes isn't one for moral victories, but after his team's 10-7 loss to Minnesota in front of 52,823 fans at TCF Bank Stadium, Haynes found plenty to praise about his defense.
Especially freshman defensive back Demetrius Monday.
Monday had a breakout game against the Golden Gophers (2-1), intercepting a pair of passes and returning a Rashad Still fumble 80 yards for the Golden Flashes only score. On a day when plenty of boos rained down on Minnesota coach Jerry Kill and his offense, Haynes felt good about how his team performed on the road against a Big Ten opponent.
"It's disappointing, just because we were so close, but I'm super-proud of this team in all phases," Haynes said. "It was a tough opponent and a very well-coached football team so I'm proud of our guys for the way they fought and hung in there, but disappointed because we didn't win after coming so close."
The Gophers went 11 plays the first time their offense saw the field, a drive capped by a 42-yard Ryan Santoso field goal. Minnesota added a 14-yard Mitch Leidner to K.J. Mayle scoring strike late in the first half to take a 10-0 lead, but that was about all the Gophers offense had to celebrate.
In the second half the Kent State defense stiffened, holding Minnesota to just 85 yards of total offense in the second half.
Kent State (1-2) struggled to move the ball all day, however, and Monday's scoop and score were the only points the Golden Flashes could put on the board.
In the game, Kent mustered just eight first downs and 142 yards of total offense.
"Where we've come from Week One to right now, we've made a bunch of strides," Haynes said. "We just have to continue to make strides and clean up the things we've got to clean up. The effort we were given was awesome from a lot of different guys."
Kill, who came to Minnesota from Northern Illinois, was less-than-pleased with his team's offense…especially up front where the Golden Flashes physically dominated Minnesota's offensive line.
"Until I watch, I hate to comment on things, because then you do and you say something you regret," Kill said after the game. "I just know that we didn't play very well up front. We've had injuries, and we had three tight ends out. But at the end of the day those are excuses.
" Whoever we put in there has got to do the job. We didn't give our backs much opportunity to run, and you've got to be able to run the ball. ..Evidently we didn't do a good enough job coaching, and I'll take responsibility for that. I'm the head coach. We've got to look at the film and just keep working."
Monday's play on defense should garner him Mid-American Conference defensive player of the week honors.
"Throughout the week and getting prepared for the season, we worked a lot on takeaways," Monday said. "We did certain drills like that play and that's what made that play happen. It all happened because of preparation and I thank the coaches for installing stuff like that."
Nick Holley led the Kent State rushing attack with 58 yards on 17 carries. Rodney Smith rushed for 73 yards on 30 carries for the Golden Gophers.
"We struggled a little bit but at the end of the day our goal is to win so we're happy because that's what we come here to do," Minnesota defensive back Antonio Johnson said. "We come here to win and we accomplished our goal."
The Golden Flashes return to action Saturday, hosting Marshall at Dix Stadium. The game kicks off at 3:30.
Notes: Kent State has returned fumbles for touchdowns in two consecutive games…for the first time this season, Kent did not turn the ball over…Golden Flashes senior Matt Dellinger led both teams with 13 tackles…Kent junior Terence Waugh has 3.5 sacks in three games.

NEO Sports Insiders Newsletter
Sign up to receive our NEOSI newsletter, and keep up to date with all the latest Cleveland sports news.