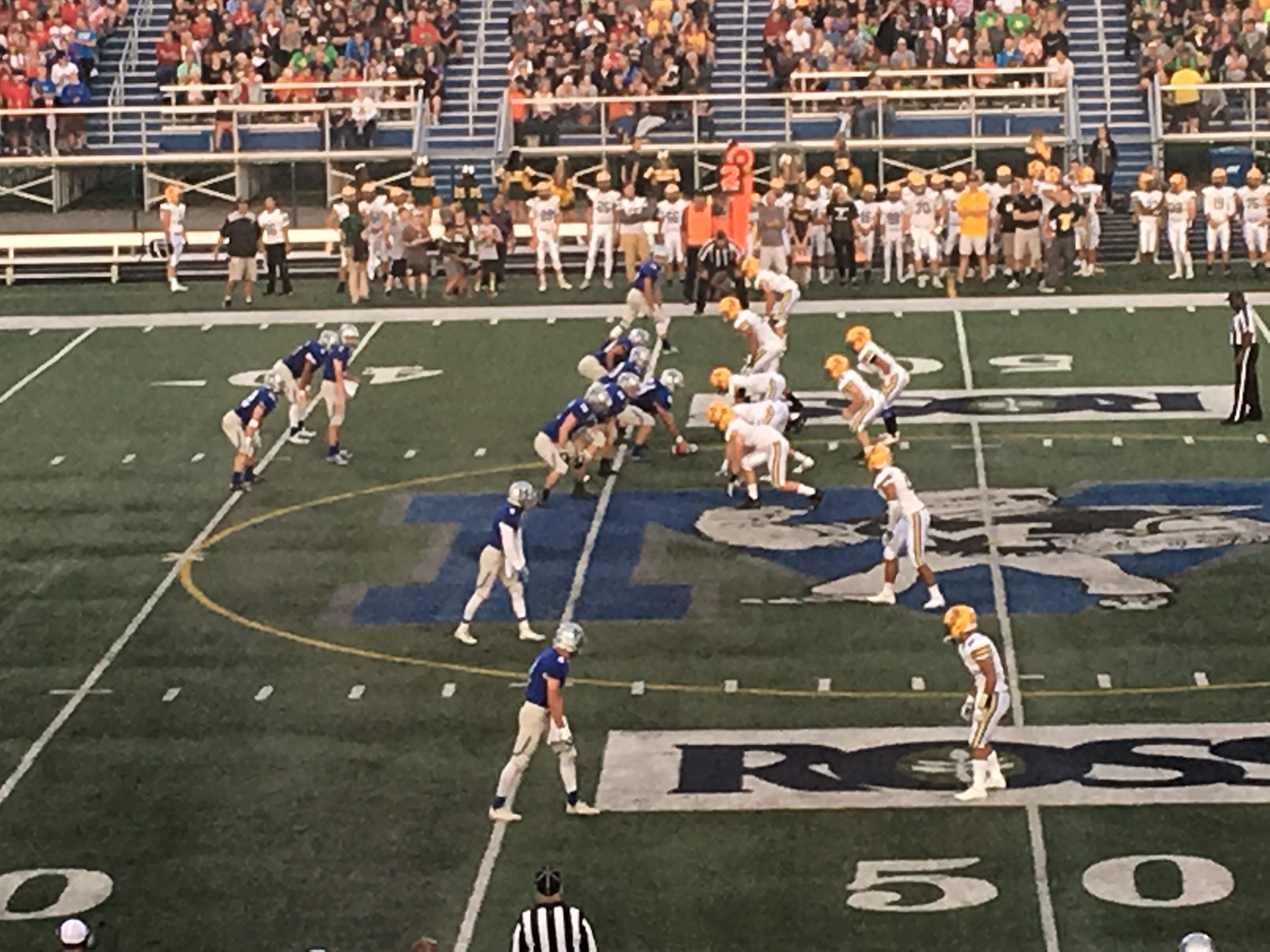 **This recap brought to you by b.a. Sweetie Candy Company, which you can visit HERE, or at 6770 Brookpark Road Cleveland, Ohio 44129**
GRAFTON, OHIO– Coming into Friday night's game, the Midview Middies and Amherst Comets were two of the three remaining undefeated teams in the Southwestern Conference.
The Middies will get to hold onto their undefeated record for at least one more week, as they topped the Comets, 27-7, to improve to 4-0 overall and 3-0 in conference play. The Comets drop to 3-1 overall and 2-1 in the SWC.
From the get go, Midview imposed their will on Amherst.
Offensively, quarterback Seamus Higley had another stellar outing, going 15-of-27, for 170 passing yards and three touchdowns.
Running back Connor Wolfe also looked to pound the ball all night and ended the evening with 114 yards on 23 carries, and one touchdown that got the Middie offense going with a 7-0 lead about five minutes into the first quarter.
The Middies would strike again in the opening of the second quarter, as Higley connected with Alonzo Banks for a seven-yard pass to give Midview a 14-0 lead.
.@MiddieUpdates leads @SteeleComets 14-0 after this TD pass from Higley to Banks @NEOSportsInside pic.twitter.com/xN3Ci5O5b1

— Ashley Bastock (@AshleyBastock42) September 15, 2017
With about two minutes to go in the quarter, Higley and Banks (who was arguably underutilized in the first three weeks of action) connected again for a 10-yard touchdown pass.
END 2Q: .@MiddieUpdates leads @SteeleComets 20-0 after this 10 yd TD pass from Higley to Banks @NEOSportsInside pic.twitter.com/Pajzfdujzk

— Ashley Bastock (@AshleyBastock42) September 16, 2017
"We just let the game come to us, we just let the holes open up," Banks said of Midview's quick lead. "We just came into the game, thinking about how we wanted to win, just go down and score every drive."
Banks ended the evening with two touchdowns, one rushing and one receiving, and 74 total yards of offense. Given his and Wolfe's shared success on Friday night, it's likely that the Middies will continue using them as a tandem.
"Moving forward with [Banks] and [Wolfe] in the backfield, that's something we're going to take a look at," Midview head coach DJ Shaw said. "We definitely liked it tonight."
Midview scored their final touchdown of the night about five minutes into the third quarter on the biggest play of the game. Higley found an isolated Isiah Johnson on a 40-yard touchdown pass to give Midview a 27-0 lead. Johnson finished the night with 72 yards.
Defensively, Midview did an exceptional job of stopping the Amherst run game, which was led by junior running back Khennedy Scagliozzo in the first three weeks of the season.
Scagliozzo has been averaging around 200 yards a game for the Comets, but the Middies defense held him to 76 yards on 27 carries by packing the line of scrimmage.
"Our guys just had to be sound with their alignments and assignments all week and I think our defensive coaching staff did a really good job, because [Scagliozzo's] a really good back, their offensive line is really good, and that's a tough offense to defend just because they're so all over the place," Shaw said.
In fact, Midview did such a good job of stalling the Amherst run game that the Comets didn't score until there was 1:19 remaining in the game, as Joey Tomaro completed a 44-yard touchdown run to make the final score 27-7.
"They executed, they did a good job of controlling the line of scrimmage," Amherst head coach Mike Passerrello said. "We're gonna have to watch film, we're gonna have to have a better week at practice, and the key to this is how we're going to respond."
Amherst will head to Berea-Midpark next Friday, while Midview will head to Avon to take on the Eagles, the only other undefeated team in the conference.
"It's a game that's been a competitive physical game, I know our kids are excited about it and I know [Avon] will be too," Shaw said.
PLAYER OF THE GAME:
This was a tough choice this week, but the honor goes to Seamus Higley for his 170 yards of offense and three touchdowns on 15-of-27 passing.
**This recap brought to you by b.a. Sweetie Candy Company, which you can visit HERE, or at 6770 Brookpark Road Cleveland, Ohio 44129**