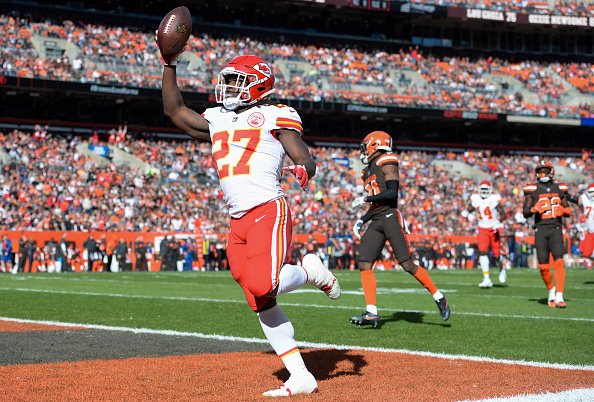 The Cleveland Browns' decision to sign troubled running back Kareem Hunt took the sports world by storm yesterday. It was both controversial and severely divisive. While some appreciate it from an on-field perspective, many are against the idea of signing a player recently cut for assaulting a woman last February.
It's taken me a bit to collect my thoughts on this, but I can't help but realize almost all of them are centered around one specific question.
Did the Browns need this?
Signing Hunt has opened a Pandora's box for a team which had been trending upwards for the first time in decades. What makes it more puzzling is the simple fact the move didn't seem necessary on multiple levels.
Let's start with the obvious – did the Browns really need another running back?
The team already possesses two very talented backs. Nick Chubb finished up his rookie season generating a little under 1,000 rushing yards, and did so despite getting no more than three carries per game for the first month and a half of the season.
Duke Johnson is already criminally under-used, as he represents a dynamic weapon Cleveland can utilize in both the backfield and the passing game. Further complicating matters is the fact he just signed a contract extension with the team before last season.
The Browns already had two running backs who came into last season under-utilized. Chubb couldn't get carries until GM John Dorsey traded Carlos Hyde. The former coaching staff seemed perplexed when it came to working Johnson into the game-plan in general.
It seems the addition of Hunt does nothing to solve these issues, which both appeared figured out by the end of last season.
This alone would make the signing a confusing one. However, when you add Hunt's off-field issues, you can't help but question the necessity for this move.
Cleveland chose to boost its already solid backfield by adding a player who's a few months removed from an assault which put his career on pause. Hunt reportedly lied to his former team, the Kansas City Chiefs, when originally asked about the incident. They then cut him when video evidence surfaced proving he indeed shoved and kicked a woman. In his apology interview, Hunt came off as someone who appeared apologetic less for what he did, and more for being caught doing it.
There was no doubt he was going to receive a second chance, a concept I completely understand. Everyone certainly deserves a shot to move on from a massive mistake. However, the jury is still out when it comes to whether Hunt has earned his yet.
It appears many feel the same way, at least based on the initial response to Cleveland signing him.
Which brings me back to my initial concern. Not only did the Browns lack the need for an additional running back, they certainly didn't need the negative PR which came from acquiring him.
So much has been going right for the Browns since the midway point of last season. They found their franchise quarterback, hired a coach almost all fans seem on board with and head into next season with legitimate playoff expectations.
There's no denying some of these good vibes were erased when the signing of Hunt was announced.
Fan reaction seemed to alternate between discounting the running back's offense to hype up what he brings to the team or expressing outright disdain towards the Browns in general. More often than not, the responses were unpleasant.
You can choose to look at this purely based on what Hunt brings to the field. From that angle, sure, you can never have too much talent.
As we've seen, though, there's much more to this signing than that. The Browns added to an area on the roster which didn't have depth concerns, and did so with a player whose current lasting image is kicking a woman on the ground.
So, I ask again, did Cleveland need this?
Did it need to add another running back to its already-stacked depth chart?
Did it need to add someone who carries with him a sizable amount of off-field baggage?
This situation may develop as Hunt looks to repair his damaged image. To me, though, the answer to these questions is currently "no."

NEO Sports Insiders Newsletter
Sign up to receive our NEOSI newsletter, and keep up to date with all the latest Cleveland sports news.