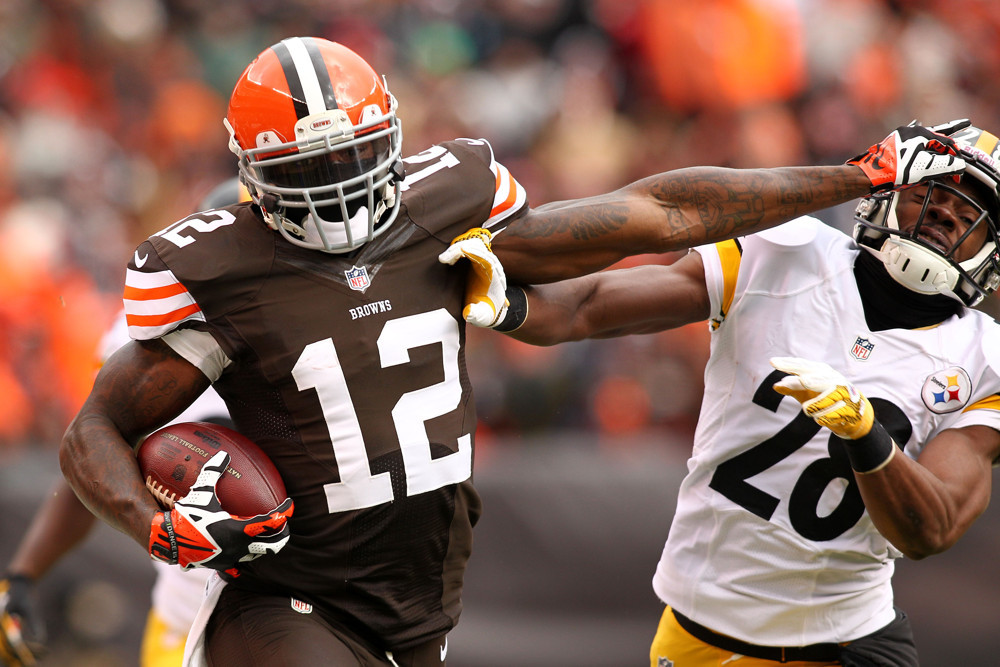 BEREA, OH – Six years into his NFL career, Browns wide receiver Josh Gordon is making just $790,000 this year after being retained as an exclusive rights free agent this past offseason. By now, Gordon should have easily qualified for restricted free agency. But a handful of substance abuse suspensions have kept him at just two accrued NFL seasons.
Now he's in danger of delaying his restricted free agency yet again.
Gordon has yet to report to Browns training camp, which opened on July 26. He's currently listed on the team's reserve/did not report list and if he's still absent on August 7, he'll be unable to earn a third year of credit toward free agency and enter next offseason as an exclusive rights free agent again.
To clarify, an exclusive rights free agent is a player eligible for free agency that has less than three accrued seasons in the NFL. Players who fall into this category are controlled by the last team they had a contract with. Said team, has the exclusive right to tender that player a non-guaranteed, one-year contract for a minimum salary designated by the CBA. If the tender is offered, the player loses the right to negotiate a contract with any other team and can only sign a contract with their former team.
Gordon's two accrued seasons came in 2012 and 2013 – his first two seasons in the NFL. An accrued season is defined as being on the 53-man roster for six or more games in any season. The former Pro-Bowler was suspended in 2014 for 10 games after his second violation of the league's substance abuse policy. And then after returning to play in five games, was slapped with a one-game suspension by the Browns for breaking team rules.
The following year Gordon was handed his harshest of suspensions by the league for, again, violating the substance abuse policy as he was forced to sit out the entire year. In 2016 he was reinstated prior to the season but entered rehab and missed a second consecutive campaign. Of course, last year the embattled wideout played in five games following his reinstatement, making him once again ineligible to earn a year of eligibility.
A rule in the Collective Bargaining Agreement could push his restricted free agency yet again. Article 8, Section 1(b) of the CBA states that, "A player shall not receive an accrued season for any league year in which the player is under contract to a club and in which he failed to report to such club at least thirty days prior to the first regular season game of that season."
That means, regardless of how many games Gordon plays in this fall,  the 27-year-old won't receive that third year of credit towards free agency if doesn't report to camp by Tuesday. The Browns play their first game of the regular season at home against the Steelers on Sunday, September 6.
If Gordon still hasn't shown up in Berea by Tuesday, Cleveland will once again be able to offer him that exclusive rights free agent tender next offseason, keeping him under team control until 2020.
Follow: @Spencito_

NEO Sports Insiders Newsletter
Sign up to receive our NEOSI newsletter, and keep up to date with all the latest Cleveland sports news.