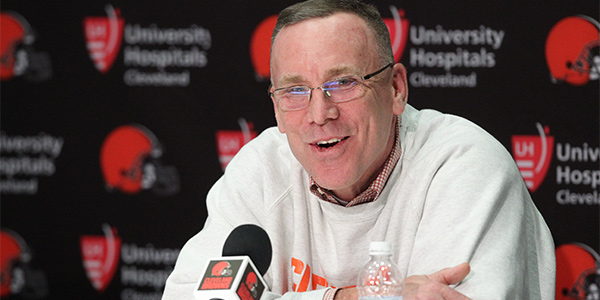 BEREA, OH — When the Browns traded a third-round pick to the Buffalo Bills for quarterback Tyrod Taylor on an expiring contract, the expectation was that Taylor would serve as a stopgap for whatever rookie QB the team drafted.
That rookie is No. 1 overall pick Baker Mayfield. But the reigns may not be handed over to him as quickly as everyone originally anticipated.
In an interview with The Ringer, Browns general manager John Dorsey suggested that there may come a time when he starts talking extension for Taylor.
"I just want to see Tyrod do what he's done in the past. He's a natural born leader. He's had an excellent camp so far. I want to see it unfold. There may come a point here where I call his representatives in October and say, 'Let's strike something up," Dorsey told Kevin Clark of The Ringer.
Clark followed up by asking if extending Taylor would be a setback in regards to Mayfield's development, to which Dorsey responded, "nah, let's just deal with it when it happens."
The Browns' brass has been unwavering to this point, in their declaration that Taylor is the team's starting quarterback for this season. After posting a 1-31 record over the last 2 seasons, bringing in a quarterback with playoff experience was a point if emphasis of the Browns.
Still, a dependence on Taylor beyond this season would most certainly look like am indictment on Mayfield.
Not only that, but the Heisman winner was drafted as the grand prize for going 0-16. Mayfield is the light at the end of a dark, dark tunnel that's engulfed the franchise for the last two decades. Delaying his inevitable takeover as starting QB for a veteran who has reached his ceiling would only leave the Browns looking foolish.
Either way, it appears that Mayfield won't be the only quarterback under constant evaluation from team executives. Taylor will have plenty of eyes on him as well, to determine whether or not an extension is warranted.
If October is on Dorsey's radar for those talks, Taylor will have to lead the Browns to a solid start.
Follow: @Spencito_

NEO Sports Insiders Newsletter
Sign up to receive our NEOSI newsletter, and keep up to date with all the latest Cleveland sports news.