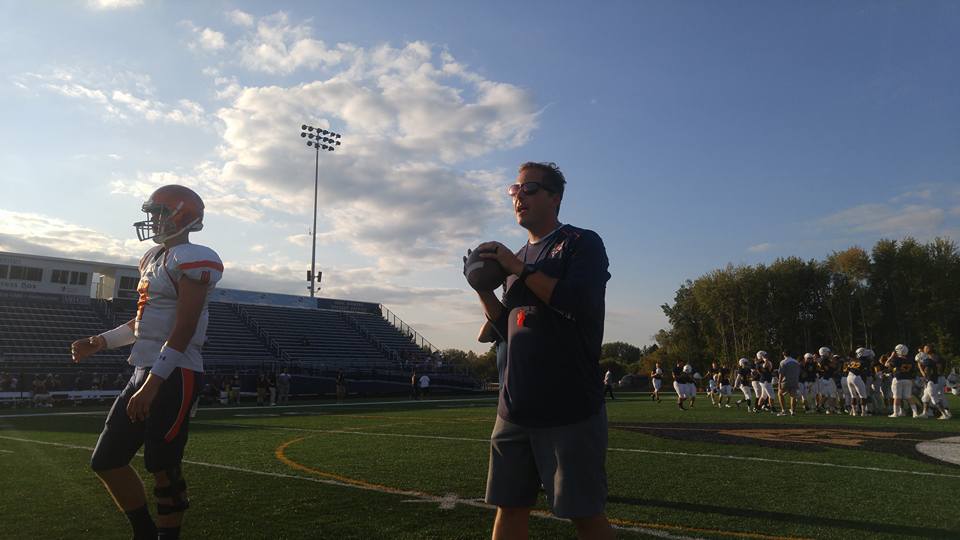 Good coaching is one of the greatest gifts any young athlete can be given.  I have been blessed to see plenty of this over my years playing sports, coaching sports and now reporting on sports.  I've also witnessed horrible coaching, the kind of men and women who make me fear signing up my own young children for sports one day.  Bottom line, coaching is important, and those good men and women can shape a young child or a young adult's life for years to come.
Just this weekend alone, I saw a head coach refuse to speak with a high school reporter, because "he was in the zone" 56 minutes before kickoff.  I saw another coach of a 6th grade girls soccer team, yell at his player because she was having an asthma attack on the field and couldn't breathe.  His words to the young girl, "it's your fault your having that attack, you were out of position".
Sadly, if you stick around sports long enough, you tend to see plenty of things you wish you never had.  Or, on the opposite side, you see some of the greatest coaching performances of your life.  I witnessed this first hand watching Chuck "Chico" Kyle guide a less than perfect St. Ignatius team to the cusp of the State Championship last season.  Had it not been for a quarterback stumble, Chico would have had it.  It may have been his finest performance, even in defeat.
This year, I've been blessed and honored to cover Berea Midpark Head Coach Jon Hunek as he molds a young and exciting Titan team as they continue to improve weekly.  Hunek, who went 3-7 in his first season at the helm has already seen his team match that win total this season.  They could very easily be 5-1 had it not been for a slow start against Strongsville and some bad calls against Midview.
That aside, Hunek continues to encourage and teach his players like great coaches do.  He refuses to let them give up, no matter the score, and continues to teach every single play no matter the number of points on the scoreboard, or the seconds remaining on the clock.  His passion remains the same from the first rep in practice, to the last words of encouragement in the post-game speech.
His words mean something and have impact as you can see his players compete hard every single play no matter the situation.  His team has battled back from some serious deficits this season and young players won't do that for a coach they do not love and respect.
Hunek, a graduate of Padua Franciscan High School then Ashland University, began his coaching career at Maple Heights in 2006 as their offensive coordinator.  He stayed there through 2009 when his coaching journey took him to St. Edwards where he met with great success.
While at St. Edwards 2010 – 2014, Hunek as the offensive coordinator, was part of a team that racked up 22 statistical records along with the number one offense in St. Edward history.  From there, he moved on to Massilon Washington for a season before coming to Berea Midpark.
All in all, his resume speaks for itself as he has been a part of 7 state championship games, 13 playoff appearances and four final four appearances between football and hockey and is a presence on any sideline or coaching box he stands in.  He commands and receives respect.
I had the chance to speak with coach Jon Hunek before the big matchup with Midview this past Friday Night, despite the fact he was in the middle of prepping his team, coach took time out to speak with me as he usually does. As the rain slowly poured down, so did the wisdom!
Vince – Why did you get into coaching?
Coach Hunek – "After my days of playing football were over, I was looking for something to do.  I had a degree in History and Political Science and had no idea what I was going to do.  One of my old high school coaches got me in volunteering with his team over at Ledgemont High School.  I just loved it, so I ended up going back to school and getting my teaching license.  I got my start at Maple Heights, then went to St. Edwards then ended up here."
Vince – What is the toughest part of coaching?
Coach Hunek – "It is more than likely managing the personalities of the players.  Kids deal with so much these days in regards to social media, school stuff, parent stuff and so many pulls on their time.  I have to see where they are at mentally with their day and get them prepared to play but also try to be a good guy and a good mentor to them.  It is a challenge to know when to hammer a kid and when to be nice to a kid.  It is hard to know what it going on for them and see the whole picture as to what they have going on.  Sometimes it is not just because they are playing poorly or like you or dislike you.  You have to manage that personality, get the best out of the kid and still keep them in a good frame of mind."
Vince – What is the most rewarding part of coaching?
Coach Hunek – "Being around the kids and building relationships with them.  Seeing them be successful is the biggest part.  Luckily, I coach on a staff that feels the same way.  One of the main reasons I want to see this program get off the ground is because I want to see these kids who have worked so hard achieve and enjoy success.  I want them to see that if they work really hard they can see the fruits of their labor and carry over into life for them.  So, for me, it is that!  Building relationships with the kids also keeps me young." 
Vince – How tough is it for you to watch a college game without trying to break down the X's and O's as you are watching?
Coach Hunek – "It's a challenge, my wife hates watching football with me.  The thing I do now because I have two little kids, is I DVR everything.  I can't imagine the last time I watched a game live to be honest with you, I DVR everything.  I'm way more of a stickler when it comes to analyzing something in the college game then I am the pro's. But when you're working 7 days a week and have kids, it's hard to even find time to watch the games to be honest with you."
Vince – The job of a coach never ends, you spend a lot of time doing that, plus you have a beautiful family.  How hard is it to find time to balance all of that?
Coach Hunek – "Teaching and coaching doesn't feel like a job to me because I love doing both, so spending the time at those crafts is never an issue for me.  The only thing that bothers me is the time I have to spend away from my wife and kids.  I'm lucky to have a wife who is so awesome and understanding.  For a long time, I coached Hockey and Football which is a ton of time coaching back to back seasons.  She (Mrs. Hunek) has been awesome!  The way to manage that is that you don't have to grind seven days a week.  You know, we give all the kids and coaches Sunday off to keep everyone fresh.  Honestly, if you do have to grind seven days a week at this, you're not that good at it.  I like to spend all day with the kids!"