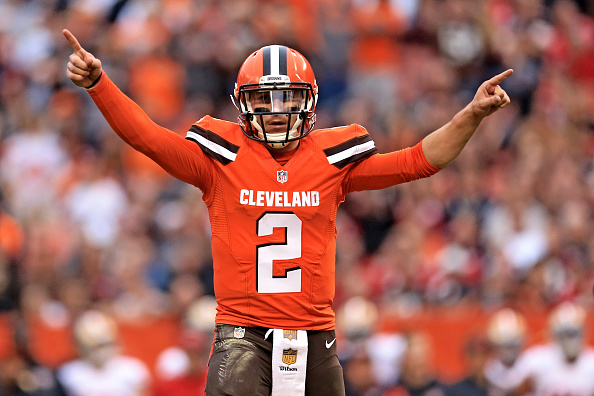 Were you excited? Were you a victim of Manziel-Mania? Please, have a seat, and lets discuss the debacle that we as NFL fans were able to see unravel on the shores of Lake Erie.
Well, the Browns are at the helm of a total rebuild with promises of turning things around after another failed attempt at bringing some stability to Cleveland. We could list every QB the Browns have had under center since the return in '99 and throw all the ratings and stats against the wall to see what sticks, but chances are that you'll be staring at an empty canvas.
As for myself, I've only witnessed two winning seasons as a life-long Browns fan. Ever heard of the term, "cradle-catholic?" – My infatuation with the Orange & Brown is the same type of situation. Some of earliest memories as a child include the likes of Jeff Garcia, Trent Dilfer, and Charlie Frye peppered into a crowd of interchangeable quarterbacks that have come and gone.
However, there is one quarterback in particular that will forever haunt my dreams of the Cleveland Browns bringing home any type of brass after a February victory.
You were right to be excited.
Every fan has the right to an opinion, but can we agree that this is not politics? There's no missile crisis, health-care bill awaiting approval, or hunger strikes going on outside the headquarters in Berea. I root for the Browns as any passionate fan has over the years for a historic franchise.
This is not an, "I told ya so" column. People were against Manziel from the beginning and in hind sight, Teddy Bridgewater and Derek Carr were probably the better options on the board. If you were upset when Cleveland handed in that 22nd pick on May 8th I understand your frustration, but that's the direction the our team decided to go and I, along with many other young, naïve fans, were ready to line-up outside the team-store for our chance to snag a No. 2 jersey.
The stat-sheet stuffer supreme.
There was one stat from the now troubled QB's high-school career that jumped off the page to me – Johnny Manziel scored 75 touchdowns his senior year (via MaxPreps.) Seventy. Five. I know it's just high school but as a nineteen year-old fan I was ready to jump on the bandwagon well before the 2014 NFL Draft.
His time at Texas A&M only proved his net worth as a player, locking up the Heisman as a redshirt freshman. Questions about his celebrity were asked, and discredited by his strong play.
The Johnny Manziel Experiment.