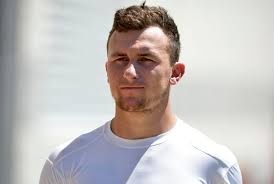 Johnny Manziel told TMZ he plans to "go completely sober" starting on July 1 to prepare for his NFL comeback.
This was in response to a photo posted by a woman who was staying at the same mansion as Manziel in Cabo, showing she had what appeared to be drugs in her possession.
Manziel told TMZ, "They're absolutely not mine. I don't even know that girl."
We'll see if Manziel lives up to his intentions and if any teams are willing to give him a shot.