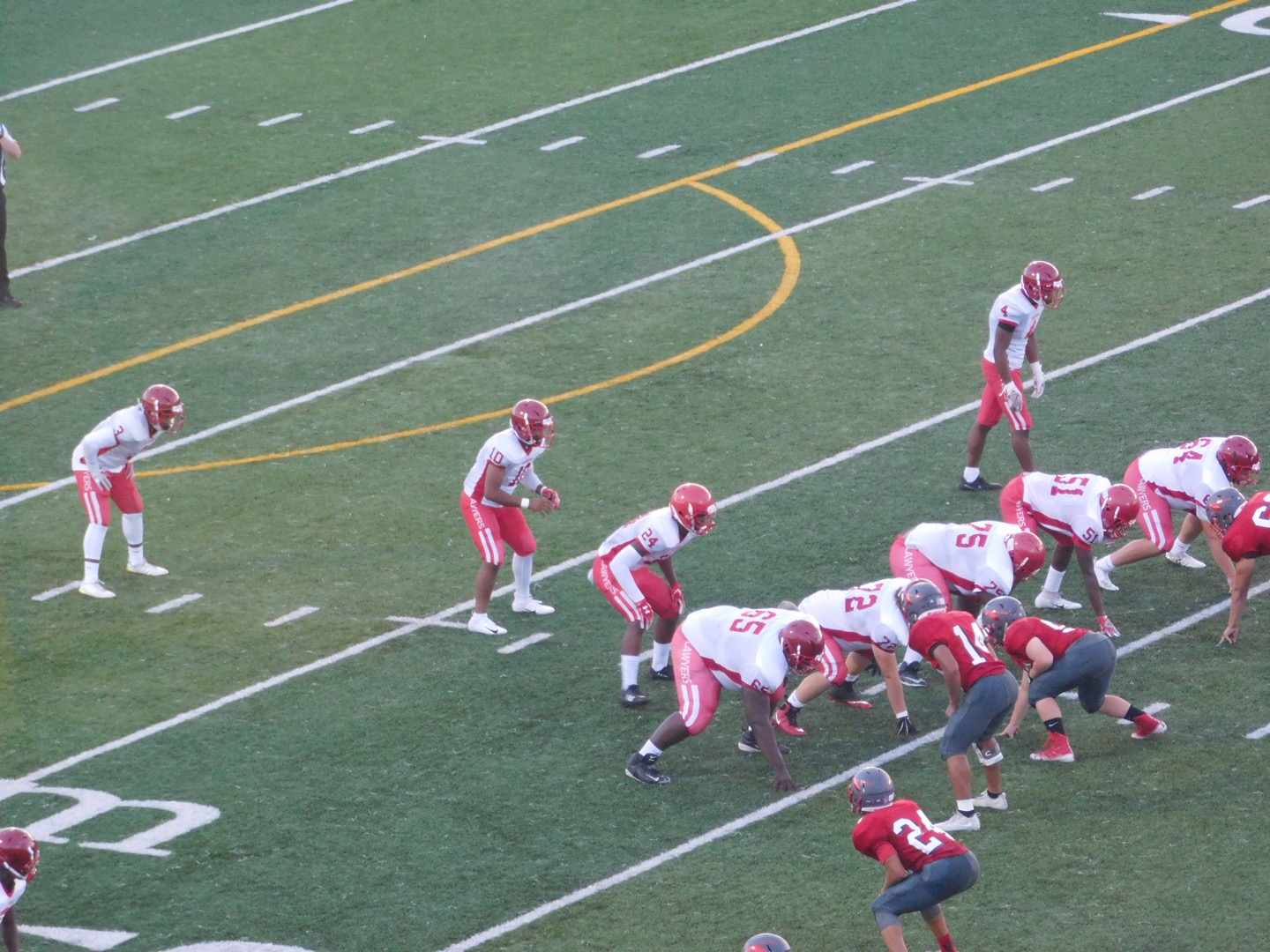 This recap is brought to you by BA Sweetie. You can visit them on line right now by clicking below.
BA Sweetie
PARMA, OHIO – It has been a couple long seasons for John Marshall, but finally things seem to be coming together for head coach Terrance Cleggett and his young group of Lawyers.
The growth of John Marshall was on display Thursday night in Parma, as they outplayed and outhit the Parma Redmen earning a 23-0 win to improve to 2-1 on the season.
The last two seasons the Lawyers were defeated by the Redmen by scores of 30-14 in 2017, and two seasons ago they fell 40-0.
Thursday night, they got their revenge for taking their lumps the last two seasons.
"It's been a long time coming, it's our third year trying to build this program back up and it's a big statement for us, being 2-1 out of conference," Cleggett said.
The two teams went into the locker room at half scoreless, but the Lawyers run game combined with an aggressive defense that held Parma to just 115 total yards was the difference in the huge win.
"We're usually down huge in this game, in the years past against Parma we're down usually at half big, last year we gave up two touchdowns right before half, this year we went in 0-0," Cleggett said.
"We made a lot of dumb mistakes and errors, we knew if we just cleaned it up the game was ours."
Where John Marshall made their biggest statement on offense was the run game, as junior Larrese Walker ran the ball 14 times for 58 yards and a score, and senior back Julian Banks added 55 yards on 13 carries with a touchdown.
Banks put the Lawyers up for good with 3:04 to play in the third quarter on a seven-yard run after the play of the game, a fantastic 41-yard grab by Walker on a third down throw from quarterback Rasheed Roundtree.
The defense for the Layers dominated from there, holding the Redmen run game to just 49 yards on the ground on 27 carries, a 1.8 yards per carry average.
"The game plan was really simple today, just contain the backs," Cleggett said. "We needed to contain the outside edge, bring them in tight and clean it up."
Parma was led by quarterback Austin Vacca, who was 14-for-30 for 66 yards with a pair of interceptions. He was bothered by the Lawyers up front rush and inability to run the ball all night.
Redmen running back Jonah Bagby led the Parma run game with 21 yards on 13 carries.
John Marshall put the finishing touches on the win with a safety in the fourth quarter after Parma punt returner Joe Adams muffed a punt and recovered it in his own end zone to make it 9-0.
Walker went in from eight yards out later in the quarter, and with the Redmen trying to come up with any sort of offense late, Vacca was picked off by Roundtree, who took it back 70 yards for the score for the final 23-0 margin.
For the Lawyers, they sit now at 2-1, and a Friday September 14th they have a meeting with John Hay on the road at John Hay High School at 4pm.
"It's a mental thing with us, if we stay focused and stay what we're doing well on the field, we'll be just fine this season," Cleggett said.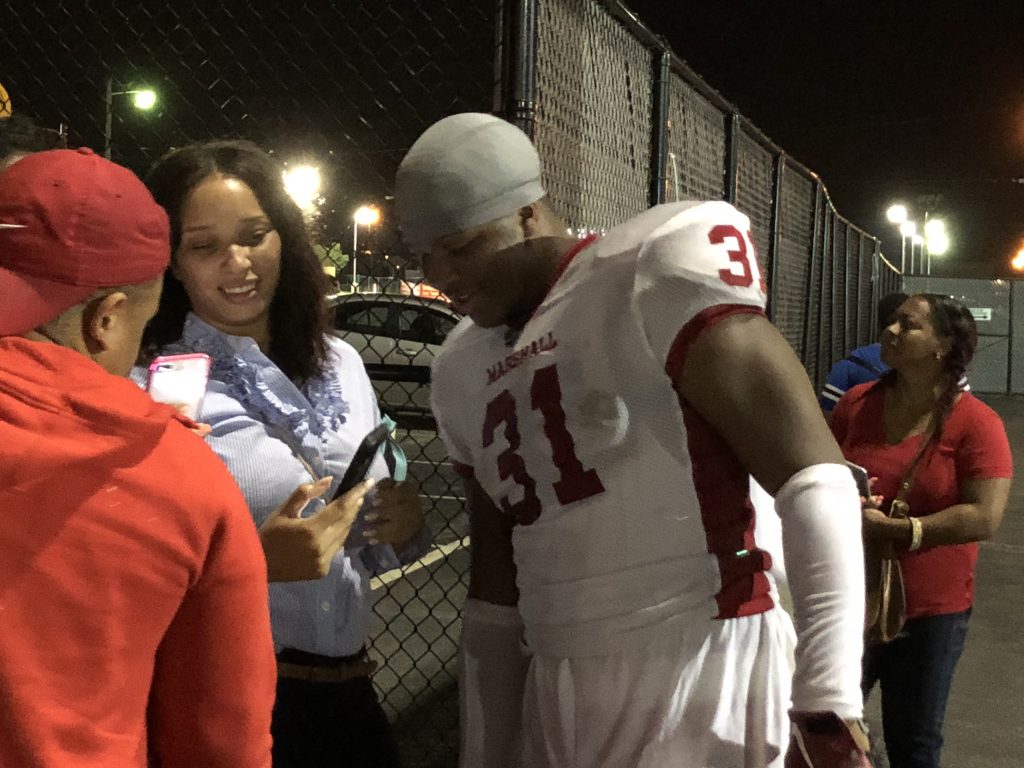 Player of the Game:
John Marshall Senior RB Julian Banks
Banks helped out the Lawyers running attack, rushing the ball 13 times for 55 yards with a touchdown that put the Lawyers up 6-0 midway through the third quarter.
The senior seemed to get stronger as the game went rushing the ball, helping John Marshall put the finishing touches on a shutout win to help them get to 2-1 on the season.
Banks is also listed as a wide out, defensive tackle, and defensive end, and the multipositional player was a big force in the Thursday night win over the Redmen.
Carl Polk breaks the scoreless tie at Byers Field as @MarshallLawyers goes up 7-0 on @ParmaHighSports w/ 3:04 left 3rd Quarter @FOX8FNTD @NEOhsFootball @NEOSportsInside pic.twitter.com/PHVEsa2vYF

— Matt Loede (@MattLoede) September 7, 2018
Here's a photo gallery from Byers Field as the Lawyers and Redmen went at it in week three action.

NEO Sports Insiders Newsletter
Sign up to receive our NEOSI newsletter, and keep up to date with all the latest Cleveland sports news.