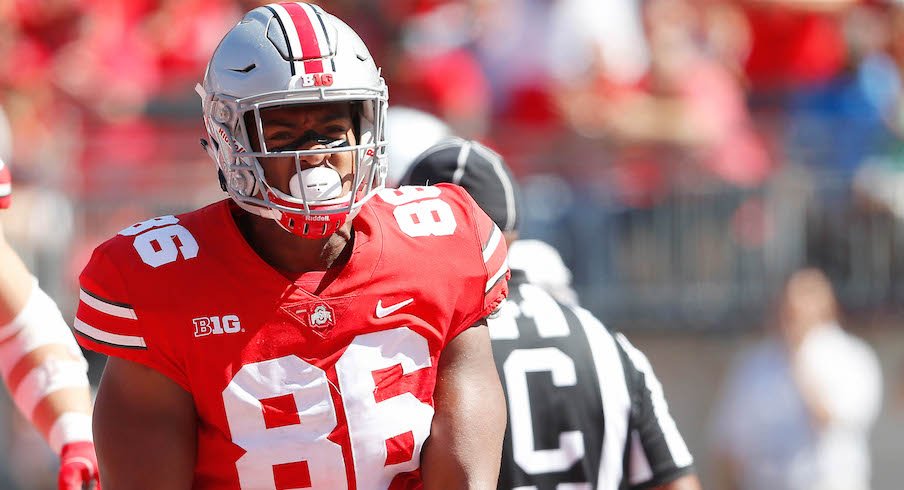 For all intents and purposes, Cleveland Browns fans had night one of the NFL draft off. That's because, after trading their No. 17 pick to the Giants to get Odell Beckham Jr. last month, the Browns didn't have a first round pick.
There was some talk that John Dorsey could look to swing a deal to move up back into the first round, nothing ever came to fruition and the Browns stayed put. It was the first time since 2008 that the Browns didn't select a player in the first round.
Now the page turns to day two of the draft where Cleveland currently sits with the 49th overall pick in the second round and the 80th overall pick in the third round and there is still plenty of talent available for the Browns to choose from.
Here are 10 players they can target entering Friday.
1) Jawaan Taylor – OT, Florida
Almost every year we see a player with first-round talent drop out of the first round. In Taylor's case you're talking about a player with top-10 talent even. That said, his plummeting isn't without reason. Team medical staffs have found multiple red flags on Taylor from his knee, to his back on top of concerns about his weight. That said, there's a boat load of talent in that body and it's hard to imagine Taylor falling much further before one team decides he's worth the risk. Sure, Greg Robinson emerged as a formidable option at left tackle for the Cleveland during the second half of the season, but there is room to upgrade the position as well. If the Browns want Taylor they may not be able to sit back at 49 and wait for him. The fact that he's there at all though is a bit of a surprise.
2) Greedy Williams – CB, LSU
Williams dropping out of the first round is actually more surprising that Taylor. Hailing from LSU, Williams has been called the best cornerback of the class by many. He's excellent in coverage and lightening fast, allowing him to make up ground on any route. Yet here he is still available on day two of the draft. Maybe his poor tackling has something to do with that. Regardless, the Browns could use some help at cornerback opposite of Denzel Ward. Injuries ravaged their secondary last year and their lack of depth at the position was apparent. With only one CB off the board this far in Deandre Baker, It's hard to see Williams falling much further. A run on CBs could come right off that bat in round two.
3) Byron Murphy – CB, Washington
Similar to Williams, Murphy was viewed as a first round talent, who has also surprisingly fallen to day two. On tape, Murphy showed he is an excellent ball hawking corner with natural instincts for the position. His footwork could use a little work, and his size at 5-11, 190 pounds isn't ideal, but as Browns fans saw with Denzel Ward last season, size isn't everything. Again, if Murphy is their guy, the Browns may have to make a move up the board to ensure they get him.
4) Greg Little – OT, Ole Miss
Physically, Little is the perfect specimen to play tackle in the NFL. He's got the height, weight and agility teams crave when they look to bookend their offensive line. He'll be raw in some areas and will take some time to get used to the speed of the pro game, like most rookie lineman. If the Browns prioritize offensive line, Little could definitely be an option for them at 49 depending on how things fall.
5) Dre'Mont Jones – DL, Ohio State
After adding Sheldon Richardson in free agency, interior defensive line isn't a pressing need for Cleveland anymore, but this year's defensive line class is so talented John Dorsey may decide he may not want to miss out on grabbing a defensive lineman. It also never hurts to have more depth along the D-line, especially since we're seeing more and more teams rotate their defensive lineman. Jones is extremely athletic, quick off the ball and could be a disruptive three-tech in the NFL. The cherry on top of it all is that he's a Cleveland kid and went to Ohio State.
6) Jaylon Ferguson – EDGE, Louisiana Tech
Another are along the defensive line Cleveland could look to address is defensive end. The addition of Olivier Vernon will be a nice compliment to Myles Garrett on the opposite edge but you can't have too many pass rushers. Again, this is a deep defensive line/defensive end class so there are several guys still on the board entering tonight worth looking at. Ferguson was consistently productive all four years at Louisiana Tech and get this: 27-percent of his tackles in college were for a loss. He could be a nice addition for the Browns.
7) Juan Thornhill – S, Virginia 
After trading Jabrill Peppers to the Giants as part of that Beckham Jr., Olivier Vernon trade, safety is a massive need for the Browns. They did just add Morgan Burnett into the fold to fill the void and provide some competition at training camp, but he was used as a nickel CB in Pittsburgh and has bounced around secondary positions for a reason. Thornhill could be a day one starter for the Browns. He's a former cornerback, so he's a ball-hawk who can cover pretty well. And he's fast where he can fly up and stick his nose into plays. Thornhill should be an option at 49.
8) Mack Wilson – LB, Alabama
Coming into the draft, you could say linebacker was easily the Browns biggest position of need. The problem is after Devin Bush, who Pittsburgh traded up to take 10th overall last night, the drop-off of talent at linebacker in this class is severe. Wilson is the next best linebacker on the board and will definitely go in the second round since a number of linebacker needy teams have waited to take one. Wilson is pretty good in coverage and will find a role as a three-down starter somewhere. Perhaps in Cleveland.
9) Deionte Thompson – S, Alabama 
Another Alabama defender, and again, safety is a Huge need for the Browns. Thompson has the range to make plays in the run and passing game but he's also still raw. That may be fine on a team like Cleveland though if they bank on Burnett starting at safety this year year before passing the torch to Thompson. Thompson could be a third round option for the Browns depending on how things fall.
10) Germiane Pratt – LB, Pittsburgh
Again, linebackers are hard to come by in this draft. That said, Pratt could be an option for Cleveland tonight if they really feel the pressure to add a linebacker. The N.C. State product has the speed to drop into coverage, which is so valued in today's NFL. He'll need some time to grow but could become a solid outside linebacker at the next level. Pratt could be an option for the Browns in round three tonight.

NEO Sports Insiders Newsletter
Sign up to receive our NEOSI newsletter, and keep up to date with all the latest Cleveland sports news.