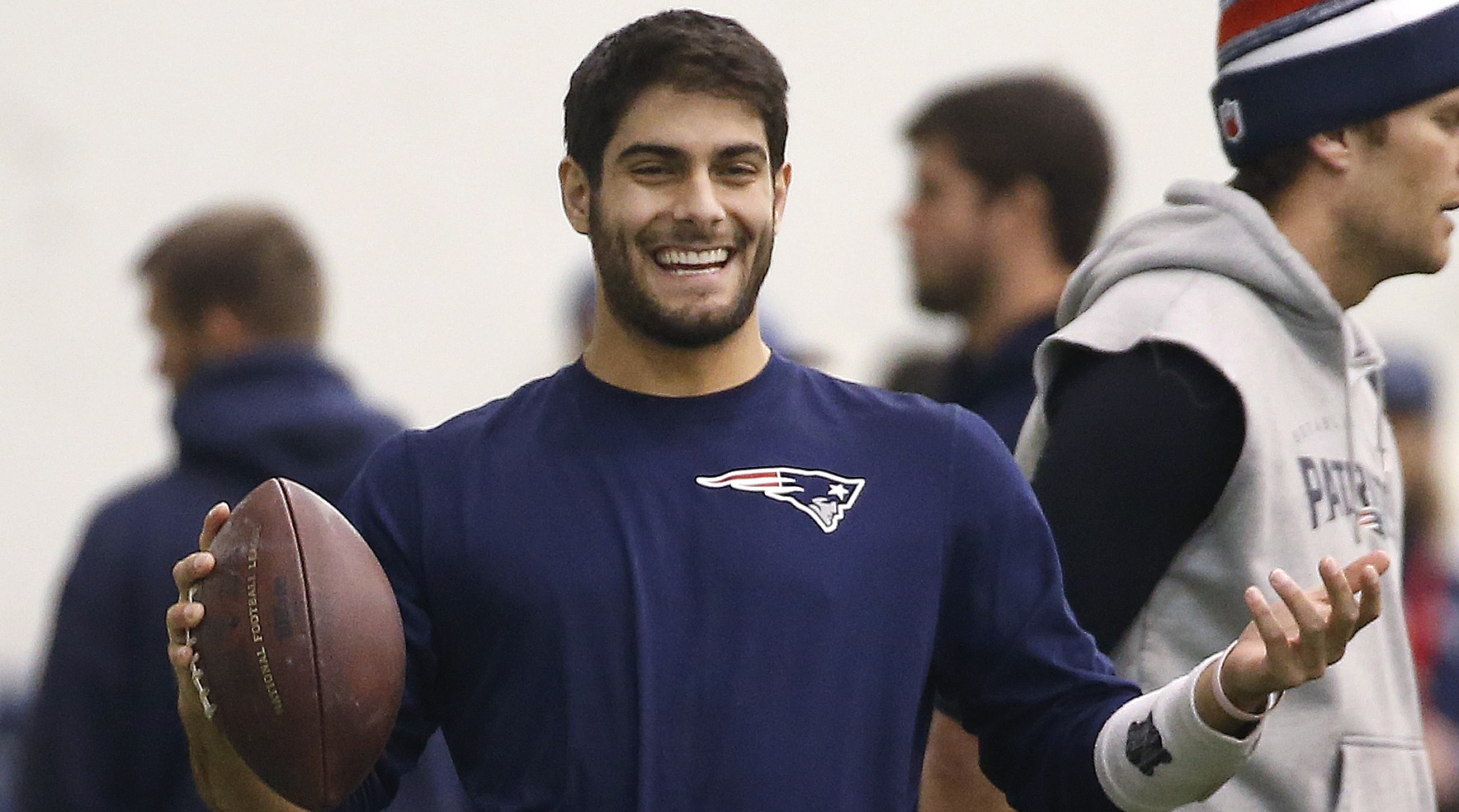 Another loss, bags over heads, flea flickers from the end zone, lather rinse repeat. This season appears to be heading down the road only traveled by Dan Orlovsky, so it's time to look ahead.
I'm sure in some far off dimension only inhabitable if you survive a black hole, the Browns have a stable starting quarterback situation. Unfortunately, this is not that dimension.
It was one game, but with the limited reps he has to prove himself, Robert Griffin III's 12-28, 104-yard, one interception performance will not garner him any consideration for next year's starting spot.
Let's assume Griffin doesn't astound the Browns in the remaining three games (humor me). Who will be the next man graced with the opportunity to dawn the QB1 designation on the Browns' depth chart?
According to Fox's Mike Lombardi, who has worked in both the Patriots' and the Browns' front offices, it could be Jimmy Garoppolo.   How high the Browns reportedly are on Texas A&M defensive end Myles Garret is a snug fit to the Garoppolo narrative as well.
Garoppolo impressed early this season while Tom Brady served the most BS suspension of all time, but many teams have succumb to the small sample size seduction before, and it has rarely worked out. Matt Flynn, Matt Cassel Matt Schaub Brock Osweiler. These names will all go down in frustrated infamy.
Is Jimmy Garoppolo different?
Well for starters, at least his name isn't Matt (Although, to be fair, Cassel made a Pro Bowl in Kansas City). He also showed some impressive poise, arm strength, accuracy and mobility in the two games before he got hurt.
"In the two games before he got hurt" probably isn't the most encouraging way to describe someone you might be about to trade multiple draft picks for, but I say go for it. Garoppolo showed more talent in two games than any Browns quarterback since Derek Anderson, and there is no can't miss home-run quarterback in this draft (though I'm still a Watson believer).
The Browns have a bevy of draft picks in this draft, and using a another high one on another question mark at quarterback is a much bigger risk than giving away a couple semi-high picks to acquire someone who has had success in the league, no matter how marginal. With Garoppolo, the Browns could focus on filling out the rest of its infinite needs on roster this April.
The only reservation I have is the asking price. The Patriots saw the same thing the rest of us did in those two games, so it's gonna take a decent offer to pry Garoppolo away. But, he also only has one year left on his contract, so that's leverage taken away from New England.
A first round-pick would be a non-starter, but anything after that is reasonable. If the Browns trust Hue Jackson's ability to develop quarterbacks and don't wanna risk setting the franchise drafting a QB in a draft where the best ranked quarterback is ranked as the 16th best player, this is the best option.
The one year on Garoppolo's contract also serves as the safe out. It wouldn't be ideal to give up valuable picks for a dude who flames out, but it would be worse to have him stuck on your roster for multiple years. Trading for Garoppolo is a higher risk, way higher reward version of signing RG III.
And after all the draft failures the Browns have endured at quarterback, maybe it is time to go a different route this time.

NEO Sports Insiders Newsletter
Sign up to receive our NEOSI newsletter, and keep up to date with all the latest Cleveland sports news.