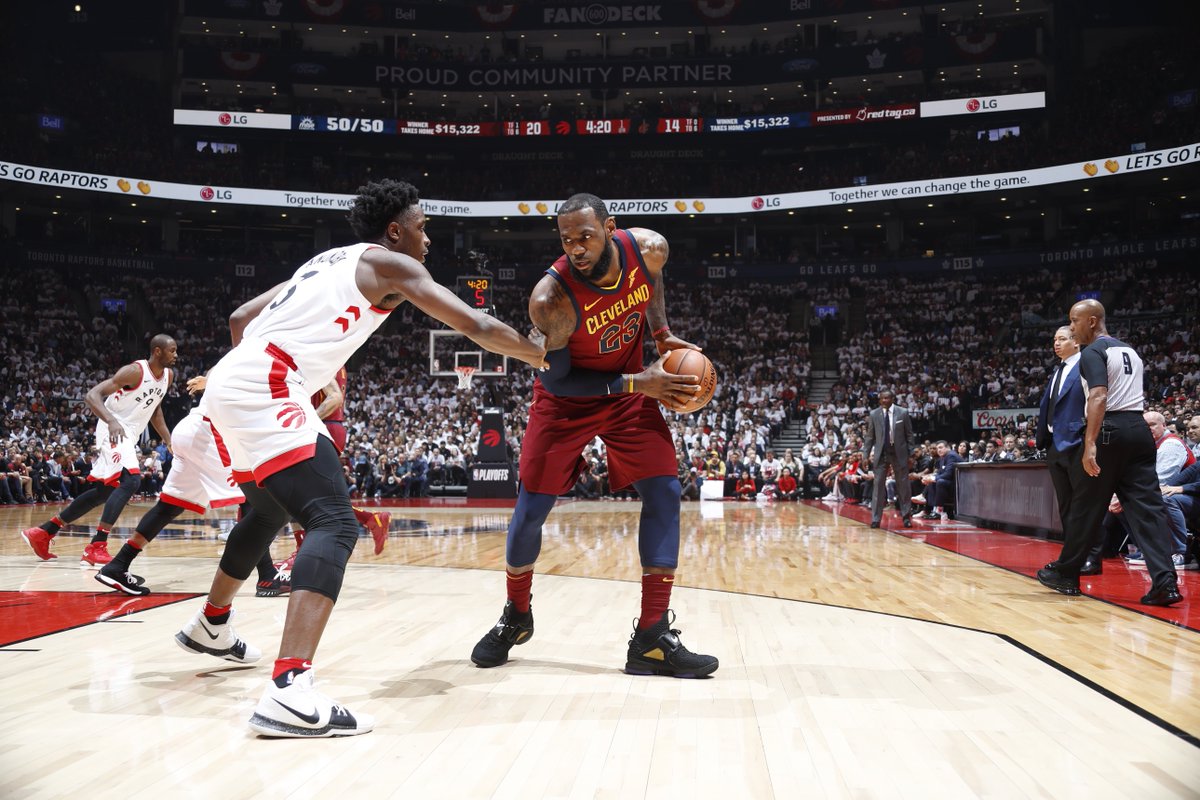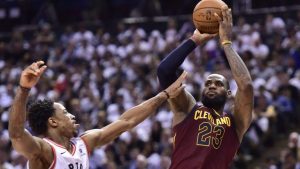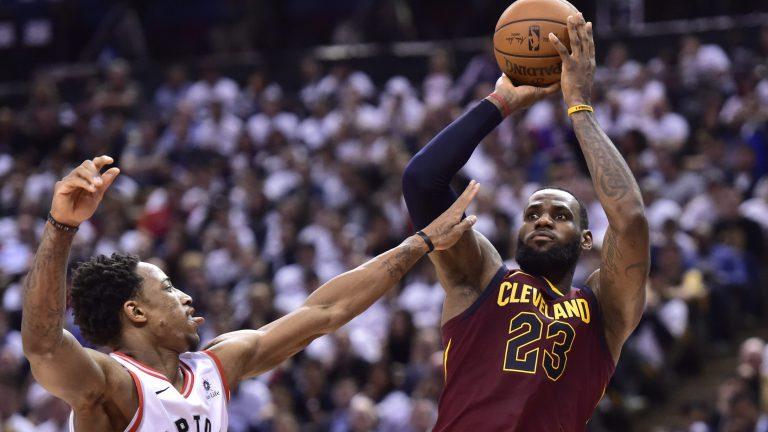 James banks game-winner as time expires
The Cavs let the Raptors back into the game, surrendering 38 four-quarter points, 15 of which came from Lowry. With the amount of attention the defense was giving to DeRozan, the Villanova product found creases in the lane and openings beyond the perimeter.
"They really picked up their pressure, especially in the fourth quarter," said Korver. "It felt like we were getting into our sets with less than 10 seconds on the clock, and so we got slow and they were paying fast and it kind of turned on us there in the fourth quarter."
Despite holding a seven-point lead with two minutes, 52 seconds remaining, James missed a three-pointer and free throw before Green split a pair from the charity stripe. Anunoby came through in the clutch, drilling an open three from the wing to even the tally, 103-103.
Then the kid from Akron lived out his childhood dream once again.
Rather than calling timeout and inbounding the ball from halfcourt, Lue opted to have James travel the full 94 feet to attempt regulation's final shot. With an elite combination of speed and strength, the play call was fitting for James' once-in-a-generation skillset.
"We ran it before if you remember in Washington," Lue said. "We just wanted to give him more space. I knew if we tried to inbound it on the side, [Toronto] would try to take it away and condense the floor. I though taking it full court, we could space the floor out. They tried to double-team him in the backcourt but he got down and made a big shot for us."
Once James accepted the pass and dribbled past the timeline, he crossed over Anunoby, beating him by a step as he neared the three-point stripe. Anunoby recovered and leaped to his peak with an eight-foot wingspan, but James' one-handed, mid-range layup off the glass was just high enough to splash through the net and seal the win.
"What you come to find out as his teammate and playing with him is that he practices those shots all the time, and makes them all the time," said Love. "You almost expect it to go in. He's been so great in this round in this round and so great in all of our playoff runs that it's just special."
Not only did James have the touch to kiss it off the backboard, but he also had the balance and strength to rotate the ball across his body and flip it in the hoop. As he hopped off his left foot and shot with his right hand, his momentum floated away toward the corner of the court. Somehow, someway, one of the best players in basketball history made the shot, celebrating in that same corner while the sold-out crowd broke sound barriers.
"The ability to have different things in my toolbox and the repertoire that I have, (that) throughout the game I can kind of go through those," James said. "So that's another instance in that game where I had an opportunity to got to something I practice or kind of mess around with in tinkering shots and finding angles and things of that nature. I think that's just what it boiled down to."
John Alfes has covered Cleveland sports since August of 2016. Follow him on Twitter @JohnAlfes for breaking news and in-depth coverage all season long.

NEO Sports Insiders Newsletter
Sign up to receive our NEOSI newsletter, and keep up to date with all the latest Cleveland sports news.