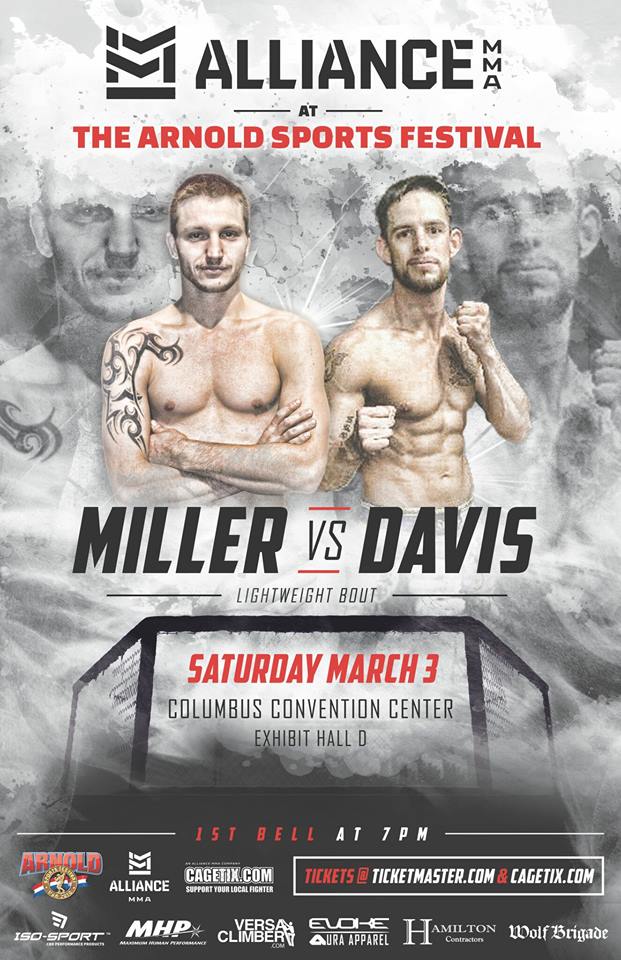 Jake Miller (1-0) vs Zack "Cadillac" Davis (0-0)
As Alliance MMA gears up for March 3rd at the Massive Expo Center during this year's Arnold, all eyes will be on the cage when Jake Miller steps back into it for his second pro fight. The 24-year-old training out of Grove City Brazilian Jiu-Jitsu Academy – GCBJJ is currently 1-0 and will be taking on Zack Davis who comes into the fight for his first professional fight.
Davis will be stepping in the Alliance MMA Cage for the first time as a professional. He has an impressive amateur career tho going 11-2 and even capturing some titles on the way. With a impressive kickboxing history from American Karate Do Kickboxing, he looks to take Jake out by KO.
Jake might have something to say about that after winning his first pro fright back in December at Iron Tiger 79 in impressive first round submission fashion over Keith Speed. He was 8-2 as an amateur and trains alongside Mike Mason who is also fighting on this card. Miller also trains with Dave Freetage and Tim Davis BJJ black belts along with everyone at GCBJJ.
I recently spoke with Miller about the start of his promising MMA career, "I'm a well-rounded fighter in my opinion. I don't feel that I lack in either. But I would like to put some spotlight on my stand up and do some Thai fights in the near future. I would like to work my way to the top. I have the mindset to be a world champ one day."
For more info on this fight, and the rest of the card, click here https://www.facebook.com/itfightseries/?hc_ref=ARTlhAlDpV5gLHJj09JJLkJEjnPwR_l-CuwdvOj85PAicPt1EYZj9APS9Z6yimx0AMk&fref=nf
We will all find out what is next for both these men on March 3rd from Columbus. You can buy your tickets here www.cagetix.com/alliancemma