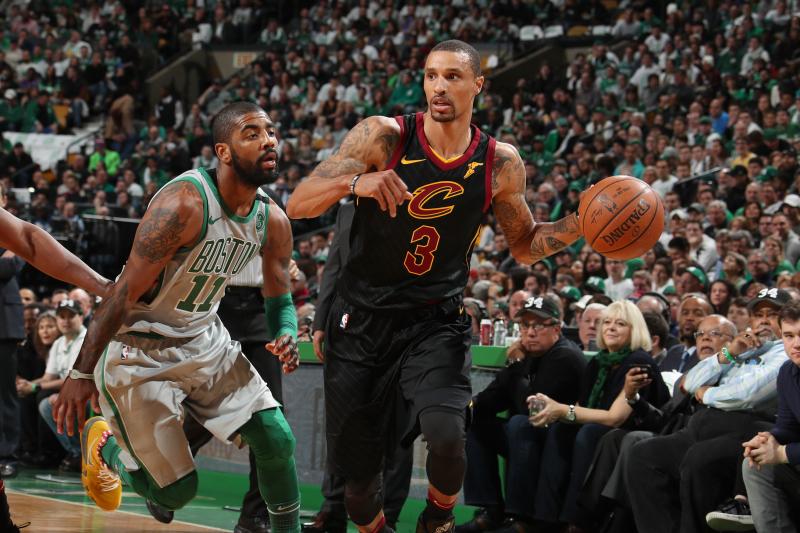 INDEPENDENCE, Ohio– George Hill has made a postseason appearance in every year of his NBA career. First with the San Antonio Spurs, then the Indiana Pacers and last year with the Utah Jazz. After signing a lucrative three-year, $52 million contract with the Sacramento Kings in the offseason, Hill was placed in an unfamiliar situation. Although he expected to be a team competing in the playoffs, he soon found out that the Kings (currently 18-39) were anything but that.
They were a team with veterans in Hill, Zach Randolph and Vince Carter but nearly completely invested in the youth movement. Rookie point guard De'Aaron Fox, the fifth pick in the 2017 NBA Draft, was once such player that the Kings were invested in and one whose presence made Hill's place on the team questionable.
Asked by reporters what it's like playing for a team with championship aspirations, Hill had this to say:
"For me, it's a blessing. I was in a tough situation… to get another opportunity not to just come and play but to possibly play for a championship… now I get a chance to be a part of something special and finally go to Finals."
The 31-year-old Hill, a 10-year NBA veteran and father of two, has been around the block a few times. Despite his many playoff appearances, his championship aspirations have been spoiled by LeBron James himself on three occasions. In those days James played for the Miami Heat and played the part of the NBA's ultimate villain, reaching the NBA Finals in every season that he played for the boys in South Beach.
Hill is the only one of the Cleveland Cavaliers newcomers with postseason experience outside of Rodney Hood, whose first time being on a playoff team came last year with the Utah Jazz. Hood didn't play well in his first postseason stint, averaging 8.9 points per game on 35.2 percent shooting from the field and 26.0 percent shooting from three-point range.
Hill has averaged 13.1 points per game while shooting 44.0 percent from the field and 37.3 percent from three-point range.
As for the differences of playing for a championship-contender, Hill cites the mental preparation it takes, just like Larry Nance Jr. and Jordan Clarkson did after practice on Wednesday.
"It's definitely a mental thing," he said. "You gotta reprogram your mind".
However, the Cleveland Cavaliers have to have the want-to to make plays on both ends. They have to keep having fun.
"The first thing we gotta do is play the right way on both ends of the floor," Hill says, "and let the basketball gods take care of the rest."
*All stats gathered from www.basketball-reference.com

NEO Sports Insiders Newsletter
Sign up to receive our NEOSI newsletter, and keep up to date with all the latest Cleveland sports news.