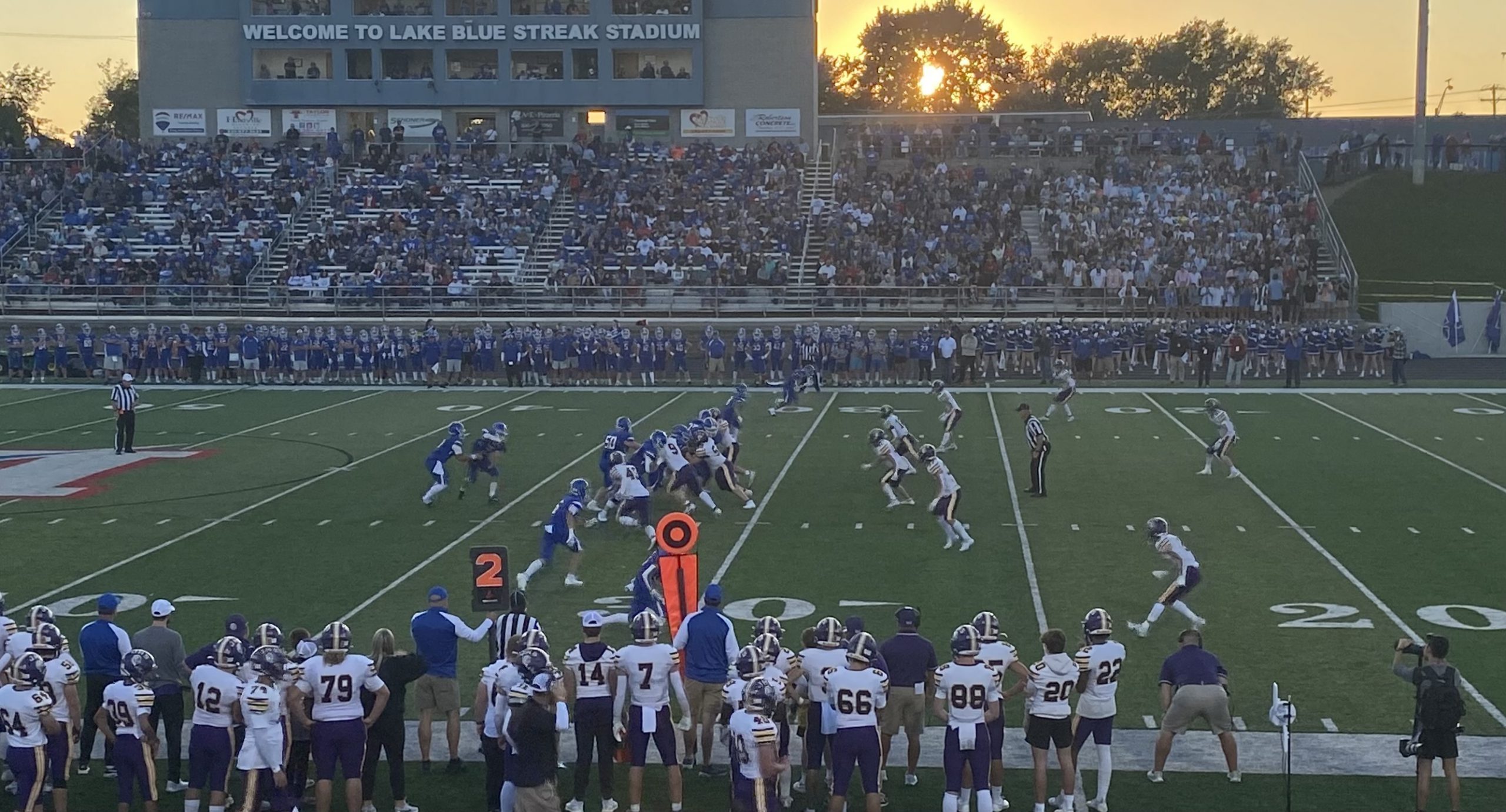 As we enter into Week 6, the Jackson Polar Bears visited Blue Streaks Stadium to face Lake in a Federal League match-up of teams on a 4-game winning streak. Each team is also a week removed from posting 49 points on their respective opponents.
Each team should be able to counter punch the other with their stars. Lake's running back Nate Baker is Stark County's 6th leading rusher with 520 yards. While Jackson has their dual-threat QB Lucas Ecrement who is Stark County's 3rd leading passer with 1,322 yards and who also rushed for 246 additional yards. Along with wide receiver, Kyle Benson, who is 8th in the county with 452 yards. Noah Colando has 308 yards, and Anthony Fuline with 271 yards and he leads the team in scoring with 36 points. Lake possesses an aggressive style defense that is led by Ryan Lippe who has 15 tackles for a loss this season. This year, Jackson is also a very physical team. Together, the Bears and the Streaks have sacked their opposing quarterback over 36 times. The Polar Bear's Mitchell Braucher (8) and Evan Mauser (7.5), along with Lake's Ryan Lippe (8) lead the way. Supporting the Jackson defensive backfield are Anthony Fuline and Cooper Geissinger each with 3 interceptions  which are tied for 2nd in the county.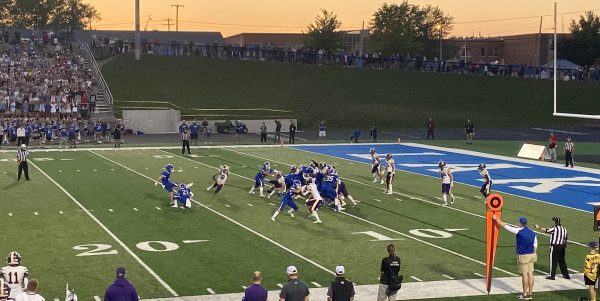 Tonight, should be an incredible game! With Lake winning the toss, Jackson's offense will be first to take the field. Unfortunately, Jackson's first offensive series ends short with 15:07 on the clock. Lake's offense takes the field with #3 Jarvis as their QB. Lake's football offense likes to run the ball and we expect that in this game. Jarvis first hands off to #2 Nate Baker. Baker has plenty of running room. It is a 16-yard gain. Baker again on the run – Another 9 yards. You notice that the Blue Streaks offensive is playing very quick and going with a no huddle before each play. Jarvis mixes it up little with a throw to Ethan Hunt. As Lake continues to move down the field with Baker on the run, at first and goal, they switch it up. Charlie Christopher #32 is handed the ball at first and goal and he just plows his way into the end zone. Touchdown, Lake Blue Streaks. The PAT is good. LHS – 7. JHS – 0
There were several older gentleman sitting behind us in the stands cheering for our Polar Bears. They were discussing how the game was going to be "Smash Mouth Football". They shared with me that meant that the offensive teams were going to rely on a strong running game. Lots of the plays run by the offense will be handoffs to the fullback or the tailback. So far tonight, that was true.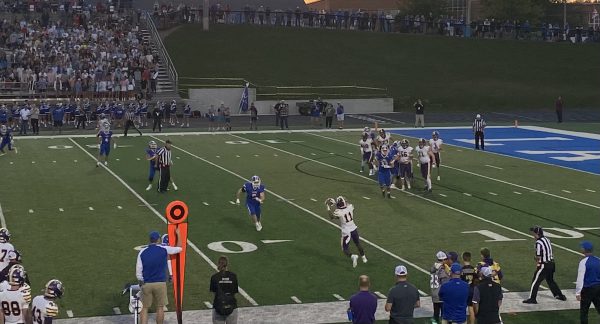 Jackson's next possession was met with a strong and  solid defensive line that forced them to punt. During that series, everyone's eye was on Jackson's #11 Jamahl Phillips. Phillips is an extremely quick WR and has great body control. He has been entering cuts rapidly, decelerating at high speeds and then accelerating rapidly out of those cuts. Phillips is doing whatever he can to get that football and move his team down the field. As Lake starts at their own 29 years line, the Polar Bears were watching and waiting. Here comes Jackson's #9 Zach Ferguson. Defensive lineman, Ferguson, is powerful at the point of attack. Nothing was going to slow him down as he and the Polar Bears put a stop to the Streaks – 4th Down /Punting situation.
At the end of the first quarter, with 1:02 remaining, Jackson's defense continues to dominate and stop Lake from entering the end zone. Lake brings on their kicking team, they are going for 3. It is going to be a 21-yard field goal. WAIT!!! Out of nowhere, The Polar Bears block the kick! What a play! End of First Quarter: LHS – 7  JHS – 0
Throughout the game, Lake switched up their QB's players. In the second quarter, #10 QB Kubasky, sends a high-flying pass to Hunt for an incredible catch in the end zone. But the PAT is no good. LHS – 13. JHS -0   Lake quickly gets possession of the ball back. But not for long. Interception by Jackson's #2 Anthony Fuline! What an awesome Pick Six!!! The PAT is good by Cooper Mizeur. Jackson is back in this ball game! LHS – 13. JHS – 7
The excitement for Jackson continues. Lake with possession of the ball, QB #3, back in for the Blue Streaks fumbles the football. Jackson has recovered the ball! "Clock! Clock! Clock!", the Jackson crowd screams. The game clock reads 14.7 seconds. About three extra seconds clicked off the time that should have been put back on. With cow bells in hand, the Jackson fans were on their feet cheering on their Polar Bears.
In the third quarter, Jackson's offensive team seems to get into a smooth rhythm. Ecrement throws to Kristian Satterfield for the first down. Kyle Benson and Noah Colando each then advanced the Bears down the field. Followed by two additional carries are by Satterfield. Unfortunately, that solid drive was stopped short by Lake's Charlie Christopher. The third quarter ends with the score LHS- 19. JHS – 7.
As the fourth quarter began, the Lake student section erupted. You could see across the field fire shooting in the air. It was the incredible talent  Lake's majorette. This young lady, at one point, was performing with three fire batons. As the fourth quarter came to a close, neither team scored again. The Final: LHS – 19  JHS – 7
After this game, I would like to give a shout out to the Jackson Fans. No matter what the score was, for all four quarters, until the very last second ticked off the clock, there was a group of fans that were loyal to this amazing Jackson Football Team. There was a couple that was sitting high in the stands, cow bells in hand, leading cheers quarter after quarter for our team. When the announcer repeatedly said: "Stomp your feet… "Its 3rd down…." We knew that was to get our opponents' fans riled up.
But that Jackson crowd used that as their own ammunition to continue to encourage our young men as a roar of stomping feet sailed across the Polar Bears side of the stadium. It was incredible to see parents, grandparents, the Purple Army, and the youngest group of screaming elementary students cheer their team on. Our football team fought hard. They stayed competitive. They showed excellent sportsmanship. They gave a consistent solid team effort. And sometimes, you still fall short. But our young men – They Never Gave Up! I just thought it needed to be mentioned: We, the fans,  are extremely proud of our entire Jackson Football Team! #WeNotMe Go Bears!

NEO Sports Insiders Newsletter
Sign up to receive our NEOSI newsletter, and keep up to date with all the latest Cleveland sports news.