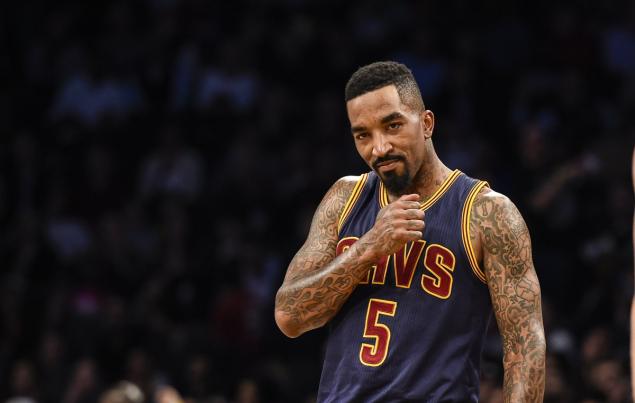 INDEPENDENCE, OHIO–There's plenty of hype surrounding the Cavaliers' matchup with the Boston Celtics on Tuesday night to kick off the 2017-18 NBA season.
First and foremost, there is the return of Kyrie Irving to Cleveland after his trade request this summer.
There's also the fact that the Celtics essentially cleared house to get Irving and Gordon Hayward on their squad, and in the process, Jae Crowder and Isaiah Thomas ended up in Cleveland.
And of course, concerning the trade, there is the matter of which team is better off this season than they were last season.
Oh, and don't forget that these teams finished No. 1 and 2 in the Eastern Conference in 2016-17.
After practice on Monday, J.R. Smith did not mince words when asked about whether or not the Celtics pose a greater challenge to the Cavs this season than last season.
"Not really, honestly," Smith said. "Yeah they have Ky, but last year they had Isaiah, Avery [Bradley]. And Gordon, I mean give or take, they obviously bring different things to floor. Gordon's a better offensive player, obviously Avery's a better defender. So, pretty much, you can say a wash there.
"Nobody really knows what—people are expecting good things from [Jayson] Tatum, but he's a rookie so I can't really go there with him. Al [Horford] is gonna be Al. Pick and pop guy, doesn't really roll as much. Jaylen [Brown] has obviously gotten better. I think they're the same—I don't want to say the same team because obviously they're different people in different jerseys , but I mean, I don't really pose them as a big threat to us."
Smith on why he thinks the Celtics aren't more of a threat to the Cavs this year pic.twitter.com/kxQNc4Tr5O

— Ashley Bastock (@AshleyBastock42) October 17, 2017
Yes, the Celtics may have captured the top seed in the Eastern Conference Playoffs, but ultimately, it didn't mean anything down the stretch when they lost to the Cavs in five games. Compared to a team that has been to the last three NBA Finals, it's hard to argue with Smith's opinion.
But, the fact of the matter remains that both the Cavs and the Celtics are so different when compared to last year. Given all of the changes, we likely won't know how different these teams are until they have had a chance to feel each other out.
"I don't really know because we haven't played them yet," head coach Tyronn Lue said when asked how different the Celtics are this year. "I really have to get out there and get a sample size of how they play, what they do defensively, what they do offensively."
Regardless of your opinions on these two teams, or who won the trade, one thing is clear: even if Kyrie Irving was suiting up in wine and gold tomorrow, there would still be plenty talk about concerning this budding rivalry.

NEO Sports Insiders Newsletter
Sign up to receive our NEOSI newsletter, and keep up to date with all the latest Cleveland sports news.