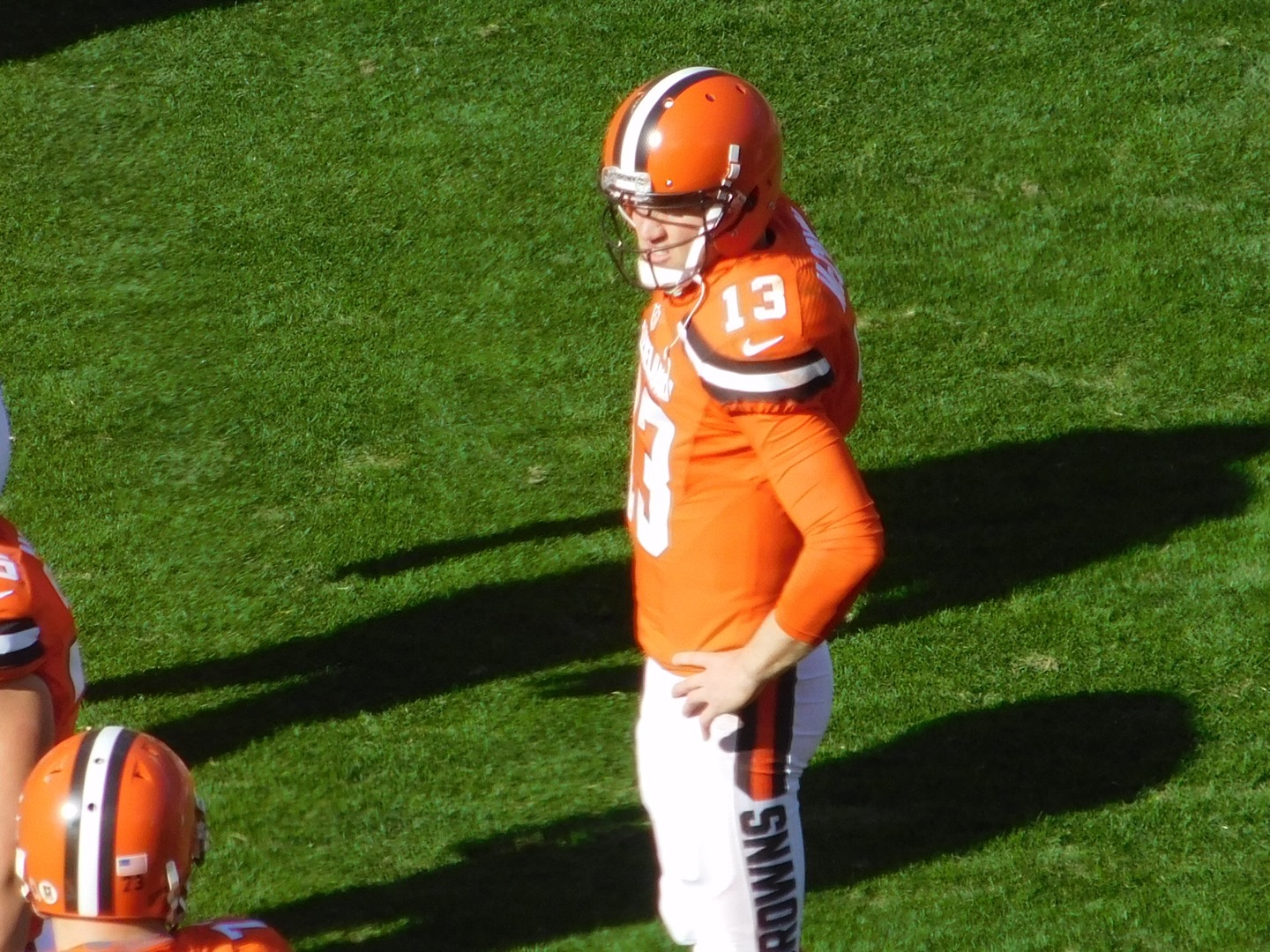 CLEVELAND – As Josh McCown stood at the podium Sunday looking out at the assembled media, you could almost feel his pain.
Then in the one question and answer, you had to wonder just what the journeyman quarterback was thinking.
McCown, who was beat up again Sunday during the Browns 34-20 loss to the Arizona Cardinals, was asked if he considered removing himself from the game in the second half due to injury.
His one word reply – "Nope."
McCown is clearly not playing at 100 percent, and after watching him wince and hold various body parts in pain after taking shots against Arizona, you have to ask yourself – is he hurting this team by not taking a seat at this point?
No one is going to question McCown's toughness as a player and as a man. If it was announced today that he wasn't going to go against the Bengals, I can't imagine many people making comments about how McCown isn't tough.
Even his own teammates know the toughness of McCown, and were more than willing to talk about it after the loss that put the team at 2-6 on the year.
"McCown is a really tough guy. I would go to war with him any day," running back Isaiah Crowell said. "I feel like he laid it out on the line, just like he does every day."
Sunday McCown was 18-for-34 for 211 yards with three first half touchdowns and a pick. He actually led the team in rushing with 18 yards on 5 carries in the loss, an indication of just how poorly the team ran the ball yet again.
Time after time in the second half the Cardinals brought pressure knowing that the Browns wouldn't and couldn't run the ball, and McCown was the target.
He did admit after the game that he hurt his ribs, but said that didn't hold him back from going out and giving 100 percent.
"Didn't affect me – just discomfort," McCown said. "Obviously, you desire not to have that if you could choose, but I made the throws I wanted to make so I didn't feel like it affected me."
There also has to be some question as to why the coaching staff, knowing that McCown wasn't 100 percent, remained in the game. Head coach Mike Pettine was peppered with questions as to what the process was with the decision to keep McCown in the contest after he appeared to be injured at one point.
"He clearly wasn't 100 percent, but I think he bounced back and ended up throwing a completion or two," Pettine said. "We ended up having to punt on that drive. I think we dropped a ball on third-and-long that would have kept the drive going."
It doesn't seem smart, or right for that matter, to keep an injured player on the field, much less a player who has so much responsibility to make crucial decisions.
Pettine and his staff should seriously consider the physical damage that McCown has taken the last two weeks and examine if the team should in fact give Johnny Manziel a shot at redemption Thursday in Cincinnati, a team that beat him in his debut 30-0 last December.
"We talked about it. We were going to take him out, and he [said he] could continue. We said if he couldn't go, to go ahead and go down, and he stayed in there," Pettine said.
Why allow that decision to be made by the player? It doesn't sound right to allow McCown, who seems to want to play through anything, the chance to put himself and the team at more risk while the coaches just sit back and watch.
Joe Thomas, who had a first hand seat on the offensive line, watched his QB get beat up all day, and said that even he is impressed that McCown was able to continue.
"He's super tough. It is really impressive for a guy that's mid-30's. I know I'm on the other side of 30 now, and when I get hit, it hurts," Thomas said.
"For a smaller guy than myself to get hit by bigger guys, it's got to hurt. He is super tough. There's a perseverance within Josh that's really impressive."
While he was only officially sacked one time, McCown was beat up by a Cardinals line that teed off once the final 30 minutes kicked off.
With a season that's already deemed lost, it's counterproductive to keep watching McCown at less than 100 percent be able to make the call to stay in the game.
For whatever reason though, Pettine doesn't seem in a rush to do anything about it.
"To me, we put it on our players if they are injured and need to come out of the game that they are to go down on the field," Pettine said.
Why that stance is remains a mystery.
For the long term sake of McCown and his health, Pettine should take the decision out of McCown's hands – and make a move to allow him to have some time to heal up.
For his and the teams own good.