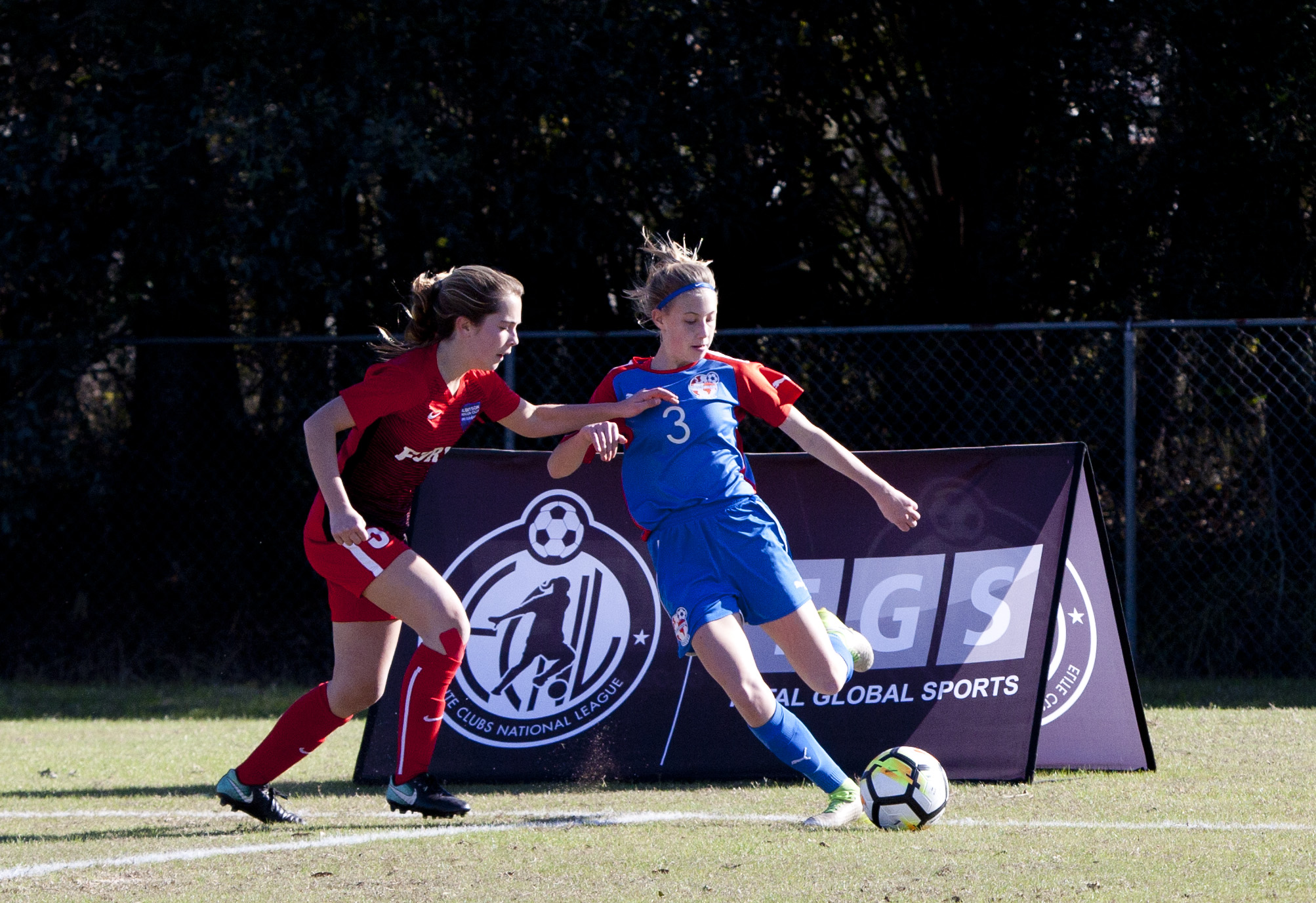 Internationals Soccer Club posted an impressive overall record of 7-2-3 at ECNL Florida, a national event for teams at the U-15 through U-18/19 levels.  ECNL Florida was played at Seminole Soccer Park and Sylvan Lake Park in Sanford, FL on January 6-8, 2018.
A total of 389 registered college coaches were in attendance at ECNL Florida, scouting and recruiting future programs for their programs.
"Overall Sanford, Florida was a good event for our ECNL teams," Internationals Soccer Club Girls Assistant Director Jared Rose commented. "Our teams were very competitive and showed that we can play at the next level with the top teams in the country."
Internationals SC also posted an overall goal differential of +11, which was quite a feat considering they faced fierce competition.
"

Our club's reputation of excellence and history of producing players capable of competing at the next level consistently draws a huge following at all of our games," Internationals Soccer Club Founder, President, and Director of Coaching Zdravko Popovic added. "The sidelines were packed with college coaches and scouts. It was a very impressive sight. Our players and teams did well in appreciation of everyone watching them play. Now the recruiting process and development continues as we will be preparing for the start-up of ECNL conference games in March and the next ECNL National Showcase that will take place in Phoenix on April 6-8."
 
The U-15s posted a 3-0-0 record with a +5 goal differential.  They started with a 5-4 win over Albertson Fury (Long Island, NY) on January 6th.  Tanji Sarver tallied four goals (two unassisted) in the match while Clare Nicholas added a single goal (unassisted).  Jordan Fusco, Ava Wood, and Margey Brown each finished with one assist.  The U-15s then defeated Match Fit Academy (Brick, NJ) 2-0 on January 7th.  Fusco scored two goals (one unassisted) and Brown finished with one assist.  A strong effort from the entire defensive unit, including goalkeepers Belle Wagner and Anna Ostrander, helped ISC claim the shutout.  The ISC U-15s finished the event with a 2-1 win over East Meadow SC (Bellmore, NY) on January 8th.  Nicholas and Carlie Lehman both scored one goal, while Sarver finished with one assist.          
The U-16s posted a 1-1-1 record with a goal differential of +2.  Their first game was a 2-2 draw with Michigan Hawks (Livonia, MI).  Goals came from Taylor Huff and Tori Kevdzija.  Their second match was a battle with NTH-Tophat (Atlanta, Georgia) and unfortunately ISC fell in a 2-1 result.  Huff scored ISC's lone goal (unassisted) of the match.  The U-16s finished strong with a 5-2 win over FC Stars (Lancaster, MA).  Huff finished with two goals (one unassisted, one penalty kick), while Niki Kevdzija, Caitlin Bruni, and Tori Kevdzija each scored a goal of their own.  Huff added two assists and Maggie Oldham contributed one assist.
The U-17s finished with a 1-1-1 record and a goal differential of 0.  The event started with a 3-0 loss to Carolina Elite Soccer Academy (Greenville, SC), but the squad quickly responded with a 3-0 win over Continental FC (Downington, PA) the next day.  Christin Baumbick registered two goals and Jessica Sheldon (unassisted) added another goal in the second match.  Assists came from Samantha Jablonski and Julia Csernyik.  Mackenzie Simon and Nicole Jones led the defensive effort in the shutout win.  The final match was a 1-1 draw with World Class FC (Orangeburg, NY).  Csernyik scored the team's only goal, while Baumbick contributed the assist.     
The U-18/19 squad finished with a 2-0-1 record and a + 4 goal differential.  The first match was a 2-0 win over Florida Krush (Oviedo, FL).  Kaylyn Galloway and Katie Schumacher each scored a goal, while Hannah Zaluski and Olivia Darrow each added an assist.  The wins continued with a 2-0 victory over D'Feeters Soccer Club of North Texas.  Zaluski scored one goal, while Sydney Dawson added a penalty kick goal and an assist.  The third match ended with a 0-0 draw with Atlanta Fire (Duluth, GA).

NEO Sports Insiders Newsletter
Sign up to receive our NEOSI newsletter, and keep up to date with all the latest Cleveland sports news.