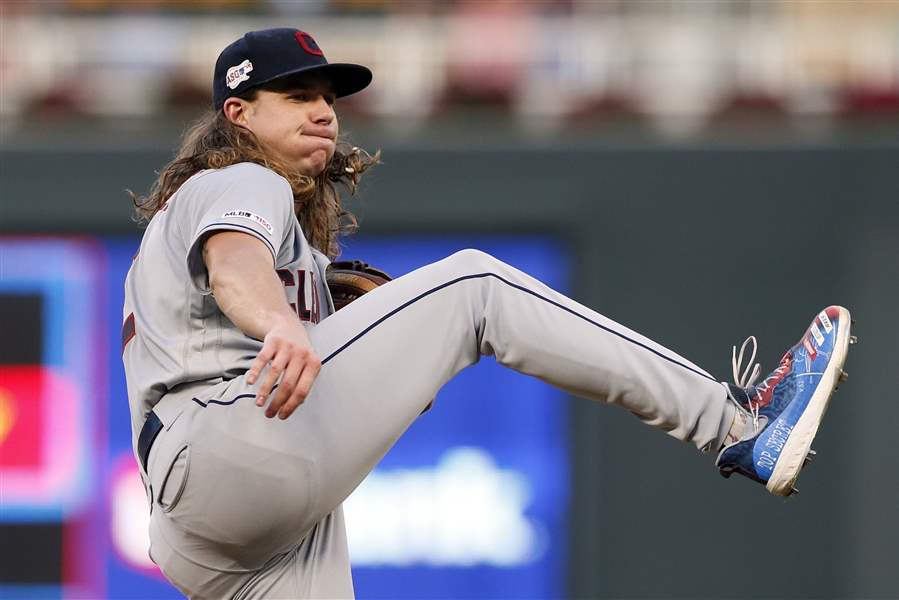 The Indians got their AL Central deficit back to 5.5 games on Sunday as they topped the Twins 5-2 at Target Field in Minnesota.
The win went to pitcher Mike Clevinger, who continues his strong second half after being injured earlier in the season, he moves to 11-2 on the season.
Brad Hand gave up a walk in the 9th, but otherwise was impressive as he got a K and was able to get out of it with no damage, not making Indians fans hold their breath.
For the Tribe they move to 83-61 on the season, and after three games in Los Angeles against the Angels, they will have a final three games against the Twins next weekend.
Here's a couple takeaways from the win for the Tribe.
1. Clevinger Does it Again
Mike Clevinger would likely be in the Cy Young award mix if he would have been able to play all season, as with the win he moves to 11-2 on the year.
Clevinger went 6.1 innings, allowing two runs on four hits with two walks and seven K's, another solid effort.
On the day the hurler threw 113 pitches, 70 of which were strikes, and his ERA sits at 2.72 on the season.
Clevinger will go at the Twins on Saturday night at Progressive Field in game two of the three game set.
2. A Balanced Offense
The Tribe offense was paced by a number of players, as seven of the nine hitters had hits, with Jason Kipnis going 3-for-4 with a run scored to move his average to .247, and Frankie Lindor had two hits including a 400-foot homer to left to make it a 4-1 at the time in favor of the Tribe.
Franmil Reyes got the offense going with an RBI single in the second that scored a pair of runs. Carlos Santna homered in the 3rd to make it a 3-0 game.
Overall it was a very good effort by the offense, putting up two homers, 11 hits overall and four walks.
3. Going Out West
The Indians will get on a plane and head to Los Angeles to take on the Angels, a team they've already played this year at Progressive Field.
The Angels are out of the mix, 10 games under .500 at 67-77, and clearly out of the wild card at 17.5 games back.
That's not to say it'll be easy to get out of Los Angeles with three wins, as the Angeles still have power in their lineup, and still one of the best in the game, if not the best in Mike Trout, who has 45 homers and 104 runs batted in.
The Tribe needs to keep winning games, and right now looking up at the A's and Rays for the wild card, there's not a whole lot of room for error.