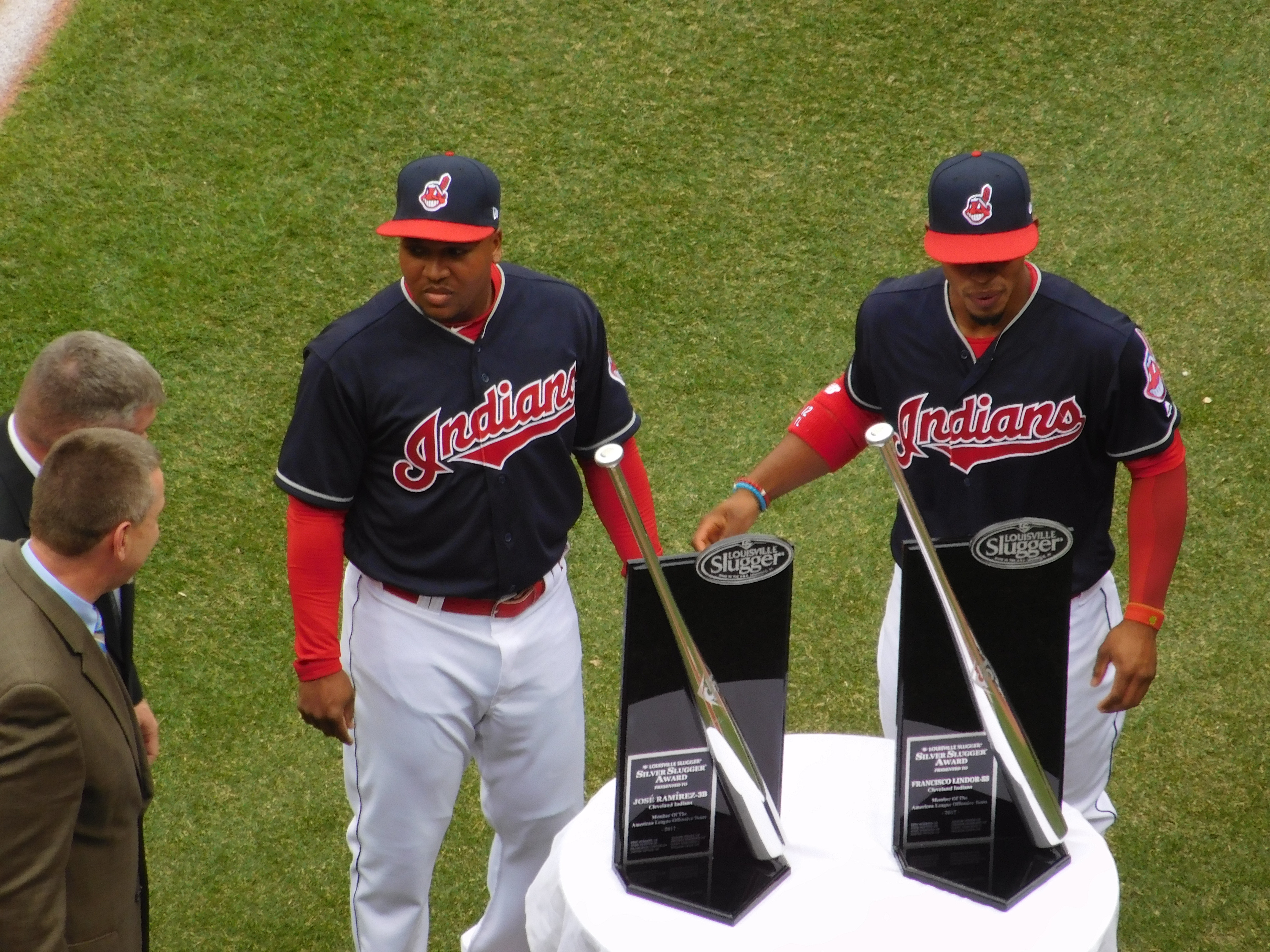 The Indians twosome of Francisco Lindor and Jose Ramirez were each awarded Silver Slugger awards on Thursday night, one of three teams to have multiple winners (Boston, Colorado and Arizona also had more than one player win a slugger award).
Lindor had a huge 2018, as he collected career-highs in almost every offensive category and earned his third straight American League All-Star bid, batting .277 (183-for-661) with 42 doubles, 2 triples, 38 home runs and 92 RBI in 158 games.
He also finished tied for the Major League lead in runs (129) and swiped 25 bases, becoming the first shortstop in MLB history and first Indian with at least 35 home runs, 40 doubles and 20 stolen bases in a single season.
Lindor is the first ever Indians shortstop to capture multiple Silver Slugger Awards.
For the second consecutive season, he set the single-season franchise record for home runs (38) and extra-base hits (82) by a shortstop as his 129 runs scored were the tenth highest total in club history.
He also finished among A.L. leaders in total bases (2nd, 343), multi-hit games (2nd, 58), extra-base hits (T3rd, 82), hits (4th, 183), bWAR (T4th, 7.9) and home runs (T6th, 38) and is now the club's all-time career leader in homers by a shortstop (96). Francisco connected for a franchise-record & MLB-high nine lead-off home runs and was named A.L. Player of the Month in May.
Ramίrez had a monster 2018 as well, as he put up one of the best offensive seasons in Tribe history.
The 26-year-old became just the third Indians batter in club history to record 30 home runs and 30 steals in the same season, joining Grady Sizemore (2008) and Joe Carter (1987) as he and Boston's Mookie Betts became the first Major Leaguers to do so since 2012.
For the year he batted .270 (156-for-578) with 38 doubles, 4 triples, 39 home runs and 105 RBI in 157 games. He scored 110 runs and stole 34 bases, recording single-season career-highs in runs, home runs, RBI and steals and will be a top three finalist for the American League MVP award for the second straight campaign.
The two-time American League All-Star's 39 home runs were a single-season franchise record by a switch-hitter (39), breaking Carlos Santana's mark of 34 in 2016 as he and Lindor became the first pair of switch-hitting teammates in MLB history to each hit 30 homers in a season and also the first switch-hitting duo to record 20 steals and 20 homers.
He finished among A.L. leaders in walks (2nd, 106), times on base (3rd, 130), steals (3rd, 34) and finished fourth in the league in slugging pct. (.552), OPS (.939), RBI (105), runs (110), total bases (319) and home runs (39). He is the first Cleveland third baseman in club history to capture multiple Silver Slugger Awards.
The last Cleveland hitters to capture Silver Slugger Awards in back-to-back seasons were Roberto Alomar and Manny Ramίrez (1999-2000).