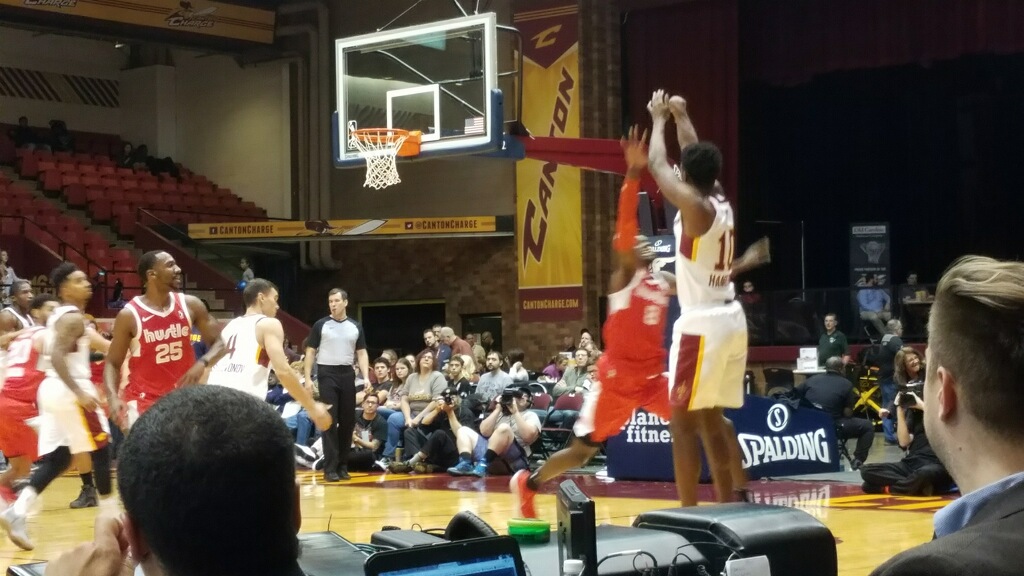 By Corey Perez
CANTON, OHIO – The Memphis Hustle grooved into Canton on Wednesday night and spoiled the home opener for the Canton Charge who fell to (1-3) with a 124-117 setback.  The Hustle improved to (2-2) on the young G-League season.
After one the Charge jumped out to a 7 point lead, with Cavaliers 2-way player John Holland leading the charge  with an easy 13 first quarter points, on 4-5 shooting from the field. Canton fans were hoping the first quarter was a sign that Holland was on his was to repeating his 43 point performance from Sunday in Maine.
Holland continued his hot shooting in the second quarter as he added 5 more points to finish with 18 points in the half. The biggest story of the first half was the breakout performance of JaCorey Williams who had 14 points and 6 rebounds in the first frame, shooting a perfect 6 for 6 from the field.
Williams was able to thrive in the open floor and got himself some easy buckets " both teams were getting up and down so that kind of fit me well, but I was also patient." Williams is a Cavaliers affiliate player, meaning he was in training camp with the Cavs before being cut, thus sending him to directly into the hands of Canton.
Memphis had a strong 2nd quarter behind the play of Ivan Rabb. Rabb of course spent 2 seasons at California before being drafted in the 2nd round in last summer's NBA draft.
Rabb had 13 points to go with 6 rebounds, guard Kobi Simmons (Arizona) added 6 assists along with 5 points in the first half. The Hustle outscored the Charge 33-29 in the second quarter cutting the Canton lead to 66-63 at half.
Memphis came out aggressive in the 3rd quarter keeping the Canton defense on its heels by attacking them downhill. This proved to be problematic for the Charge as they were unable to create any sort of rhythm on the offensive side of the court while also struggling to get stops, Memphis scored 37 points in the quarter.
When asked after the game about the 3rd quarter struggles Canton Coach Nate Reinking was not pleased "You can't give up 37 points in a quarter and expect to win."
As bad as the defense was in the 3rd quarter for Canton, their 3-point shooting was worse, through 3 quarters the Charge shot 5-20 from behind the arc.
For a frame of reference on how important the 3 point shot is for Canton, in games where Canton shoots under 40% from 3 point land they are (0-3) and when they have shot over 40% they have their lone victory on the season. Small sample size yes, but this will definitely be something to keep an eye on as Canton's season progresses.
With the Hustle holding an 8 point lead when the fourth quarter began, the Charge kept trying to fight back into things but were never able to catch up.
Coach Reinking felt like tonight's loss was due to a lack of consistency "I felt like there were times we had control of the game, when we gained those leads. Then we just let it slip away, in really short periods of time." When the scoreboard turned over to the 4th quarter, Kobi Simmons turned into a different player as his his silky handle started to create space and scoring opportunities as he had 10 fourth quarter points to finish the night with 15 points and 6 assists.
While starting the season (1-3) isn't ideal John Holland feels like the team is just trying to figure itself out "We just gotta bring more energy, we're just not there yet. We had the lead, we had our opportunities but we weren't able to get some stops, convert some shots. Just gotta continue to get better."
Holland finished the game with 22 points and 8 assists, so while he struggled to score in the 2nd half he was still able to be a mainstay in the Charge offense.
Next Up: Canton travels to Grand Rapids for a matchup with the Drive Saturday night @ 7. You can watch the game live on the Canton Charge website via Facebook.
Corey's Telling Stats
36-64 = 56% on 2 point shots
Only 42% of Canton's baskets were assisted
6-25 = 24% from 3
(4) 2nd half points for John Holland
2-12 from 3 in 2nd half
Started 18-18 FT

Finished 27-35 (All misses were in 4th quarter)

NEO Sports Insiders Newsletter
Sign up to receive our NEOSI newsletter, and keep up to date with all the latest Cleveland sports news.