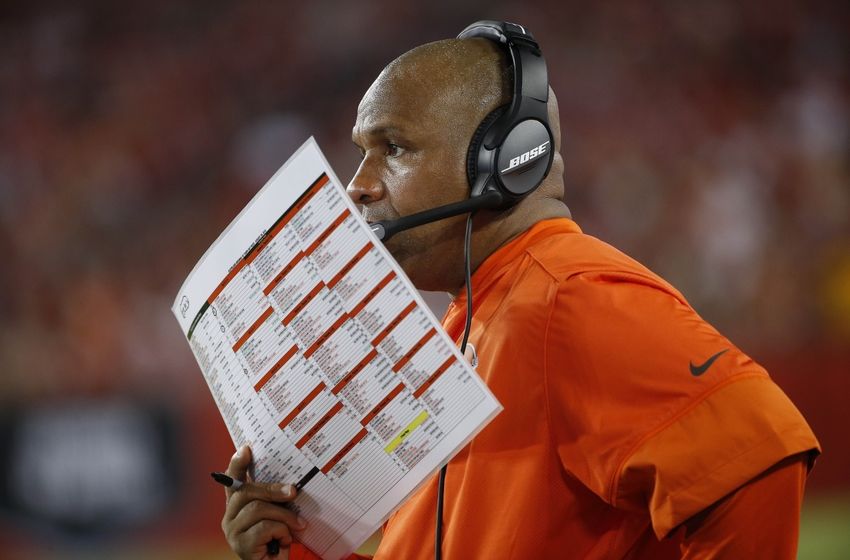 Browns coach Hue Jackson was back in the spotlight on Monday, taking the stand after another ugly loss on Sunday, a 24-9 setback to the Steelers that continued to see their dominance over the Browns continue.
The coach had to deal not only with losing his starting quarterback (again) in rookie Cody Kessler, but also today addressed comments from two of the team leaders, wide out Terrelle Pryor and veteran tackle Joe Thomas.
One decision that's already been made was that the team will go back to veteran Josh McCown on Sunday when the team hosts the New York Giants at First Energy Stadium.
McCown, who was beat up after four sacks by the Steelers, is going to get another shot, after going 14-for-27 Sunday for 118 yards, a touchdown and a fumble that resulted into a Steelers touchdown.
Jackson talked Monday to the media about Kessler, and also how McCown is going to be the starter Sunday.
"Kessler is in the concussion protocol, obviously," Jackson said.
"The doctors will take the lead on when Cody can return and play, and we will welcome him back whenever he is able to get back."
As far as McCown goes, Jackson was asked point blank if the media was allowed to run with the vet as Sunday's starter, to which the coach replied simply "Yes, you can."
As far as two of the team leaders saying some rather volatile things after the game, Pryor said that he was tired of seeing Browns quarterabcks getting hit, and took a shot at the teams' offensive line stating, "whoever is giving up the blocks, they need to stop that s$it."
Jackson said Monday that he took issue with Pryor's comments, and spoke to the Browns wide out about them.
"I know he is frustrated and we all are," Jackson said.
"No doubt, we need to protect our quarterback, but that is not for him to say. Let's focus on ourselves and support each other. That is what good teams do, and that is what we are going to work to become."
Thomas after the game spoke about the Browns losing a couple standout linemen this past offseason, not mentioning names but obviously meaning center Alex Mack and Mitchell Schwartz, who moved on to other teams.
Jackson was asked about his comments, and the coach said the two had a chat today about them.
"Me and Joe have a great relationship. Again, I just think all of our players are frustrated," Jackson stated.
"Again, they want to win. It is all coming from a good place. There is not a guy in our locker room that does not want to win. When things do not go well, it is very easy to point back to some other things.
"In order for us to get to where we want to be as an organization and as a good football team, we all are going to learn from every decision that we make, but I think right here in the middle of the season and late in the season where things have not gone as well, it is easy to feel, think and wish that things were different.
"I understand those questions that are going to be asked, and I understand some of the answers that will come from our players, but at the same time, I think what we have to do is just stay positive through it all. It is not easy to do. It is hard to do, but that is how I want our team to handle it, and we are just going to continue to move forward."
Sunday maybe some of the questions will finally stop if the Browns can finally get in the win column against the Giants, with McCown starting again at quarterback.

NEO Sports Insiders Newsletter
Sign up to receive our NEOSI newsletter, and keep up to date with all the latest Cleveland sports news.