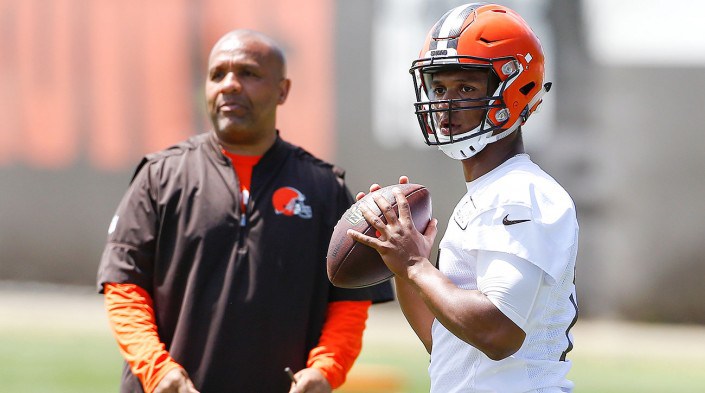 Ever since Hue Jackson took the job as the next head coach of the Cleveland Browns back in 2016, the big hoopla about him was that he was a "quarterback guru". Ah yes, hiring the former Cincinnati Bengals offensive coordinator would ultimately help the Browns find their franchise quarterback they have been searching high and low for since their return in 1999.
Alas, that hasn't been the case.
Now in his second season as Cleveland's head coach, Jackson has missed on more quarterbacks than he has won games. The list of failed experiments includes Robert Griffin III, Cody Kessler, Brock Osweiler, and Kevin Hogan. And while we didn't want to declare him another failed project too soon, it is now time to add DeShone Kizer to that long list of disappointments.
It has been a tumultuous rookie campaign for Kizer, who has had Jackson vouch for him and then very quickly had his coach throw him under the bus for the team's letdowns. From being talked about as a guy they want to build around to being told he could be benched the next week, it hasn't been easy for the former Notre Dame quarterback to adapt to life in the NFL. After these words by Jackson on Wednesday, it appears the only thing he'll need to settle into is his spot on the bench.
#Browns Hue Jackson full answer on drafting QB in 2nd rd: "I understand when you take a guy in the 2nd round, everybody suspects that that's the guy. We wish it is. You hope it is. But it it isn't, that's okay, too. And hopefully that guy will continue to grow and get better"

— Keith Britton (@KeithBritton86) December 20, 2017
In the above tweet from Keith Britton, Jackson has already started to work his way out of the Kizer plan. After hurling nineteen interceptions to only nine overall touchdowns, the Browns head coach has decided to once again call it quits on a young signal-caller. While some of the struggles can be thrown on Kizer, a lot needs to be thrown on Hue Jackson's ineptitude to call plays that fit his system and talent level that he has on that side of the ball. He didn't hire an offensive coordinator due to the fact that he said he felt no one should be fired for not being able to coach the lack of skill on the offense. That is absolutely wrong and unjust, making it impossible for Kizer to succeed from the start.
So it appears Cleveland will be drafting a quarterback in the first round this time around and will bring in a veteran presence to help with the transition. But as long as Hue Jackson is here and tells us to trust him, there is no shot of whoever is under center succeeding.

NEO Sports Insiders Newsletter
Sign up to receive our NEOSI newsletter, and keep up to date with all the latest Cleveland sports news.