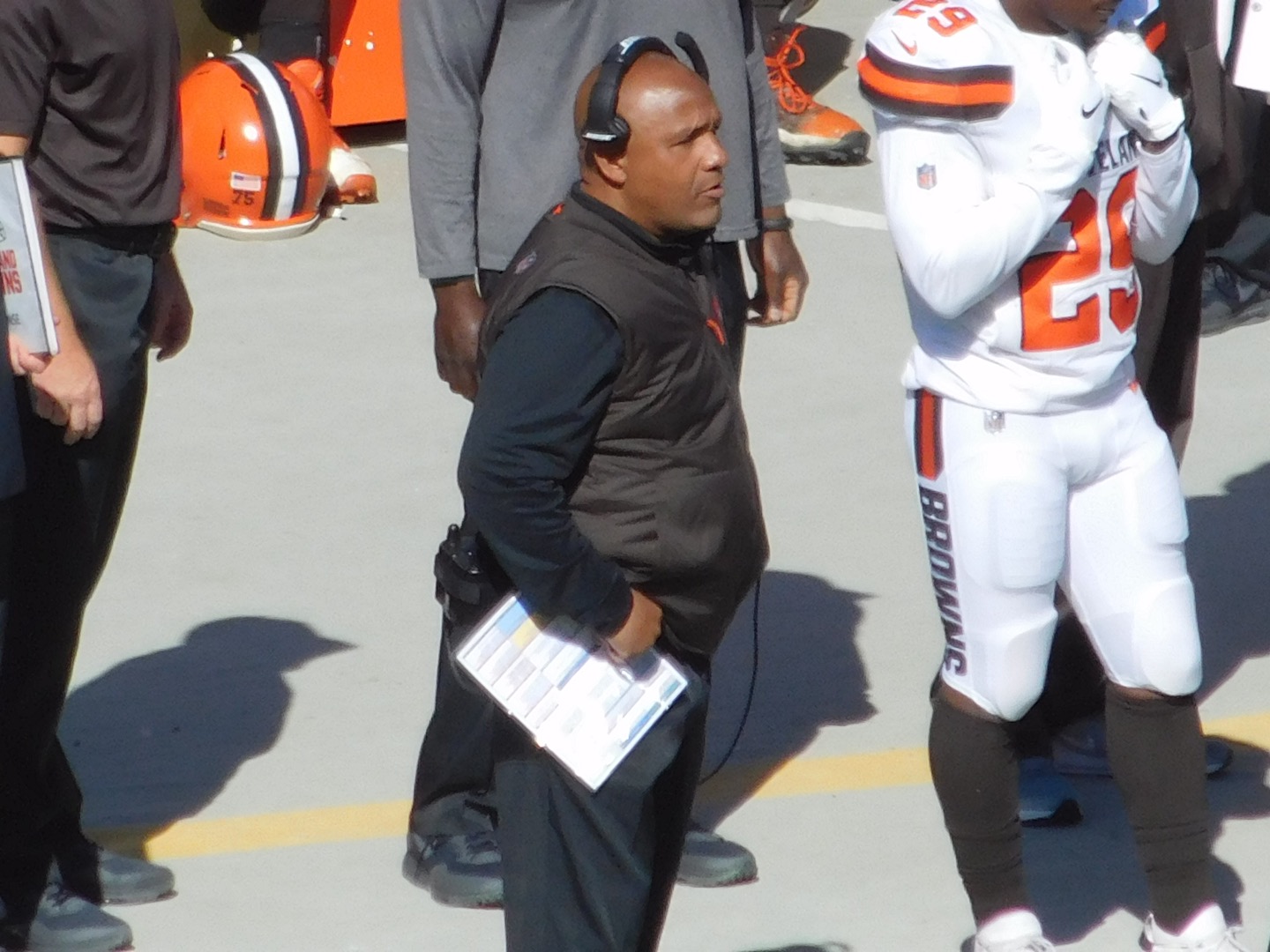 CLEVELAND – When Browns head coach Hue Jackson added offensive coordinator Todd Haley to his staff during the offseason, he did so knowing he'd be handing off the play-calling duties he held in his first two seasons.
Following Sunday's frustrating, 26-23 overtime loss to the Buccaneers – a game where the Browns only scored two points in the first half and had to use a fierce second half rally to force OT – Jackson seemed to suggest he would be taking back that responsibility.
"Trust me when I say I'm not trying to create any issue here," Jackson began after the loss. "But I think if the offense is not playing well, and we haven't over a period of time, being a head coach and an offensive guy who's done this, I think I have every right as a head coach to jump in and see if I can help and assist and get this thing to where I think it needs to be, because we need to be better on offense. And if that's my specialty, then I need to be involved more and I will be."
Whether he was attempting to "create and issue" or not, he did. And the subject of whether or not Jackson was actually considering taking back the play-calling duties made waves through Monday's media cycle. That left Jackson scrambling to clarify his remarks during his weekly postmortem press conference, Monday afternoon.
"I never said that that I would take over the play-calling, I just want to make that clear," Jackson asserted. "I think that sometimes things get said, written, whatever that is. When I said that I would do whatever I think I need to do, that is to help. If there was something that I needed to change, I would regardless of what that may be."
No, Jackson never officially stated that he was taking back the play-calling duties. However, in his post-game frustration, Jackson's remarks left a lot up to interpretation.
In fairness, it's not hard to to see why Jackson would consider stripping Haley of his role as play-caller. Through seven games, the Browns are averaging just 5.7 points in the first half. That includes the measly two points they scored in the first half against Tampa Bay. And, as a whole, the offense has scored just two touchdowns in the first half this season.
That all adds up to a 2-4-1 record and a head coach on a scorching  hot seat. Wins are becoming a dire necessity if Jackson hopes to stave off unemployment. He admitted as much.
"I think that when you are a 1-31 coach from a year ago, everybody is going to take it as I am passing the buck. People are going to feel the way that they feel. I am human just like anybody else, and I want to win. All I said – people can go back and look – is I want to help. I want to be more involved in the offense."
Apparently after talking with Haley, the Browns OC is open to the assistance too.
"He is very open to it," Jackson said."He did not say, 'No, you can't do that' or anything like that. We are all committed to doing one thing, trying to find a way to win – Todd, myself, the offensive coaches, (defensive coordinator) Gregg (Williams), (special teams coordinator) Amos (Jones), all of us. I think sometimes the way maybe it came off – and I take responsibility for that – was not in harshness of staff. It was in harshness of 'God, I want to win.'"
In an effort to make sure the small fire he created was completely doused, Jackson also made it known that hiring Haley to call the plays was his decision. Haley joined Jackson's coaching staff after serving as the Pittsburgh Steelers offensive coordinator for six season.
"No, [letting him call the plays] was not mandated to me," he explained. "When I decided to bring Todd here, I made a commitment that he would have total autonomy of the offense. I do not think that you hire a coordinator and put him in that position when you are an offensive head coach to dabble in what that person is doing. That is that decision that I made. Obviously, the guy has been extremely good at what he has done. His reputation precedes him. I think he is doing some things extremely well here right now."
Obviously not well enough if Jackson feels the need to step in even a little bit. But, for now at least, Haley will remain the primary play-caller. So where does Jackson think he can help his OC?
"We all have things that maybe as things are going we may not be privy to because we are not looking just at that," he explained. "Everybody sometimes has their own blind spots. I am not saying that Todd does, but I am sure that another good set of eyes on certain things might help. I have always felt that way. I still think that two heads are better than one in certain situations. Obviously, somebody has to lead it and that is Todd's job, but at the same time, if I see something where I can help and help us be a little bit better, I think that is my job, as well.
"For seven games now, we have not been able to score much in the first quarter. We have not started fast enough. We have not a very good start, and we are firing on all cylinders in the second half. My whole thing there is if we can put it together – first half and second half – then maybe we will have a better chance of finishing some of these games and winning."
Timing is everything. With his team and 2-4-1 on the season pivotal and matchups against the Steelers and juggernaut Kansas City Chiefs looming, Jackson knows he needs more from his offense. Offering his assistance to Haley is a last ditch effort to save his job. The next few weeks will prove whether or not he can.
Follow: @Spencito_