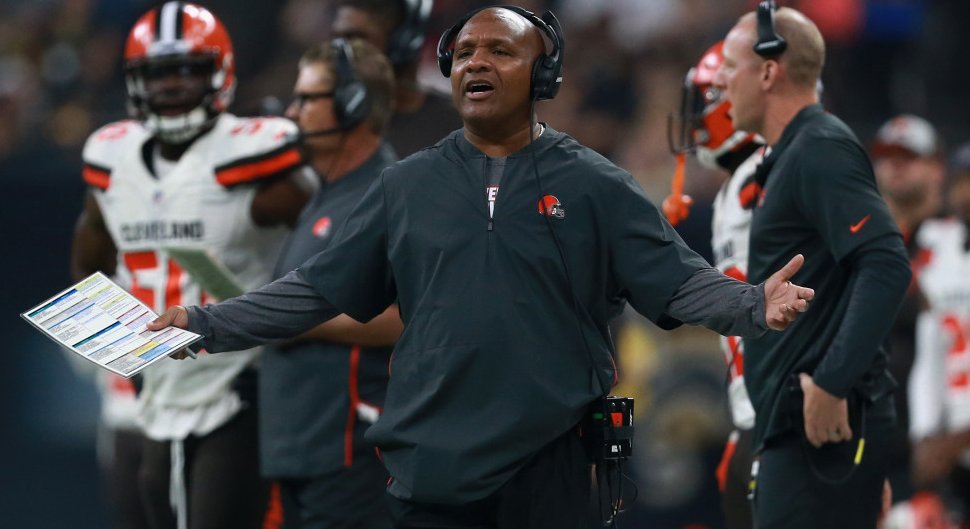 CLEVELAND, Ohio — The Cleveland Browns are coming off another disappointing loss. The Tampa Bay Buccaneers beat the Browns in overtime, 26-23 on 59-yard field goal from kicker Chandler Catanzaro. After the game, head coach Hue Jackson was asked about offensive coordinator Todd Haley and his involvement with the offense:
I'm the head coach of the football team. Period, Period. There's nothing else that needs to be said. I'm the head coach. I'll do what i feel like I need to do to get this team where I feel it needs to be." 
The Browns managed to score just two points in the first half and Jackson's cryptic remarks could be hinting that he took over or was more involved in the second half when the team got back into the game. If he did, it wouldn't be all that surprising.
For Jackson, these are desperate times. After his team played in their fourth overtime in seven games. The loss dropped the Browns to 2-4-1 on the season, after 1-15 and 0-16 seasons in 2016 and 2017. Yes, that is improvement. In fact, The Browns should probably have a better record this year and if they did, no one would be wondering when Jackson will be fired. Yet, here we are.
After yesterdays game, around 8:30 p.m. Daryl Ruiter of 92.3 The Fan tweeted this, "Hearing rumblings this evening #Browns owner Jimmy Haslam and GM John Dorsey are less than pleased with the current state of affairs…. stay tuned."
A few other media outlets reported the same rumblings as well. Needless to say, the Hue Jackson era is quickly coming undone here in Cleveland.
Jackson is 3-35-1 as head coach of the Browns. At any moment, the Browns could decide it is time to move on. The Browns go on the road this week to face the Pittsburgh Steelers (3-2-1), whom they played to a tie in Week One. The Browns will then host the Kansas City Chief (6-1) and Atlanta Falcons (2-4) the following two weeks. After that, the Browns will finally have their bye week in Week 11, which may serve as the perfect time to fire Jackson. But the clock is ticking and at any moment Jackson could be gone.
In that scenario, Haley would likely become the interim head coach for the remainder of the season. After that, the Browns would embark on another head coaching search to find their tenth head man since the franchise returned to the NFL in 1999.
Follow: @Tim_Whelan216

NEO Sports Insiders Newsletter
Sign up to receive our NEOSI newsletter, and keep up to date with all the latest Cleveland sports news.