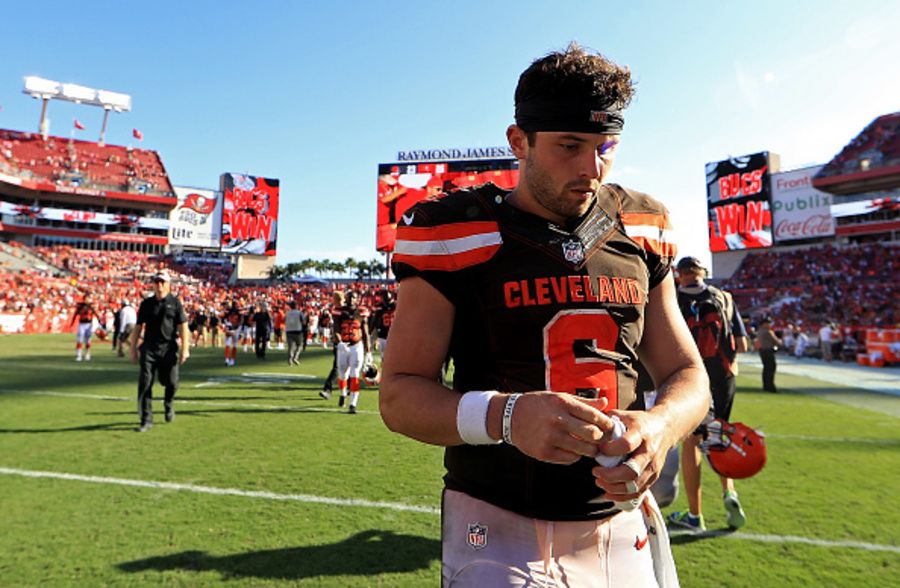 Here's a Stunner, the NFL knows they screwed up the no-call on the helmet to helmet hit on Browns QB Baker Mayfield
It remains one of the biggest misses when it comes to penalties maybe of all-time in the NFL, or at least of this season, as the league botched a call Sunday that to this day is hard to believe.
The call (of course) took place in the fourth quarter of the Browns eventual 26-23 loss to the Buccaneers, when rookie QB Baker Mayfield was slammed with a helmet to helmet hit by Buccaneers safety Jordan Whitehead at the end of his 35-yard run.
ESPN's Pat McManamon reported late Tuesday night that the league knows they screwed up, and that Whitehead could have and should have been flagged on the play.
Whitehead could have been flagged for one of two infractions: unnecessary roughness for a hit to the head of a sliding player or unsportsmanlike conduct for using his helmet to hit a player, the source said.

The NFL is not commenting on the hit. Fines are typically announced on Fridays. If the league fines Whitehead, it will be public affirmation that the play should have been penalized.
If you forgot how the play went down (I'm not quite sure how you could have), here it is again.
I love the explanation by Shawn Hochuli here:

» The Quarterback was still a runner and therefore is allowed to be hit in the head […] «

The ruling on the Jordan Whitehead Tackle / Hit vs Baker Mayfield in the 4th quarter.pic.twitter.com/38pbsJTyiG

— René Bugner (Rainbowcave) (@RNBWCV) October 22, 2018