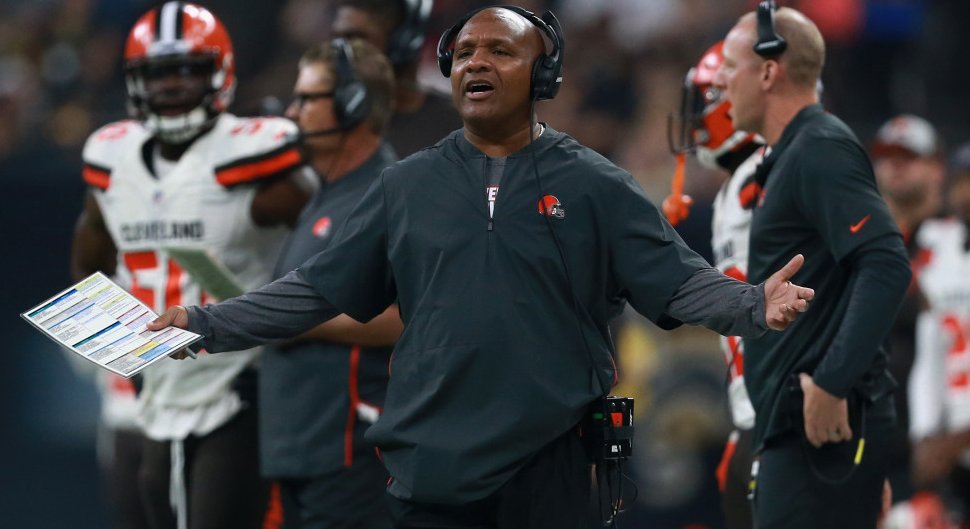 CLEVELAND – There were plenty of highlights from the Cleveland Browns 21-17 win over the New York Jets – the franchise's first since Dec. 2016. But none were as memorable than the trickeration, two-point conversion attempt that ended with rookie quarterback Baker Mayfield catching a pass to tie the game at 14.
That's because the play looked awfully similar to the now famous Philly Special play that helped win the Philadelphia Eagles a Super Bowl back in February. The only difference is the Eagles ran the play to the right and the Browns ran the play to the left. Hey, the NFL isn't a called a copycat league for nothing.  Except, Browns head coach Hue Jackson scoffed at the notion that his version of the play was inspired by the defending champs.
"We did not steal that from them," Jackson said after the game. "Please. I know everybody wants to think that. We have had that in our back pocket for a while. Go check my tricks from before, and go check (offensive coordinator) Todd's (Haley) tricks from before. We all have them. It is just when you pull them out and use them. That is what that is."
He's not wrong, coaches have all sorts of trick plays in their back pocket including the one now recognized as the Philly Special. However, Jackson may have been thrown under the bus by the man who found himself on the receiving end of the play, Thursday night.
That's right, in his own postgame interview with the NFL Network, Mayfield – who had just finished leading the Browns to a comeback win – was asked what two-point conversion play was called. His response: "it may or may not have been called Philly Special."
Contrary to his head coach, it sure sounds like the play was in fact inspired by the Eagles version of it. Or at the very least shared a name.
In the end, it's just a trivial detail from a night that should be celebrated after the Browns earned their first win in 635 days. If you happened to miss Mayfield's full interview with the NFL Network crew, including Browns legend Joe Thomas mind you, check it out below.
.@bakermayfield and @joethomas73 ?

Mayfield joined the @NFLNetwork crew after our Thursday night victory: pic.twitter.com/WBnvF7iBPP

— Cleveland Browns (@Browns) September 21, 2018
Follow: @Spencito_

NEO Sports Insiders Newsletter
Sign up to receive our NEOSI newsletter, and keep up to date with all the latest Cleveland sports news.