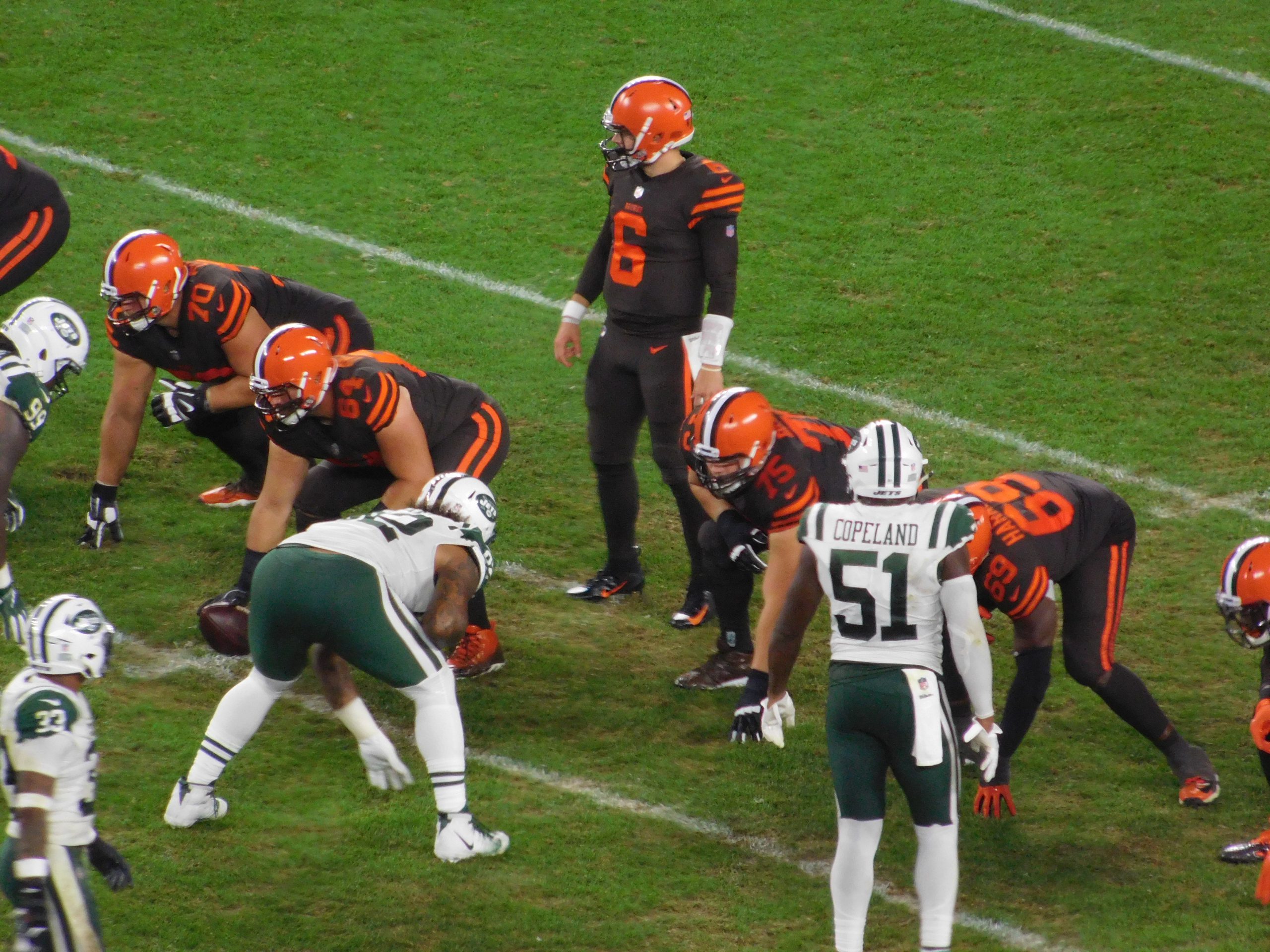 CLEVELAND – It was a night 635 days in the making, but the Cleveland Browns finally got back in the win column. The 21-17, Thursday night win over the Jets is the franchise's first since Christmas Eve of 2016.
But this one was memorable for more than just it's result, fans also got their first glimpse of rookie quarterback Baker Mayfield and on national TV, the rookie made was magnificent in relief of an injured Tyrod Taylor. There's a lot to unpack from this game, here are 5 takeaways from the Browns WIN (that's weird to type).
1) Crack Open a Cold One
The chains are off the Bud Light coolers all over town. Crack open a cold one, Cleveland, you've earned it. No fan base has suffered more than Browns fans over the years, whether it be losing their team in 1995, watching failed quarterback project after failed quarterback over the last two decades, trudging through last year's 0-16 season or even just watching this past Sunday's meltdown; there hasn't been much to celebrate about this franchise. Similar to Hue Jackson jumping in Lake Erie earlier this summer to "cleanse himself" of the losing stench of his first two years as head coach, this win feels like like a cleanse for the franchise's. It's a turning point in John Dorsey's culture change, signifying that there is in fact light at the end of the tunnel.
2) "I'm the Captain Now"
Speaking of light at the end of the tunnel, it became pretty evident tonight that rookie QB Baker Mayfield is the guy to lead the franchise into it. From the moment he took over for a concussed Tyrod Taylor late in the second quarter, there was a different energy about the team.
In his first series on the field he covered 39 yards on six plays and got the Browns offense – which had been shut out to that point – in position for a field goal. After one possession he had more passing yards (47) than both Tyrod Taylor and Jets starter Sam Darnold. That was just the beginning though as Mayfield really showcased his Heisman winning talent in the second half, leading three consecutive scoring drives in the late third, early fourth quarters and even catching a two-point conversion (we'll come back to this). Most impressive was that even after the Jets took a late 17-14 lead, Mayfield was unphased in answering with a 15-play, 75-yard touchdown drive to reclaim the lead. He finished the night 17-of-23, for 201 yards. Of his 17 completions, there were none better than this beauty…
WHAT A THROW. WHAT A CATCH. ? pic.twitter.com/fbAMzQ7vdA

— Cleveland Browns (@Browns) September 21, 2018
Taylor ain't making that throw. Heck, he ain't even attempting it.
3) Times up for Tyrod
On that note…now that Browns fans got a taste of Baker Mayfield under center, going back to Tyrod Taylor seems inconceivable. Taylor was awful on Thursday night before exiting the game just before halftime with a concussion. After one quarter, he was one-of-seven for two (no that's not a typo) TWO passing yards. It didn't get much better before he exited either, as he completed just three more passes and finished with 19 total yards passing.
This was arguably the worst performance of the 29-year-old's career since he first became a starting QB for the Bills in 2015. Now, he didn't get much help from Todd Haley, who was calling the game as if Ben Roethlisberger was still his QB. Sorry, but Taylor's game isn't throwing the ball 10 times in three possessions. Regardless of that though, Taylor was skittish and inaccurate. He was missing wide open targets all over the field. Nine were more brutal than two underthrown deep balls to Antonio Callaway, which both should have gone for touchdowns.
4) Cleveland Special
With a tip of the cap to the defending Super Bowl Champion Philadelphia Eagles and Super Bowl MVP Nick Foles, the Browns have their own version of the Philly Special, which they pulled out for a key two-point conversion to tie the game at 14. That's right, Mayfield's first career reception came before his first career touchdown pass. They don't call it a copycat league for nothing.
LANDRY TO MAYFIELD!

The two-point conversion is good! #NYJvsCLE pic.twitter.com/52OQ5iE2WI

— Cleveland Browns (@Browns) September 21, 2018
5) Not So Special Teams
On the bright side, newly signed kicker Greg Joseph was a perfect two-for-two on field goal attempts and a perfect one-for-one on extra points. Hopefully the Browns have finally ironed out their kicking situation. But, it wasn't all good for the Browns special teams because in the first quarter they allowed a rusher to get through and block a punt that ultimately set up the Jets first touchdown of the game. That's three straight games with a costly special teams blunder. In Week One it was a blocked field goal, last week, well, Zane Gonzalez missed two field goals and two extra points and now a blocked punt. That stuff has to get cleaned up.
Follow: @Spencito_

NEO Sports Insiders Newsletter
Sign up to receive our NEOSI newsletter, and keep up to date with all the latest Cleveland sports news.