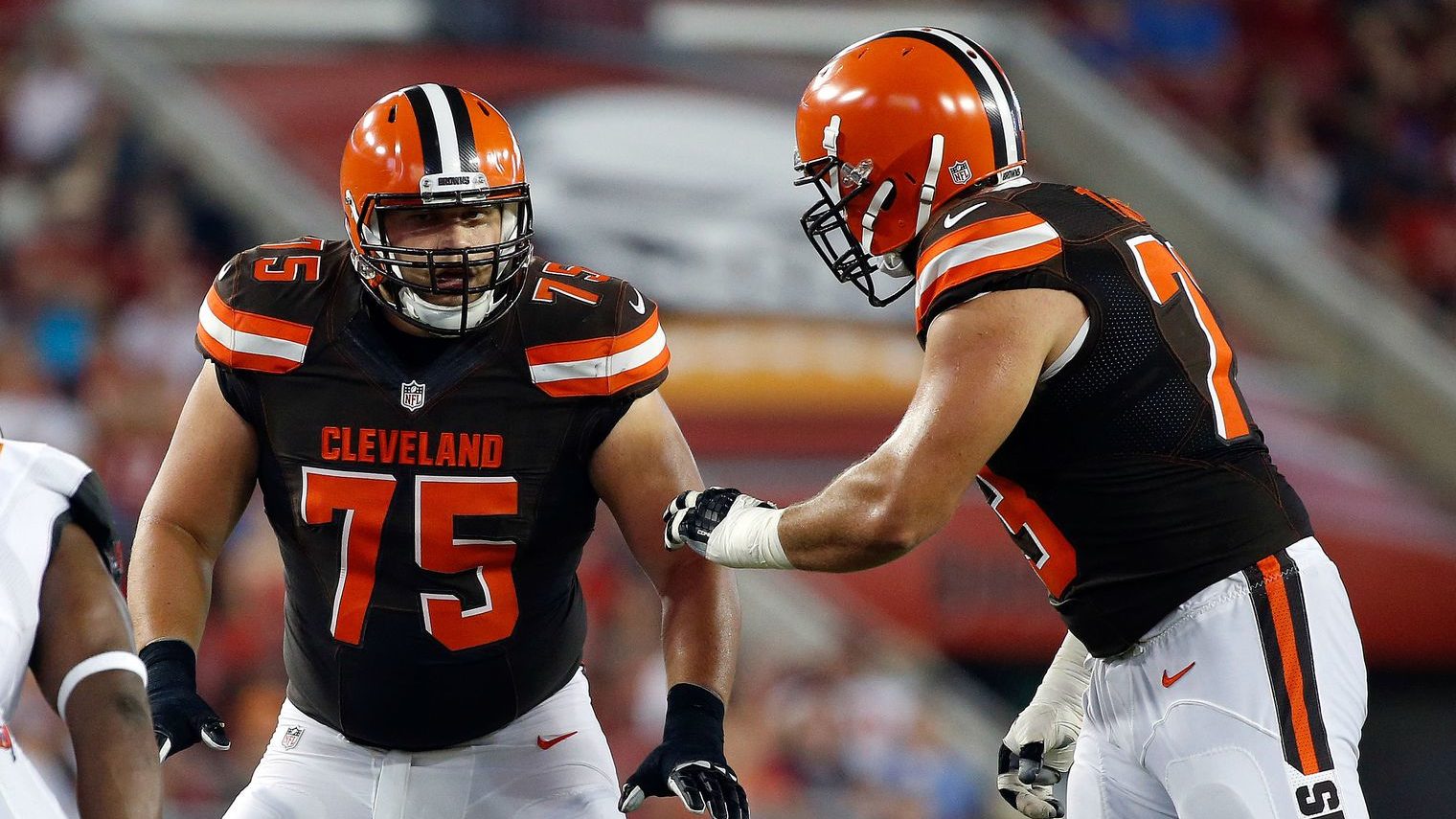 BEREA, OH – Finding a suitable replacement for future Hall of Famer Joe Thomas at left tackle has been the Browns biggest dilemma this offseason. Now, just days away from their season-opening showdown with the Pittsburgh Steelers, it's still a mystery.
Veteran Joel Bitonio took one for the team by moving to left tackle during the preseason and remains an option for filling the void. That could be counterintuitive though, considering he's spent the first four years of his career at left guard. That's obviously where he is most comfortable, which is why a move back to his natural position is also in play ahead of Sunday.
Uncertain as it all may seem with Browns' season opener looming, head coach Hue Jackson apparently has the answers already.
"I already know what it is. You just do not know what it is," Jackson said after practice on Monday. "I have a pretty good idea of what it is going to be. I have to keep saying it, keep having the guys work every day together and go from there."
Meanwhile, Bitonio, who said he thinks Jackson will announce a final decision on Wednesday, is preparing for both scenarios.
"I think Coach (Hue Jackson) is going to come back Wednesday and give us a definite answer," Bitonio said. "I am ready for both [tackle and guard], though. Whatever they put me at, I am ready to go and play some football finally."
Back in August, Bitonio admitted that moving to left tackle would be a bit of an adjustment. He has played all 47 of his career games at guard, mind you. Now after spending three weeks there though, the 26-year-old knows a potential move back to his natural position would be smoother.
"No, I have done it for a long time," Bitonia explained. "Hopefully, it is like riding a bike, and I am sure if I am playing left guard I will get enough reps in practice this week to be ready to go."
No matter where Bitonio ends up, he'll – ironically – play with a rookie next to him. If he's stationed at tackle, the vacant guard spot would go to second-round pick Austin Corbett, while a move back to guard would likely result in undrafted rookie Desmond Harrison flanking Bitonio at left tackle.
"I know [Hue Jackson] is going through his plan and Desmond [Harrison] has not got as much practice time so he is trying to see where he is at, and [Austin] Corbett is still working," Bitonio said. "I think it is just trying to get the best five guys out there. It is taking a little bit more time than we would have hoped, but we did not have (OL Kevin) Zeitler out there either so we need a few good days of practice."
In an act of gamesmanship by Jackson, the Browns head man is taking every remaining day to find those five best linemen ahead of Sunday's kickoff.
"Have not really worked through it yet," Jackson said. "Right now, it is the way that is has been. Nothing has changed in that way. We have a week. We do not play until Sunday. We are going to figure it out and put the best five guys out there."
Follow: @Spencito_

NEO Sports Insiders Newsletter
Sign up to receive our NEOSI newsletter, and keep up to date with all the latest Cleveland sports news.